By Josh Knight, Head of Product
It has been a busy spring at Dynamic Planner. We have several, exciting new product features to help make your advice process even more efficient and engaging for your clients.
Notably, we launched our new Client Access feature. This allows you to capture responses to the client profiling questionnaires directly from the client before your meetings. You might have used the earlier version of this in the old version of Dynamic Planner. It quickly gained a lot of attention during Covid and lockdowns in the past two years.
The new version of this feature has even more flexibility to help you integrate it into your advice process. You can find out more about it.
1. Get a link rather than email
By default, Dynamic Planner will send out an email to the client containing the link; one less thing for you to worry about. But we know that the personal touch can be preferable and you may already be sending an email to your client with prep work ahead of a meeting.
In instances like that, you can simply get the link from Dynamic Planner, without it being sent out. Copy and paste it into your own email, and you are good to go.

2. Brand the client screens for your firm
For some clients, using Client Access might be one of their first interactions with your firm, certainly in a digital environment. Presenting your brand across all your touchpoints is important and helps reassure clients.
To help here, you can easily customise the Client Access screens with your firm's logo and main brand colour. You can have any colour, as long as it's hexadecimal. You can tweak colours and upload your logo on the Client Access settings page.
3. Take personalisation to the next level. Add your profile photo
While branding is applied at a firm level, to help your clients know that the request has come from you, you can also upload your profile photo to Dynamic Planner on your account settings page. Once uploaded, the Client Access screens will show your profile photo.

4. Set the defaults to match your process
The new Client Access tool allows you to capture responses to each of the four client profiling questionnaires in Dynamic Planner. We have, for reference, got further enhancements on the way to allow you to capture even more information from your client, but we will save that for a future blog post.
For now, you can choose any combination of the four questionnaires [experience, attitude to risk, capacity and sustainability] you would like the client to complete. For example, if you typically only ask a client to complete the experience questionnaire as part of initial onboarding, you can untick it by default, and then turn it back on as and when required. You can set the default questionnaires via the Client Access settings.
5. Edit the words to seamlessly integrate into your process
To ensure that your digital engagement seamlessly dovetails with your other methods of client engagement, you can set the wording used throughout the process.
You can set the default wording on the email that is sent out (e.g., if you wish to refer to some other emails or correspondence that are typically sent out). We've given you an easy-to-use editor that provides simple formatting and the inclusion of key data items.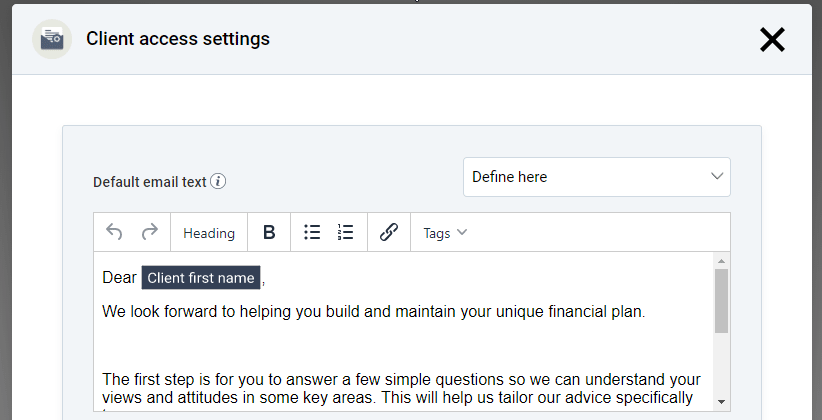 You can tweak the wording used in the client journey as well. You can include links as well as formatting.
If you use a diary management / appointment booking system (like Calendly or Office 365 Bookings app), you could include a link for the client to book their appointment with you in the final step of the process. As with theming and default questionnaires, you can tweak these options via the Client Access settings.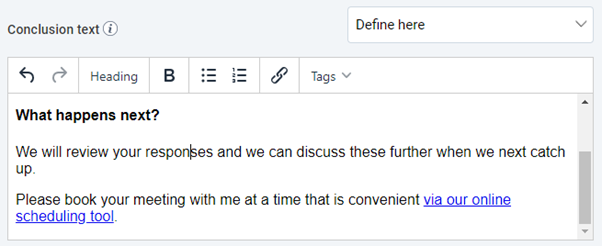 If you come up with any creative uses for Client Access, please let us know. And as always, if you need any help or just want to chat about the new features, please do reach out to the Client Success team, who are always available to support you in your use of Dynamic Planner.
It's been a busy few months here as the team have been working hard to complete a number of exciting updates and enhancements.
Firstly, we've added a number of features to our Cash flow tool. Building on the goals feature we released in May, we've added a number of new visualisation options to help you present the most engaging and insightful plans to your clients.
Segmented view of income and expenditure
You'll now see two new charts within the Analysis section, giving you a breakdown of income and expenditure in the plan. These are brilliant at supporting conversations with the client and make it clear where changes occur in the future cash flows. Hovering over any year gives you a quick snapshot of it, as below. We've also added this breakdown into the data view.
Viewing possible investment paths
Dynamic Planner's Cash flow module is driven by a powerful, Monte Carlo stochastic forecast. The stochastic returns are driven by the same assumptions used in our risk profiling process. Using a single definition of risk in your cash flow plan is vital to avoid the danger of miscalibration and to ensure nothing is lost in translation, as a result, in the planning process.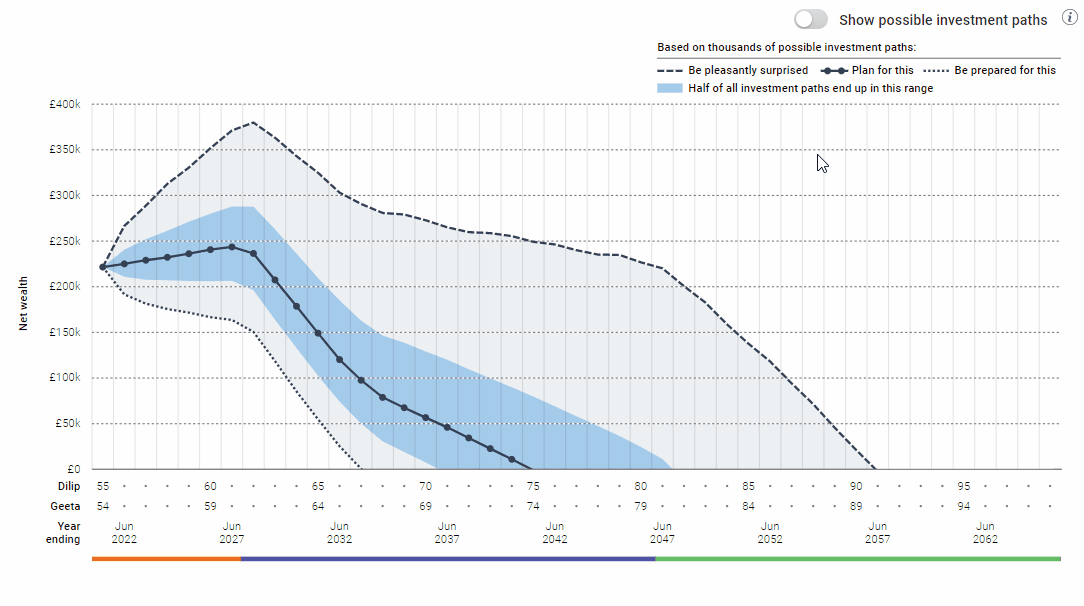 We've added a new feature to help you and your clients visualise the underlying volatility in the thousands of simulations modelled to provide the overall forecast outcomes. This allows you to see the peaks and troughs of the simulated investment path.
The Wealth graph, pictured above, has been further updated. Responding to user feedback, we have introduced the shaded area in the centre of the forecast for how a client's portfolio is likely to perform in future.
The shaded area encompasses the 25th to the 75th percentile of projected outcomes. In short, there is a 50% chance a client's portfolio will perform within these parameters. Wealth graph analysis is available in Dynamic Planner Cash flow and appears in the opening section of a Client Review report, 'Is your portfolio on track?'
Making charts more accessible
When it comes to data visualisation, or conveying any kind of complex information, we know that one-size doesn't fit all. That's why we've taken time to ensure that wherever possible we provide graphics, words and data to help the client understand their plan.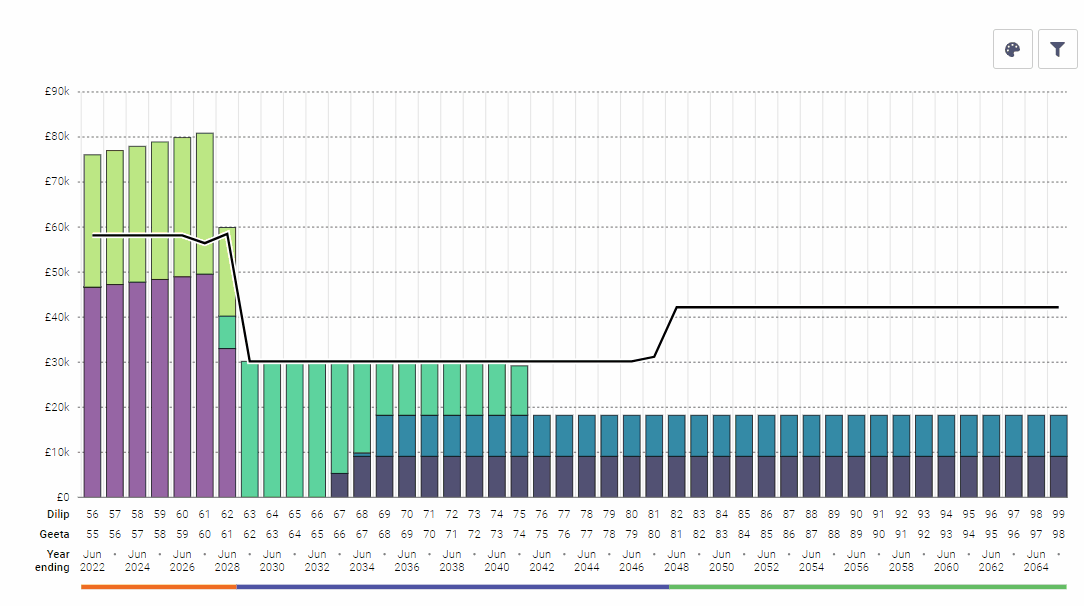 As we introduced the new segmented income and expenditure charts, we wanted to take the opportunity to introduce a complementary feature to address the accessibility of the colour palettes we use. You can now select from a range which have been created to help clients more easily distinguish each segment, taking into account different types of colour blindness.
Target Market definition tool
Elsewhere in Dynamic Planner, you will now see our new Target Market definition tool. Having a clear and concise definition of your firm's target markets is a pivotal step in building and maintaining your investment proposition. But all too often we've heard from users that they are unsure how to go about this and lack the tools to consistently do this.
The target market definition tool is our first step in helping you on this journey. We've given you a simple structure within which you can define your target market, looking at a range of attributes and facets of a particular cohort of your clients such as their risk and sustainability profiles.
We have more features planned here, so watch this space! The target market tool is available now to fully licenced Dynamic Planner users. Click here to build your first target market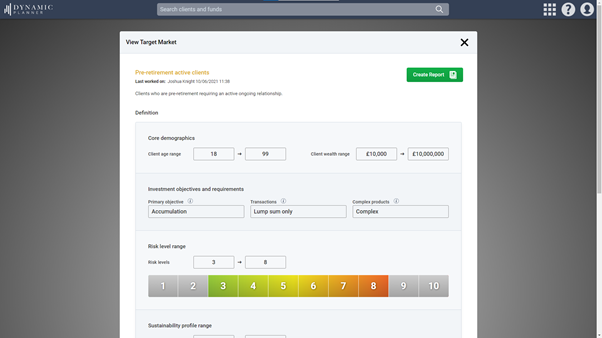 As always, if you need any help or just want to chat about the new features, please do reach out to our Client Success team, who are always available to support you. Thank you.
Join us each month for a new, 30min webinar covering latest enhancements in Dynamic Planner. The handy, bitesized sessions are on the second Wednesday of each month, at 10am. A senior member of our Client Success team will be on hand to host and time permitting, will also answer commonly asked questions from users about Dynamic Planner. Account Manager Lorna Brown will take August's new 'Monthly Update'. Register your place.
By Joshua Knight, Head of Product
It's been a busy few months! And now, in our May release, we're excited to release a number of exciting changes.
Firstly, our new Sustainability questionnaire is now available for all users. You'll notice the 'Risk profiling' process has been reborn as the 'Client profiling' process, with its broader remit of helping you explore other relevant facets of a client's personality.
Along with the new questionnaire (which has previously been covered here), we've introduced a new way for you to select which questionnaires you want to complete with your client. We know it's not one size fits all.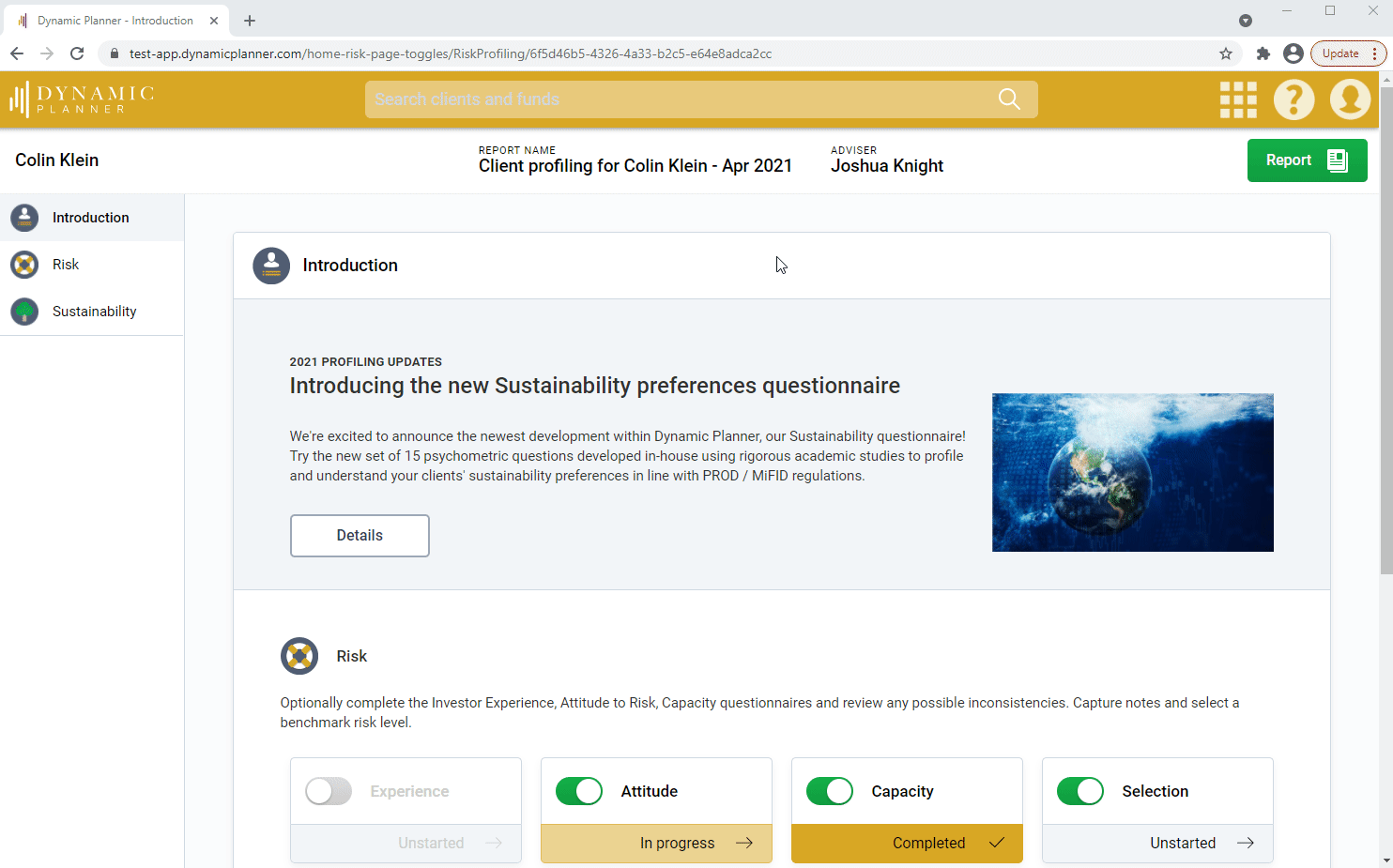 The new questionnaire responses and results are included in the final report. We're working on incorporating the questionnaire into a revised client invite process. More on this to follow in the coming weeks.
We've also taken the opportunity for a small cosmetic enhancement. The client landing page (pictured below, where you select the planning process you'd like to complete) has been redesigned to make the recent activity more prominent and making it easier to return to your last activity for the client.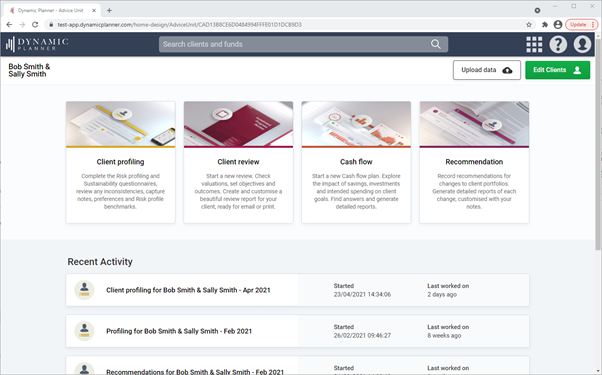 We've also been busy in our Cash flow process. To help make plans more personalised and engaging, we've introduced a visual tweak for client goals and financial objectives.
Where the client has some aspirational future expenditure, be it a round-the-world cruise (once possible!), education costs or just a big party, you can now give the expenditure an icon which will appear in the timeline under the cash flow charts, as you can see below.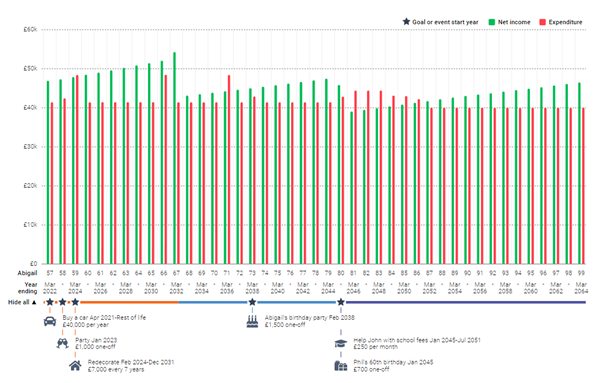 The forecast shows the key life phases for the clients and the important financial goals along the way.
On more technical matters, we've enhanced the way in which you describe pensions withdrawals, giving you more flexibility with regard to crystallisation, PCLS and drawdown income. We know this can be a complex area, so we've added supporting videos in Dynamic Planner you can watch to help show how you model common scenarios.
This is a significant update to our latest Cash flow since it was launched in November last year. Of course, if you do get stuck, we're always here to help. Please reach out to our Client Success team, in the usual way and they will be happy to assist.
Alternatively, you may wish to pop along to the final two weeks of our Spring 2021 events, where we will be helping you maximise your usage and efficiency with Dynamic Planner. From 8-10 June, our events will focus on sustainable investing; and finally, from 15-17 June, on client target markets, including 'at retirement'.
Welcome to the latest 'Dynamic Planner Updates'. It has been an exciting time after the launch of our new cash flow planning in early November – with lots of great new enhancements to tell you about.
First, a new 'Fund search' has gone live for all users in Dynamic Planner – login now and take a look! Once open [click on the boxes icon in the top right of your screen, then 'Research hub'], you can easily and quickly search for any of the 1,350+ Dynamic Planner risk profiled funds, alongside gold Risk Target Managed investments and purple Risk Managed Decumulation solutions. Or any fund from our whole of market fund database. You can also search by risk profile, or you can view your firm's fund shortlists, if you've created any.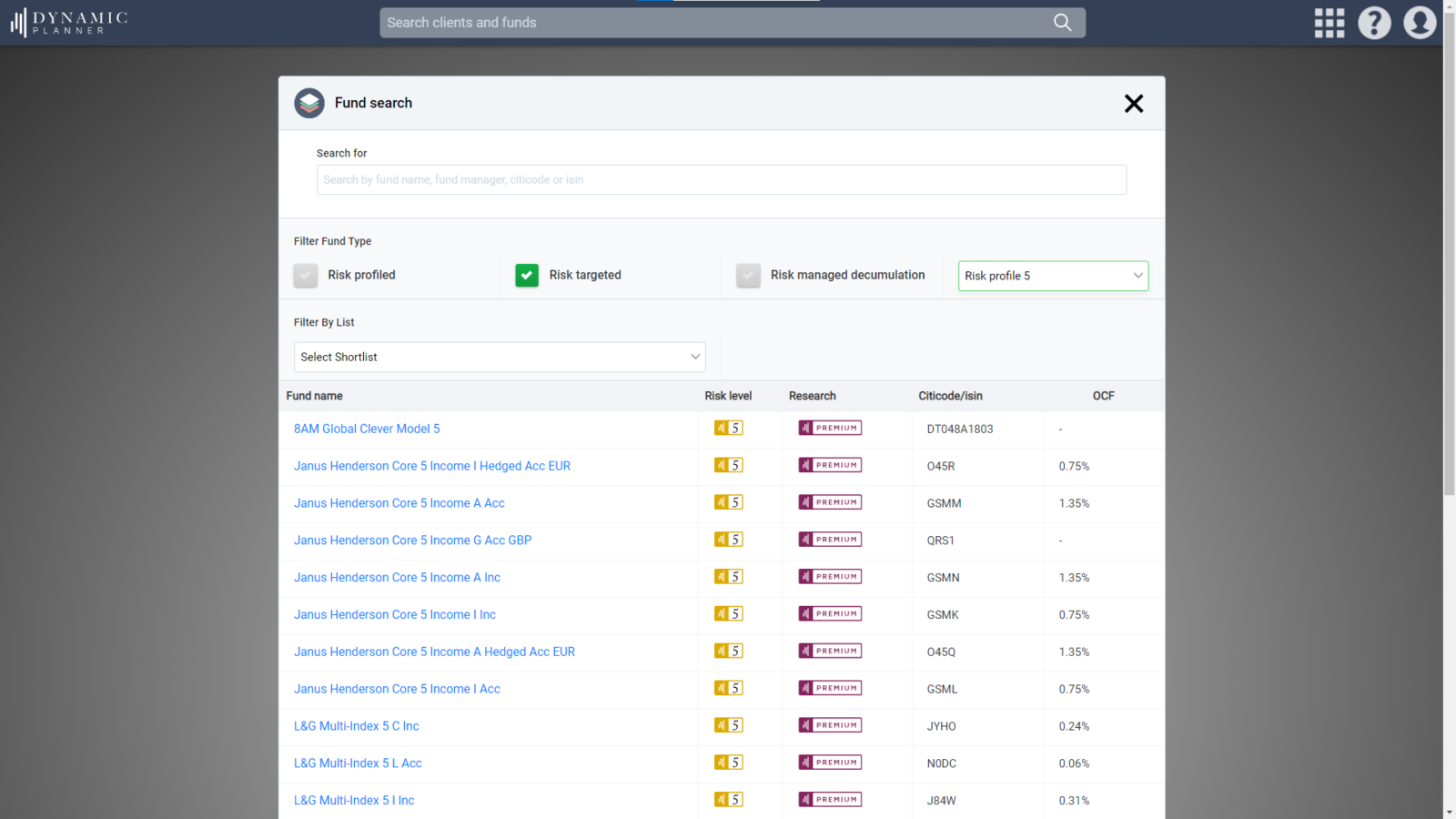 The tool couldn't be easier to use. Simply type in a fund's name or code in 'Search for'. Then, once you see it, all of the information within Dynamic Planner appears when you click on it – including:
'Performance' data and the ability to use Dynamic Planner's 'Charting tool' to evaluate fund performance against sector indices, including the 1-10 Dynamic Planner risk profile benchmarks
'Asset allocation' and 'Asset classes'
All available 'Dynamic Planner insights' and fund factsheets
All of the above information is also available within the Dynamic Planner Client Review under 'Analysis'. In short, you can find fund information where and when you need it most. In addition, for ease of use, the search bar throughout Dynamic Planner now allows you to search for a client or fund. Everything is at your fingertips.
What else has been happening?
We have been busy tweaking the risk profiling process to improve analysis immediately available on the 'Risk profile selection' page. Information hopefully will enable you and your firm to have more meaningful conversations with clients about a selected risk profile. Analysis now available is: risk description; the benchmark allocation; losses and gains forecast; and 'Notes'.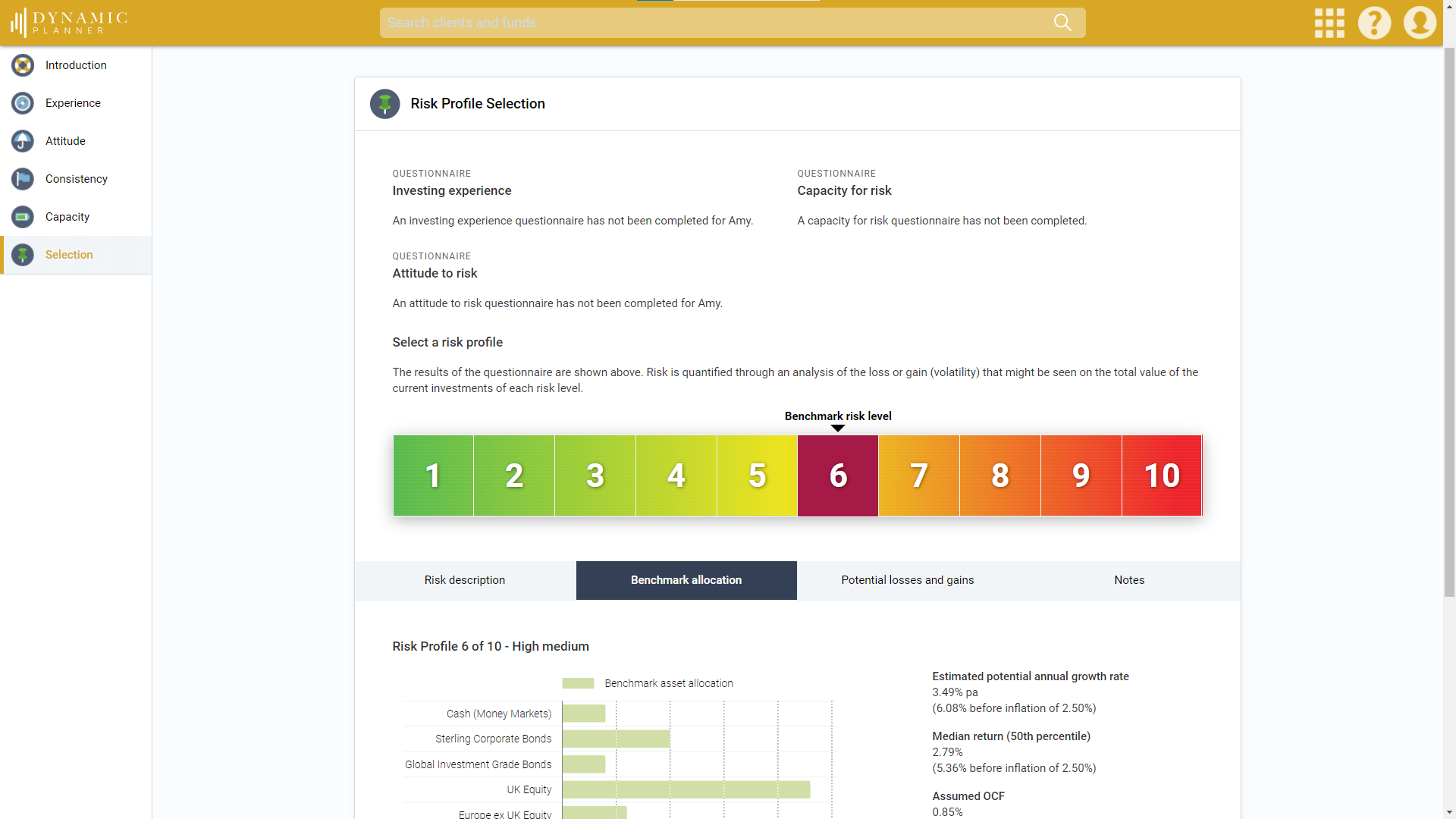 Finally, this month, we have added a new and hopefully useful and time-saving feature to the new 'Upload data' option in the top right of your screen in 'new' Dynamic Planner.
You can now import a client's arrangements, either with fund level information or a summary valuation. This significantly enhances the import functionality for a Client Review as well as new cash flow planning.
We hope you find these latest enhancements in Dynamic Planner useful. As always, your feedback is vital to helping us continue to improve our service for you and your firm. Please leave any feedback you have, however small, in Dynamic Planner's feedback portal [under the question mark icon, top right in 'new' Dynamic Planner]. We do read it all. Thank you.
As ever, for additional queries, you can contact our Client Success team on 0333 6000 500 or at support@dynamicplanner.com
Over the past few weeks, we have released multiple tweaks and enhancements to Dynamic Planner, while work has continued on our new Cash Flow forecaster. Below is a quick recap of some of the recent changes we've made:
More room for 'Client objectives' – A small, but important tweak. We've increased the size of the objectives text boxes to give you more room to write the client's objectives without having to do so much scrolling.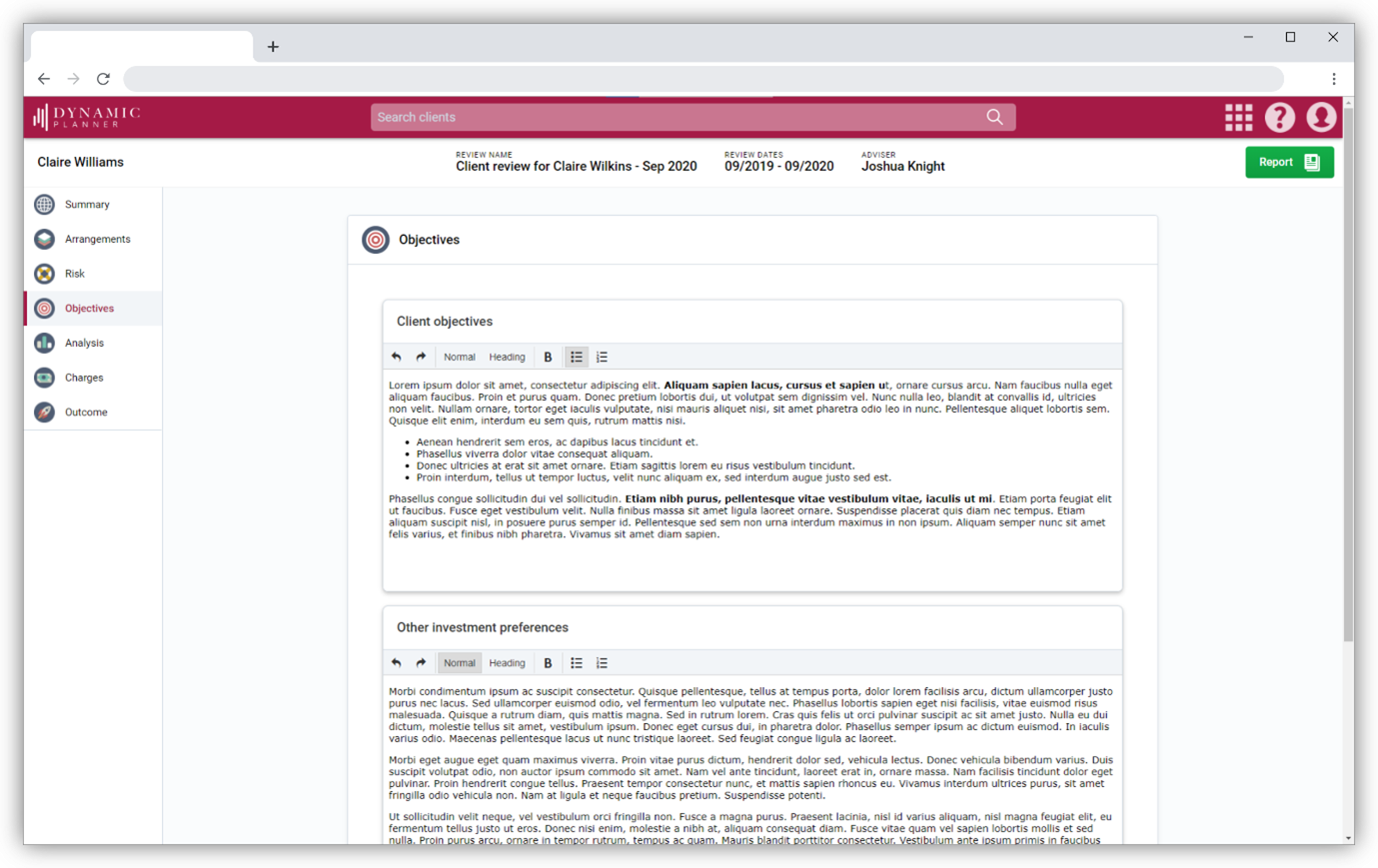 Easier to use summary valuations – It's now far easier to add a summary valuation, thanks to a handy button to quickly remove all funds from a historic valuation. Now, you get the best of both worlds – funds pre-populated, but if you don't want to provide a fund level breakdown, it's easy to switch to a summary level valuation.
Question numbering – Again, a small but important enhancement for reports. We now number the risk profiling questions, so it's much easier when having a discussion with the client about any specific responses they gave.
More detail for historic transactions – We've added the option to provide more detail about the historic contributions and withdrawals within the Client Review process, to help distinguish between new contributions, transfers, regular and single payments.
Meanwhile, we've got exciting changes on the horizon with the imminent launch of our new cash flow modeller – alongside a new way to explore all fund data available within Dynamic Planner. Keep an eye out for full details soon.
You can sign in to Dynamic Planner now to see all the above changes. And if you want a sneak peek of what's coming – why not come along to one of our Autumn Training Academies? I'll be previewing future enhancements during 'The client journey A-Z' week [10-12 Nov].
We hope you find enhancements useful in Dynamic Planner. As always, your feedback as clients is vital to helping us continue to improve Dynamic Planner for you. Please leave any feedback you have, however small, in the feedback portal. We read it all! Thank you.
As ever, please contact our Client Success team on 0333 6000 500 or at support@dynamicplanner.com with any issues you have.
By Product Manager Josh Knight
When we first released the review process last summer, we spent a lot of time thinking (and testing) how to ensure it was easy to use. Hopefully, you can tell.
We know from talking to users though that there are always times when a little help and gentle pointing in the right direction is appreciated. And, do remember, our Client Success team are always on hand should you require assistance. Indeed, they have remained on the other end of the phone for support throughout lockdown this year.
This month, we're excited to announce a new feature for Dynamic Planner, to help you get up and running, in the shape of a new 'Help' menu. In it, you can find a number of resources to support you:
Contact details for Client Success – we don't want it to be hard for you to get in touch
A link to our Content Hub
Help and FAQs
Our feedback portal – your feedback is important and helps guide future developments within Dynamic Planner
On many pages, you'll also see a tutorial video – either for the process you're in, or in most cases for the specific screen you're on.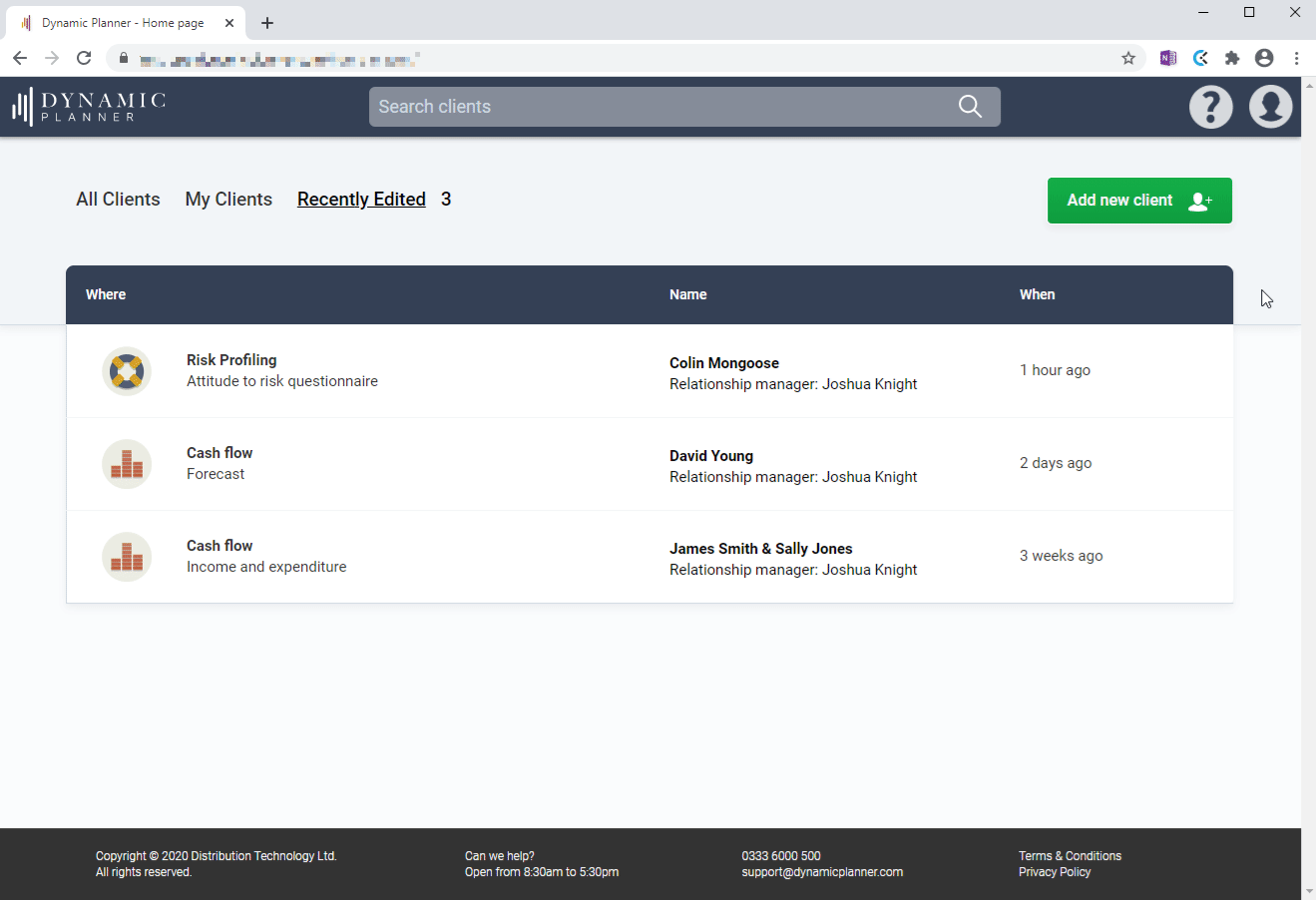 So, if you ever get stuck or wonder what a particular feature is for, check out the new help menu and watch the videos. And don't worry – as we said – we're still at the end of the phone should you ever need any further help. Thank you!
Aegon [previously Cofunds] valuations integration update
Dynamic Planner's June release, on Thursday 25 June, implemented a new change to support the release of Aegon's new security protocols. The required credentials have changed to the agency number and a One Time Passcode (OTP) generated from the Aegon website.
The original valuations integration credentials, previously entered, are no longer supported, so a new set of credentials need to be entered, to continue with the service. To obtain the OTP, you will need to follow the steps below with Aegon before doing anything else in Dynamic Planner:
A firm administrator with 'Bulk Data admin' access needs to login to the Aegon platform
Select 'Reports' dropdown. Then select 'Manage bulk data file integration'
Select 'Integration' – then 'Set up new system'
You will be presented with a dropdown menu where you need to select the back-office provider you are using, along with the organisation you are looking to generate a data feed for
Choose the files you wish to start generating for your data feed
To complete integration setup, generate a token to enter back in Dynamic Planner
Back in Dynamic Planner, click on the Aegon [previously Cofunds] tab on the home page under 'Your platform credentials', as below

Enter the required information as requested, below. Note, both the OTP and the Organisation ID are numeric formats

If you require any further information or encounter any other issues, please contact our client support team on 0333 6000 500, selecting option 1. Alternatively, contact your Dynamic Planner Account Manager who can guide you through this. Thank you.
By Product Manager Josh Knight
It is hard to believe that this month already marks a year since we first made Dynamic Planner's Client Review process available.
'Elements' is our rolling, two-year programme of major updates and enhancements to Dynamic Planner, focused on providing you with a sleek and modern set of business processes that allow you to efficiently service your clients and showcase the real value of your advice.
From a technology perspective, the team at Dynamic Planner have worked hard to build a platform on which we can quickly iterate and build out new functionality, and rapidly respond to user feedback and suggestions. Built using the latest technology and cloud services from Microsoft, we have been able to build out processes that work across a range of devices with a focus on usability and high-quality outputs.
Having had a great response to the Client Review process, we have made several further significant enhancements over the past year – and, as always, a birthday is a good opportunity to look back over what has been achieved.
Below are just five of the hundreds of features and enhancements we have implemented in the last 12 months.
We have refined the navigation. Since launch, we have continued to evolve the navigation and layout of Elements, ensuring that as we add more complex tasks and functionality, everything remains clear and straightforward from a user perspective. You can see below some of this evolution in how screens have evolved from very early mock-ups, to the screens you can see today
As we now look forward to the next 12 months, there are a number of exciting new launches and features we are planning. Stay tuned to find out more over the coming weeks and months.
As ever, we hope you find the enhancements a useful update to Dynamic Planner – and your feedback as clients is vital to helping us continue to improve and enhance the Dynamic Planner service for you. Please leave any feedback you have, however small, in the feedback portal. We do read it all!
If you have a query, you can always contact our Client Success team on 0333 6000 500 or at support@dynamicplanner.com. Thank you.
This year and particularly since mid-March, the whole financial services industry and indeed world has changed in ways few of us could have imagined.
The provision of financial advice has always been a very sociable and personal service. Many times in discussions with Dynamic Planner users over the years, I have been told that firms' clients value time spent with their adviser and those meetings, whether held at the client's home or at a firm's office, form a key part of the service and value advisers deliver to their clients.
Given the current need for working remotely and of course providing and delivering financial advice at a distance, below is a rundown of five ways in which Dynamic Planner can help you right now.
1. Risk Profile Client Invites
For several years now, Dynamic Planner has provided advice firms with the ability to send risk profiling questionnaires to clients for completion remotely prior to a meeting. Clients answer them via dedicated, client-facing screens, which are optimised for use across devices, including mobile. It's no surprise that this feature is being used now more than ever in 2020.
2. Beautiful digital reports
Within the latest version of Dynamic Planner, you and colleagues can download high quality risk profiling and client review reports, which can easily be personalised with your firm's logo, own imagery and colours. Final reports can be downloaded as PDFs for easy sharing.
In addition, we have launched a Content Hub on our website providing you and your with freely available material you can download and share with your clients, to help reassure them at this time. Literature available to download includes, 'The value of remaining invested over time', 'The value of a relevant benchmark to measure fund and portfolio performance' and 'Checklist: Key things to remember for low, medium and high risk profile clients'.
3. My Planning client portal
If you are looking for a way to share reports you have created within Dynamic Planner, in a secure way with clients, then look no further than My Planning – Dynamic Planner's client portal. It gives your clients an overview of their wealth, alongside the ability for you and your firm to share documents and minimise the need to send documents via email.
4. Easy to use screens, maximised for client interaction
The use of remote video calling and screensharing technology has boomed over the past few weeks, with Microsoft Teams and Zoom being two of the most widely used platforms and both reporting a huge increase in demand for their platforms.
We have heard from existing Dynamic Planner users how over the past few years the use of technology within the client meeting has become increasingly prevalent and this of course applies remotely as well as physically.
As such, while our users are predominantly financial advisers, paraplanners or other office staff, we design all new features with a view that the client will be sitting there in the meeting and viewing. This leads us to question the importance of every piece of data or analysis shown on screen and how that content is presented. Ultimately, it results in a slicker service for all – so Dynamic Planner's Client Review process is perfectly suited to being used remotely via screensharing, providing you and your firm's clients with full interactivity and richness of analysis to support the conversation.
5. Access anywhere, anytime
Finally, Dynamic Planner is a web-based service, with nothing more than a modern web browser required to quickly access – and no obscure software or device requirements. With the latest version of Dynamic Planner, you can even conduct a client review from your mobile phone.
Like many businesses, at Dynamic Planner we have had to rapidly ready our staff to work remotely. This involves ensuring everyone on the team has access to the equipment and software they need to continue to perform their role remotely.
We hope that helps with ways in which Dynamic Planner can support you through this time.
If you have any more questions, please do get in touch. We're fully operational throughout the current lockdown.
This month, we can announce a new feature within the client review process to help you and your firm in more turbulent market times.
We have updated our review report template to provide space for your firm's own market commentary. This provides you with space in the report to outline prevailing market conditions for your clients.
Whilst we're in the midst of market instability, due to the coronavirus outbreak, this is another way in which Dynamic Planner can help your clients understand and rationalise the potential impact on their portfolio and long-term objectives.
You can enter your firm's market commentary within the 'Paragraph Library' administration feature. Once provided, the content will appear in the review report in the Appendices. And as with other sections of the review report, you can optionally include or exclude the content on a client by client basis, to ensure you provide content that is relevant and interesting for the individual client.
Take a look in 'Help' for more detailed instructions on how to set default content for the review report.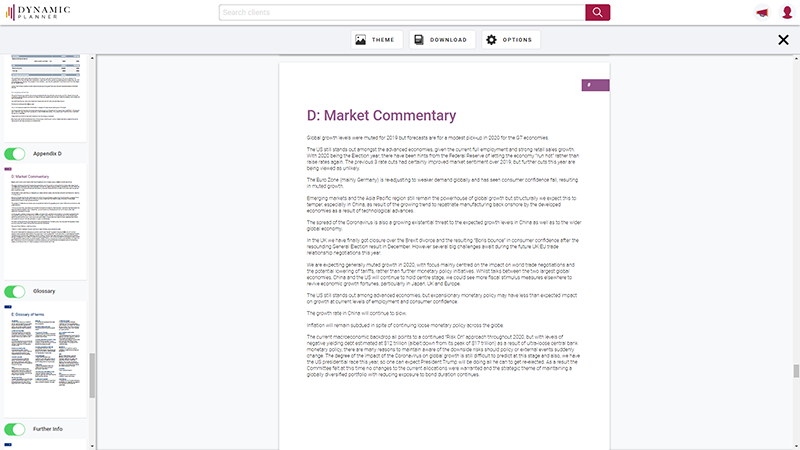 We hope you find the enhancements a useful addition to Dynamic Planner. As always, your feedback as clients is vital to helping us continue to improve and enhance the Dynamic Planner service for you and your firm.
Please do leave any feedback you have, however small, in the feedback portal. We do read it all! Thank you.
And as ever, you can contact our Client Success team – on 0333 6000 500 or support@dynamicplanner.com – with any other queries or issues you have.
We've had a great start to the new year with our Annual Conferences in Manchester and London and multiple product announcements to keep us busy!
Alongside developing all these new services, we're continuing to develop and evolve our current features. One common theme across all new areas of Dynamic Planner is the quality and presentation of the reports it enables you to generate.
We've had some great feedback about the new client review and risk profiling reports, and the ease with which you can apply your own logo and imagery. However, a common request from users has been to provide more flexibility in the colours used.
So, we're pleased to announce that the theme editor has been updated to provide you with extra control over the colours used throughout reports. You can find the theme editor in the top right menu once you've logged into Dynamic Planner.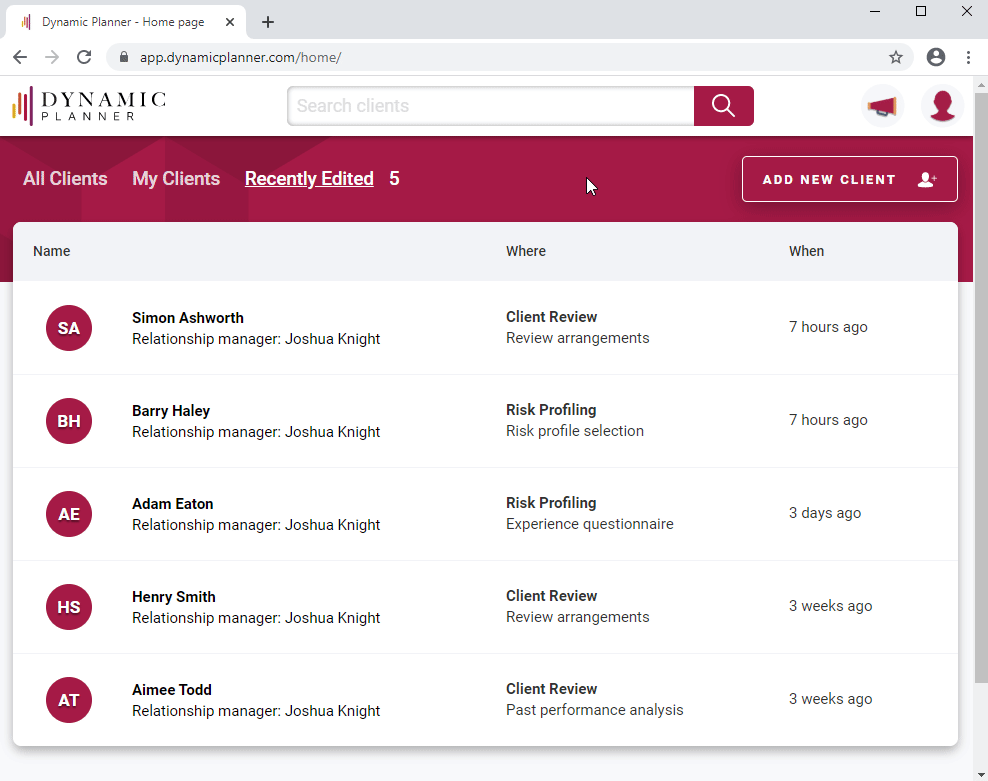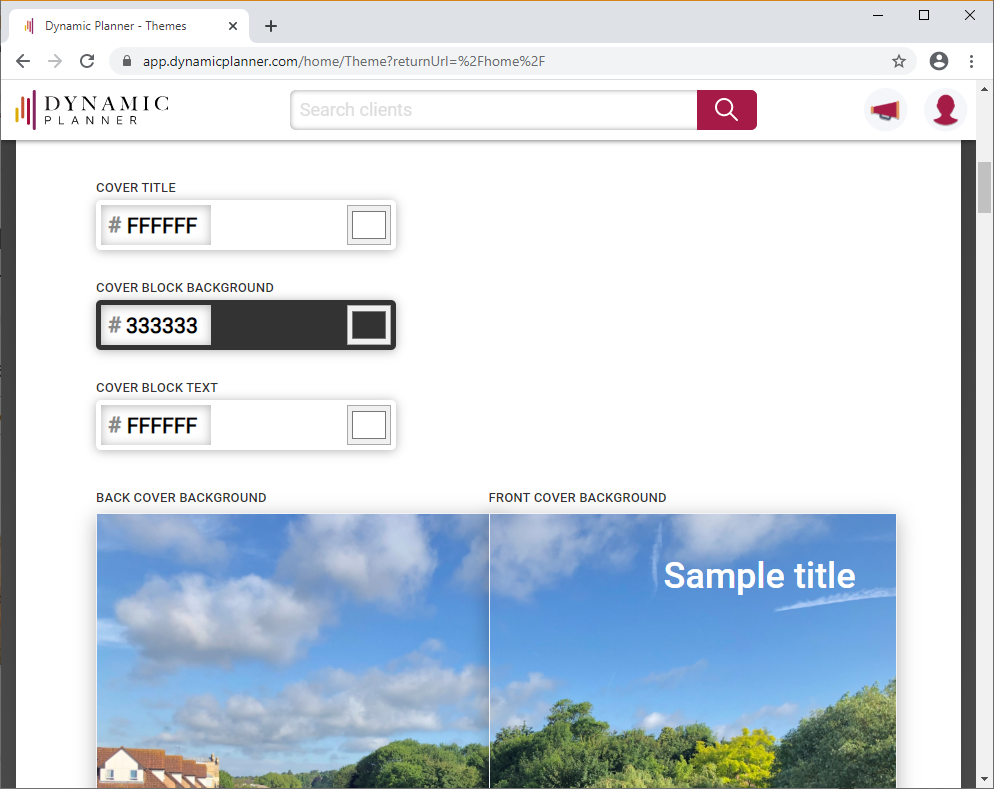 What you'll see is the ability to clone one of the default themes (e.g. 'Countryside') from which you can then apply your own images and colours. We hope this unleashes a new wave of creativity among you!
Late last year, we held a competition to find the best use among our clients of the report theme editor. You didn't let us down. We were spoilt for choice with lots of great use of really striking and thoughtful imagery used throughout reports. There could only, however, be one winner unfortunately – of a £250 Amazon voucher, which went to Terry Shatwell of Lifetime Financial Solutions. Congratulations Terry.
We hope you find the enhancements a useful addition to Dynamic Planner. As always, your feedback as clients is vital to helping us continue to improve and enhance the Dynamic Planner service for you. Please leave any feedback you have, however small, in the feedback portal. We do read it all!
As ever, you can always contact our Client Success team on 0333 6000 500 or support@dynamicplanner.com with any other queries or issues you have. Thank you.