This month, we can announce a new feature within the client review process to help you and your firm in more turbulent market times.
We have updated our review report template to provide space for your firm's own market commentary. This provides you with space in the report to outline prevailing market conditions for your clients.
Whilst we're in the midst of market instability, due to the coronavirus outbreak, this is another way in which Dynamic Planner can help your clients understand and rationalise the potential impact on their portfolio and long-term objectives.
You can enter your firm's market commentary within the 'Paragraph Library' administration feature. Once provided, the content will appear in the review report in the Appendices. And as with other sections of the review report, you can optionally include or exclude the content on a client by client basis, to ensure you provide content that is relevant and interesting for the individual client.
Take a look in 'Help' for more detailed instructions on how to set default content for the review report.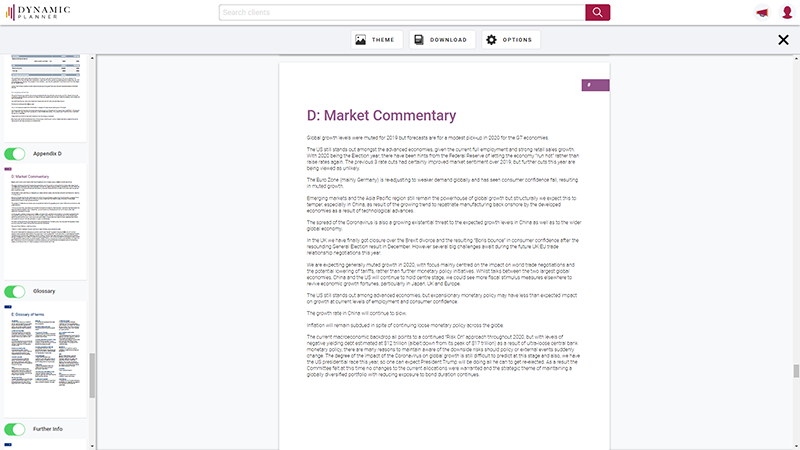 We hope you find the enhancements a useful addition to Dynamic Planner. As always, your feedback as clients is vital to helping us continue to improve and enhance the Dynamic Planner service for you and your firm.
Please do leave any feedback you have, however small, in the feedback portal. We do read it all! Thank you.
And as ever, you can contact our Client Success team – on 0333 6000 500 or support@dynamicplanner.com – with any other queries or issues you have.