By Josh Knight, Head of Product
It has been a busy spring at Dynamic Planner. We have several, exciting new product features to help make your advice process even more efficient and engaging for your clients.
Notably, we launched our new Client Access feature. This allows you to capture responses to the client profiling questionnaires directly from the client before your meetings. You might have used the earlier version of this in the old version of Dynamic Planner. It quickly gained a lot of attention during Covid and lockdowns in the past two years.
The new version of this feature has even more flexibility to help you integrate it into your advice process. You can find out more about it.
1. Get a link rather than email
By default, Dynamic Planner will send out an email to the client containing the link; one less thing for you to worry about. But we know that the personal touch can be preferable and you may already be sending an email to your client with prep work ahead of a meeting.
In instances like that, you can simply get the link from Dynamic Planner, without it being sent out. Copy and paste it into your own email, and you are good to go.

2. Brand the client screens for your firm
For some clients, using Client Access might be one of their first interactions with your firm, certainly in a digital environment. Presenting your brand across all your touchpoints is important and helps reassure clients.
To help here, you can easily customise the Client Access screens with your firm's logo and main brand colour. You can have any colour, as long as it's hexadecimal. You can tweak colours and upload your logo on the Client Access settings page.
3. Take personalisation to the next level. Add your profile photo
While branding is applied at a firm level, to help your clients know that the request has come from you, you can also upload your profile photo to Dynamic Planner on your account settings page. Once uploaded, the Client Access screens will show your profile photo.

4. Set the defaults to match your process
The new Client Access tool allows you to capture responses to each of the four client profiling questionnaires in Dynamic Planner. We have, for reference, got further enhancements on the way to allow you to capture even more information from your client, but we will save that for a future blog post.
For now, you can choose any combination of the four questionnaires [experience, attitude to risk, capacity and sustainability] you would like the client to complete. For example, if you typically only ask a client to complete the experience questionnaire as part of initial onboarding, you can untick it by default, and then turn it back on as and when required. You can set the default questionnaires via the Client Access settings.
5. Edit the words to seamlessly integrate into your process
To ensure that your digital engagement seamlessly dovetails with your other methods of client engagement, you can set the wording used throughout the process.
You can set the default wording on the email that is sent out (e.g., if you wish to refer to some other emails or correspondence that are typically sent out). We've given you an easy-to-use editor that provides simple formatting and the inclusion of key data items.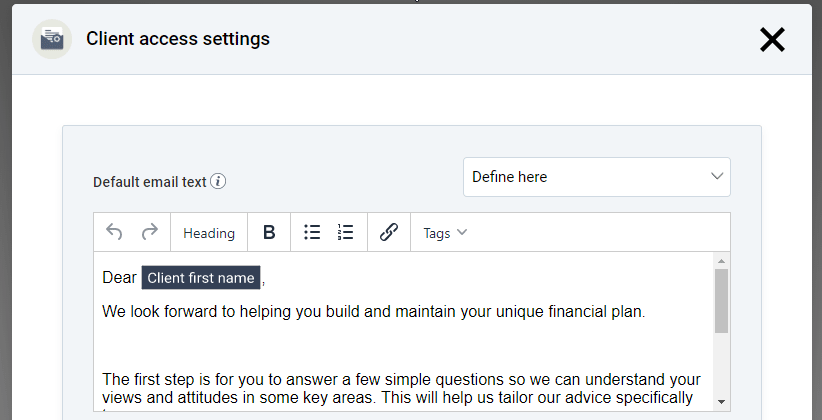 You can tweak the wording used in the client journey as well. You can include links as well as formatting.
If you use a diary management / appointment booking system (like Calendly or Office 365 Bookings app), you could include a link for the client to book their appointment with you in the final step of the process. As with theming and default questionnaires, you can tweak these options via the Client Access settings.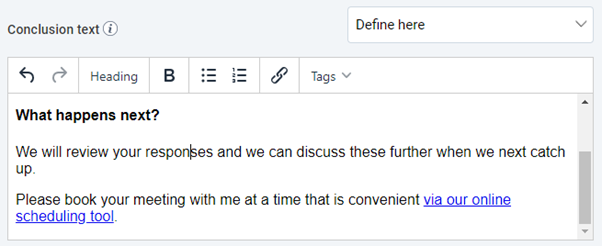 If you come up with any creative uses for Client Access, please let us know. And as always, if you need any help or just want to chat about the new features, please do reach out to the Client Success team, who are always available to support you in your use of Dynamic Planner.