It's been a busy few months here as the team have been working hard to complete a number of exciting updates and enhancements.
Firstly, we've added a number of features to our Cash flow tool. Building on the goals feature we released in May, we've added a number of new visualisation options to help you present the most engaging and insightful plans to your clients.
Segmented view of income and expenditure
You'll now see two new charts within the Analysis section, giving you a breakdown of income and expenditure in the plan. These are brilliant at supporting conversations with the client and make it clear where changes occur in the future cash flows. Hovering over any year gives you a quick snapshot of it, as below. We've also added this breakdown into the data view.
Viewing possible investment paths
Dynamic Planner's Cash flow module is driven by a powerful, Monte Carlo stochastic forecast. The stochastic returns are driven by the same assumptions used in our risk profiling process. Using a single definition of risk in your cash flow plan is vital to avoid the danger of miscalibration and to ensure nothing is lost in translation, as a result, in the planning process.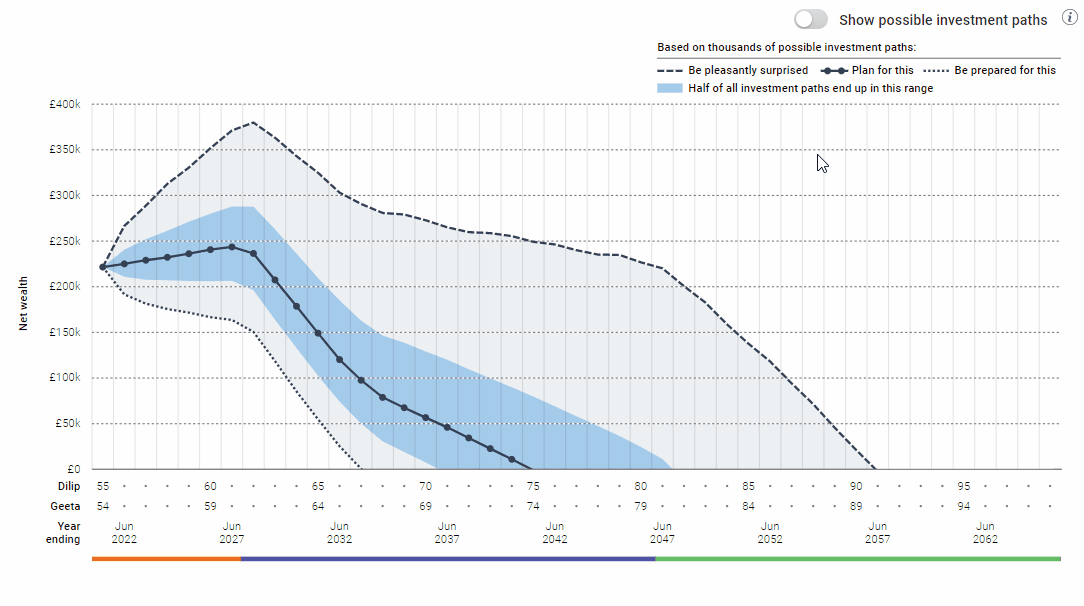 We've added a new feature to help you and your clients visualise the underlying volatility in the thousands of simulations modelled to provide the overall forecast outcomes. This allows you to see the peaks and troughs of the simulated investment path.
The Wealth graph, pictured above, has been further updated. Responding to user feedback, we have introduced the shaded area in the centre of the forecast for how a client's portfolio is likely to perform in future.
The shaded area encompasses the 25th to the 75th percentile of projected outcomes. In short, there is a 50% chance a client's portfolio will perform within these parameters. Wealth graph analysis is available in Dynamic Planner Cash flow and appears in the opening section of a Client Review report, 'Is your portfolio on track?'
Making charts more accessible
When it comes to data visualisation, or conveying any kind of complex information, we know that one-size doesn't fit all. That's why we've taken time to ensure that wherever possible we provide graphics, words and data to help the client understand their plan.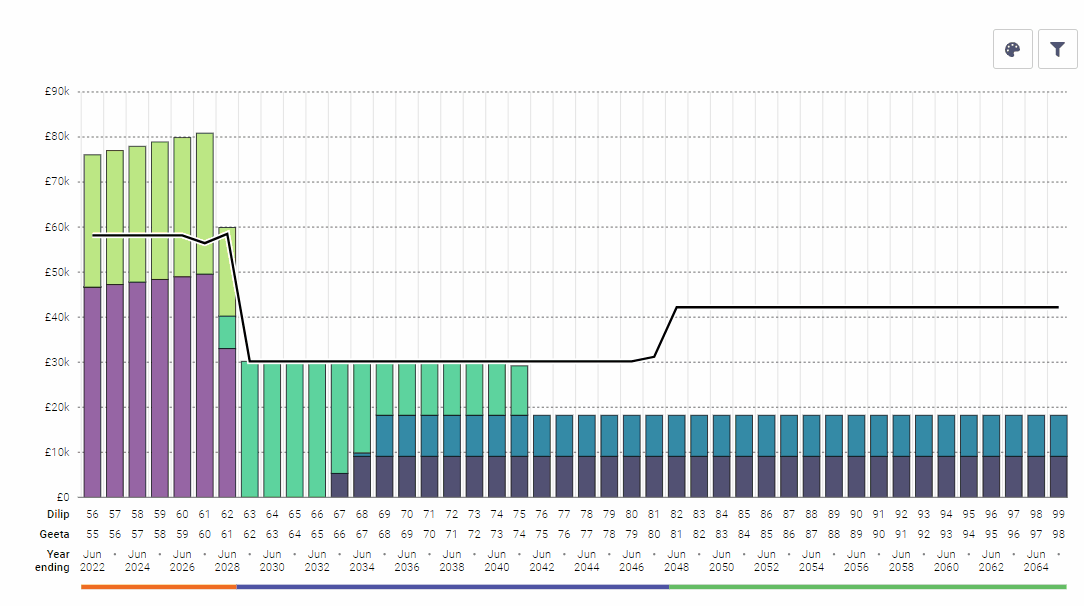 As we introduced the new segmented income and expenditure charts, we wanted to take the opportunity to introduce a complementary feature to address the accessibility of the colour palettes we use. You can now select from a range which have been created to help clients more easily distinguish each segment, taking into account different types of colour blindness.
Target Market definition tool
Elsewhere in Dynamic Planner, you will now see our new Target Market definition tool. Having a clear and concise definition of your firm's target markets is a pivotal step in building and maintaining your investment proposition. But all too often we've heard from users that they are unsure how to go about this and lack the tools to consistently do this.
The target market definition tool is our first step in helping you on this journey. We've given you a simple structure within which you can define your target market, looking at a range of attributes and facets of a particular cohort of your clients such as their risk and sustainability profiles.
We have more features planned here, so watch this space! The target market tool is available now to fully licenced Dynamic Planner users. Click here to build your first target market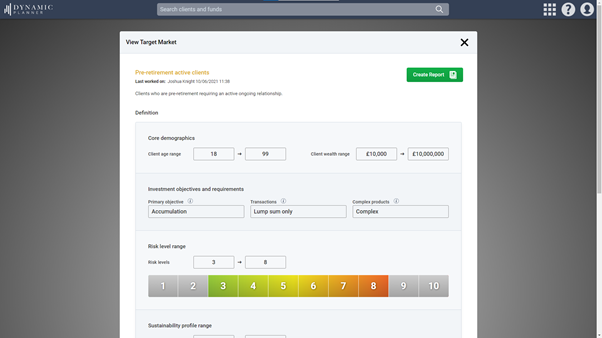 As always, if you need any help or just want to chat about the new features, please do reach out to our Client Success team, who are always available to support you. Thank you.
Join us each month for a new, 30min webinar covering latest enhancements in Dynamic Planner. The handy, bitesized sessions are on the second Wednesday of each month, at 10am. A senior member of our Client Success team will be on hand to host and time permitting, will also answer commonly asked questions from users about Dynamic Planner. Account Manager Lorna Brown will take August's new 'Monthly Update'. Register your place.