Dynamic Planner has launched Product and Platform Research, 'fit for the future tech' which gives advisers the ability to research investment and retirement products, whilst meeting the evolving needs of clients and regulation.
Part of Dynamic Planner as standard, Product and Platform Research is available to Dynamic Planner users from today and comes with all the benefits of working seamlessly within one system, avoiding the risks of re-keying and miscalibration.
The technology powering Dynamic Planner's Product and Platform Research is designed in line with PROD and Consumer Duty regulatory requirements, putting clients at the heart of the process, and has data sourced direct from providers across the UK market. It simplifies what can be a vast task, enabling advisers to quickly identify those features that can lead to good client outcomes.
Rather than 'scoring' products or providers by the number of features, Dynamic Planner's Product and Platform Research empowers the adviser with all the information necessary to determine which matches the need and preferences of the consumer. Selection criteria and research can be saved and matched to a firm's target market. At a firm level, advisers can manage their centralised propositions, segmenting clients into defined target markets and tying product research to them.
Chris Jones, Proposition Director at Dynamic Planner said: "The world of financial planning and regulation has evolved more than ever this century. Yet in the area of research, firms have been stuck with technology of the past, faced with as many as 300 product features and the challenge of matching and explaining them to a client. We asked advice firms what we could do to help them navigate this maze of features. They told us they wanted clarity over complexity, a simplified process and something different to what they had used before.
"Working from a blank canvas, we have been able to create technology that is fit for now and the future, and guided by PROD and Consumer Duty. Dynamic Planner's Product and Platform Research puts clients at its heart, simplifying the process and efficiently highlighting product features which can be demonstrated to lead to good client outcomes. It provides an unblinkered view of the market with all information, sourced directly from providers.

"We've gone even further to meet the needs of the financial planning process and built the ability to segment clients into defined target markets, tying product research to them to consistently deliver good outcomes. Along with potential cost savings, it has the key benefit of being part of Dynamic Planner's one system, enabling firms to save time, money and work seamlessly in one place."
Not a Dynamic Planner user? Schedule a free no-obligation demo with a business consultant and experience the full functionality of Dynamic Planner.
By Josh Knight, Head of Product
It has been a busy spring at Dynamic Planner. We have several, exciting new product features to help make your advice process even more efficient and engaging for your clients.
Notably, we launched our new Client Access feature. This allows you to capture responses to the client profiling questionnaires directly from the client before your meetings. You might have used the earlier version of this in the old version of Dynamic Planner. It quickly gained a lot of attention during Covid and lockdowns in the past two years.
The new version of this feature has even more flexibility to help you integrate it into your advice process. You can find out more about it.
1. Get a link rather than email
By default, Dynamic Planner will send out an email to the client containing the link; one less thing for you to worry about. But we know that the personal touch can be preferable and you may already be sending an email to your client with prep work ahead of a meeting.
In instances like that, you can simply get the link from Dynamic Planner, without it being sent out. Copy and paste it into your own email, and you are good to go.

2. Brand the client screens for your firm
For some clients, using Client Access might be one of their first interactions with your firm, certainly in a digital environment. Presenting your brand across all your touchpoints is important and helps reassure clients.
To help here, you can easily customise the Client Access screens with your firm's logo and main brand colour. You can have any colour, as long as it's hexadecimal. You can tweak colours and upload your logo on the Client Access settings page.
3. Take personalisation to the next level. Add your profile photo
While branding is applied at a firm level, to help your clients know that the request has come from you, you can also upload your profile photo to Dynamic Planner on your account settings page. Once uploaded, the Client Access screens will show your profile photo.

4. Set the defaults to match your process
The new Client Access tool allows you to capture responses to each of the four client profiling questionnaires in Dynamic Planner. We have, for reference, got further enhancements on the way to allow you to capture even more information from your client, but we will save that for a future blog post.
For now, you can choose any combination of the four questionnaires [experience, attitude to risk, capacity and sustainability] you would like the client to complete. For example, if you typically only ask a client to complete the experience questionnaire as part of initial onboarding, you can untick it by default, and then turn it back on as and when required. You can set the default questionnaires via the Client Access settings.
5. Edit the words to seamlessly integrate into your process
To ensure that your digital engagement seamlessly dovetails with your other methods of client engagement, you can set the wording used throughout the process.
You can set the default wording on the email that is sent out (e.g., if you wish to refer to some other emails or correspondence that are typically sent out). We've given you an easy-to-use editor that provides simple formatting and the inclusion of key data items.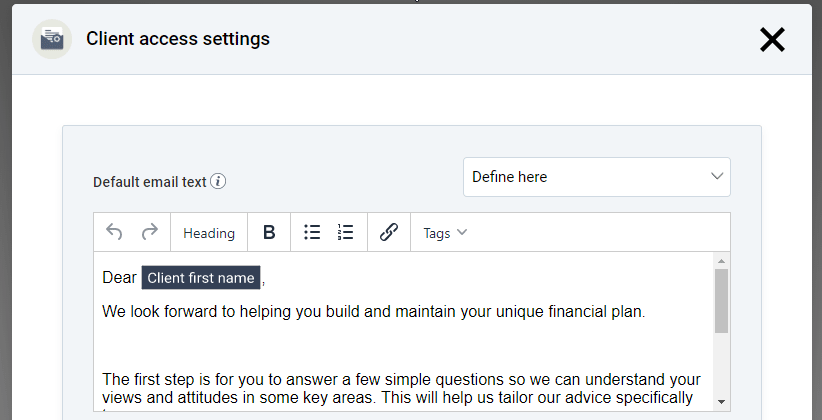 You can tweak the wording used in the client journey as well. You can include links as well as formatting.
If you use a diary management / appointment booking system (like Calendly or Office 365 Bookings app), you could include a link for the client to book their appointment with you in the final step of the process. As with theming and default questionnaires, you can tweak these options via the Client Access settings.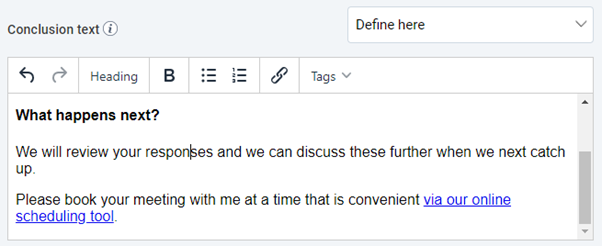 If you come up with any creative uses for Client Access, please let us know. And as always, if you need any help or just want to chat about the new features, please do reach out to the Client Success team, who are always available to support you in your use of Dynamic Planner.
By Head of Product, Josh Knight
Over the past few months, we have added a number of new features and enhancements in Dynamic Planner.
An important, overarching aim, threading them together, is providing a smoother user journey and consolidating and re-organising lots of supporting functionality that drives your productivity in Dynamic Planner.
1.1 Document store
First, we have added a central place to see all documents that you have saved for a client. When you download a report, you can optionally save it to the client record. You can see all such saved documents in the new document list. You can also drag and drop to upload other documents to store alongside reports.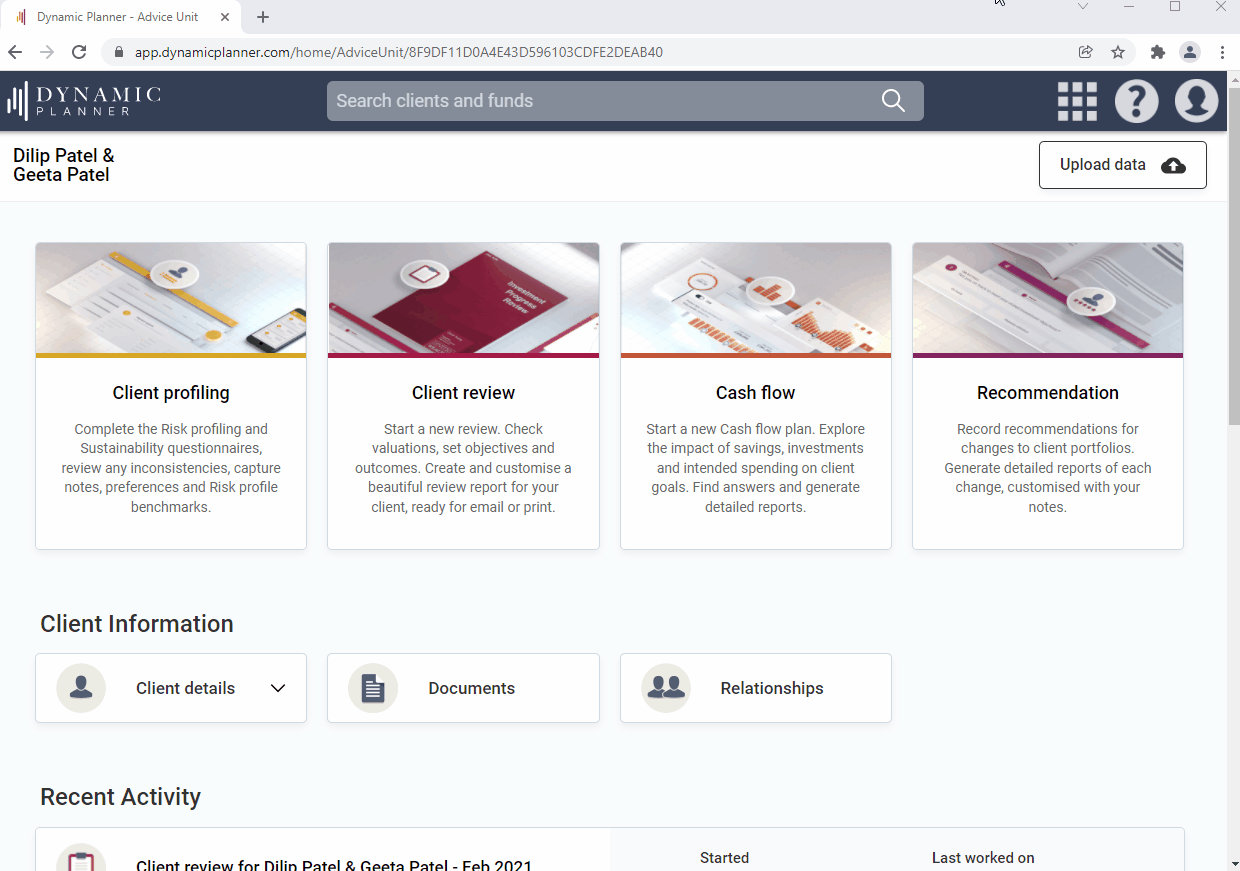 1.2 Relationship management
Alongside documents, you can now manage client relationships here too. In Dynamic Planner, each individual you give advice to is listed as an individual client. Clients are joined by Relationships, essentially creating a 'Client' and a 'Partner' for a specific piece of advice. The new functionality allows you to manage these relationships.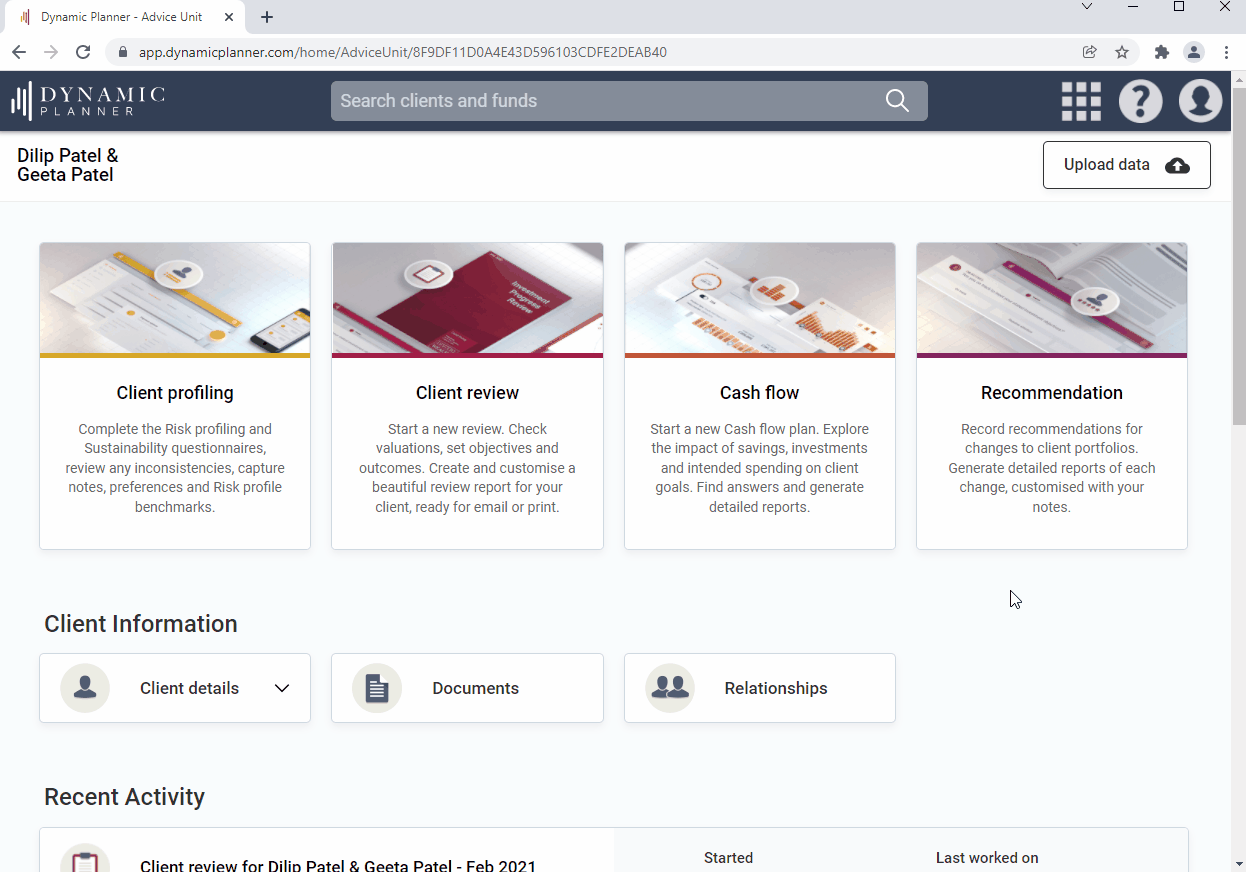 1.3 Intelliflo Office integration
Dynamic Planner's integration with Intelliflo Office has received an update, allowing you to land in the latest version of Dynamic Planner, saving you a click or two in the process. When you click through into Dynamic Planner, you will be taken straight to the client for which you initiated the integration, allowing you to immediately start or continue a planning process.
1.4 Are you sure?
The final change you may have noticed, and by popular demand, is that we have implemented a sanity check when you try and move away from something you have been working on without saving.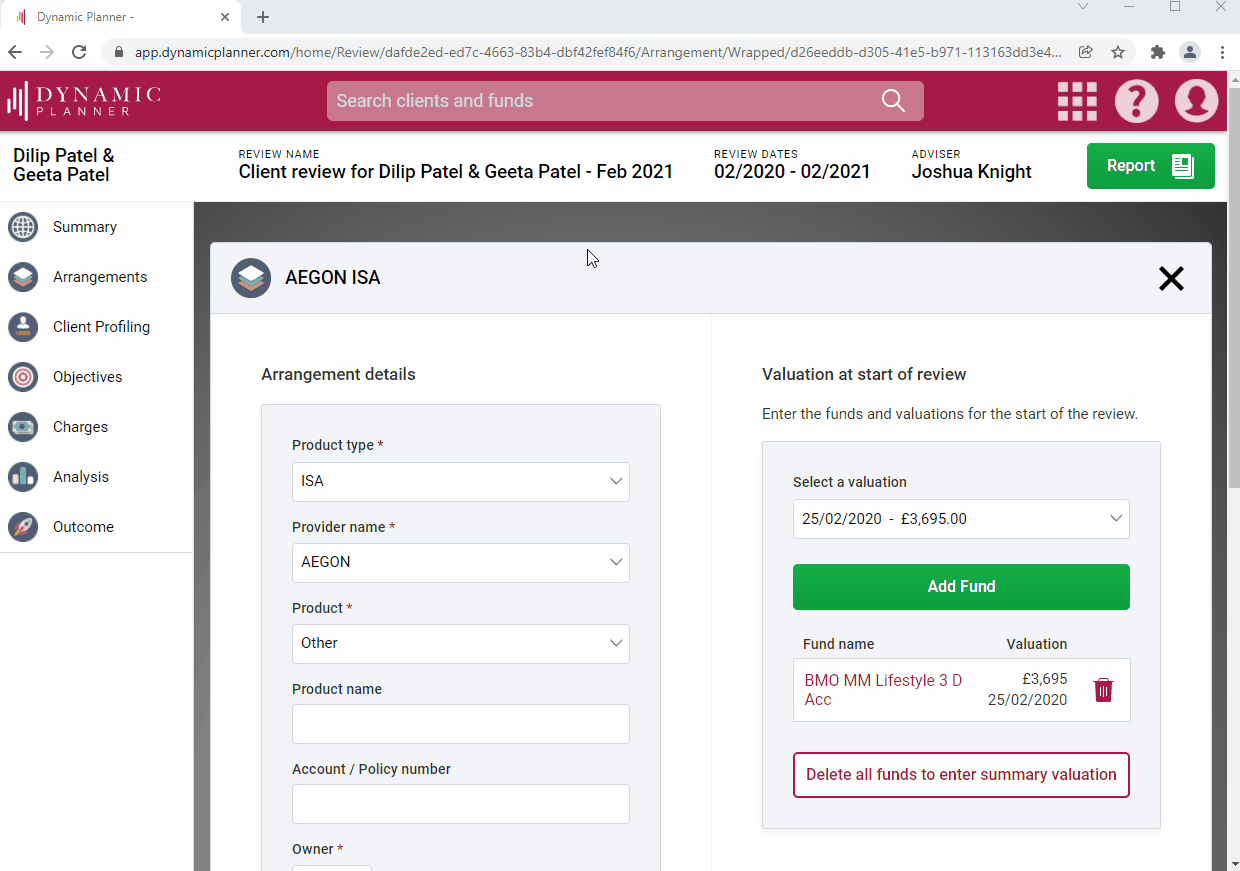 We hope you find the enhancements useful. As always, your feedback as our clients and Dynamic Planner users is vital to helping us continue to improve the system for you. Alongside the above enhancements, I can say the team here have been busy working on some big, upcoming enhancements, but more on those over the coming weeks and months.
Please leave any feedback you have, however small, in Dynamic Planner's feedback portal. We do read it all! Thank you.
Remember, you can join a member of our Client Success team for a monthly webinar, wrapping up latest enhancements in Dynamic Planner. With the exception of the next one in January, they are always on the second Wednesday [10am] of each month for 30min. Register your places for Q1 2022.
It's been a busy few months here as the team have been working hard to complete a number of exciting updates and enhancements.
Firstly, we've added a number of features to our Cash flow tool. Building on the goals feature we released in May, we've added a number of new visualisation options to help you present the most engaging and insightful plans to your clients.
Segmented view of income and expenditure
You'll now see two new charts within the Analysis section, giving you a breakdown of income and expenditure in the plan. These are brilliant at supporting conversations with the client and make it clear where changes occur in the future cash flows. Hovering over any year gives you a quick snapshot of it, as below. We've also added this breakdown into the data view.
Viewing possible investment paths
Dynamic Planner's Cash flow module is driven by a powerful, Monte Carlo stochastic forecast. The stochastic returns are driven by the same assumptions used in our risk profiling process. Using a single definition of risk in your cash flow plan is vital to avoid the danger of miscalibration and to ensure nothing is lost in translation, as a result, in the planning process.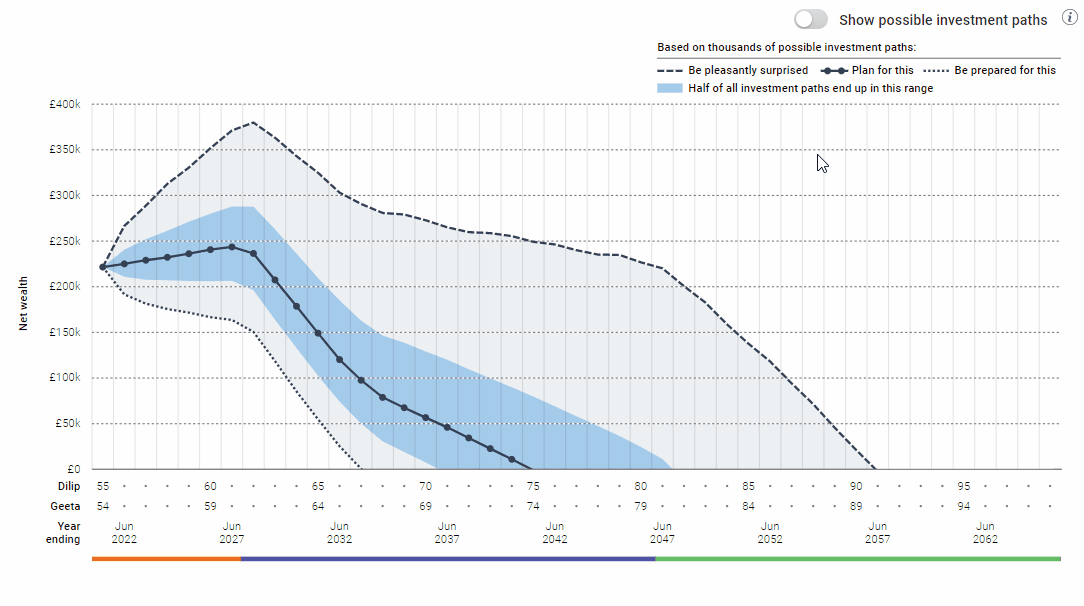 We've added a new feature to help you and your clients visualise the underlying volatility in the thousands of simulations modelled to provide the overall forecast outcomes. This allows you to see the peaks and troughs of the simulated investment path.
The Wealth graph, pictured above, has been further updated. Responding to user feedback, we have introduced the shaded area in the centre of the forecast for how a client's portfolio is likely to perform in future.
The shaded area encompasses the 25th to the 75th percentile of projected outcomes. In short, there is a 50% chance a client's portfolio will perform within these parameters. Wealth graph analysis is available in Dynamic Planner Cash flow and appears in the opening section of a Client Review report, 'Is your portfolio on track?'
Making charts more accessible
When it comes to data visualisation, or conveying any kind of complex information, we know that one-size doesn't fit all. That's why we've taken time to ensure that wherever possible we provide graphics, words and data to help the client understand their plan.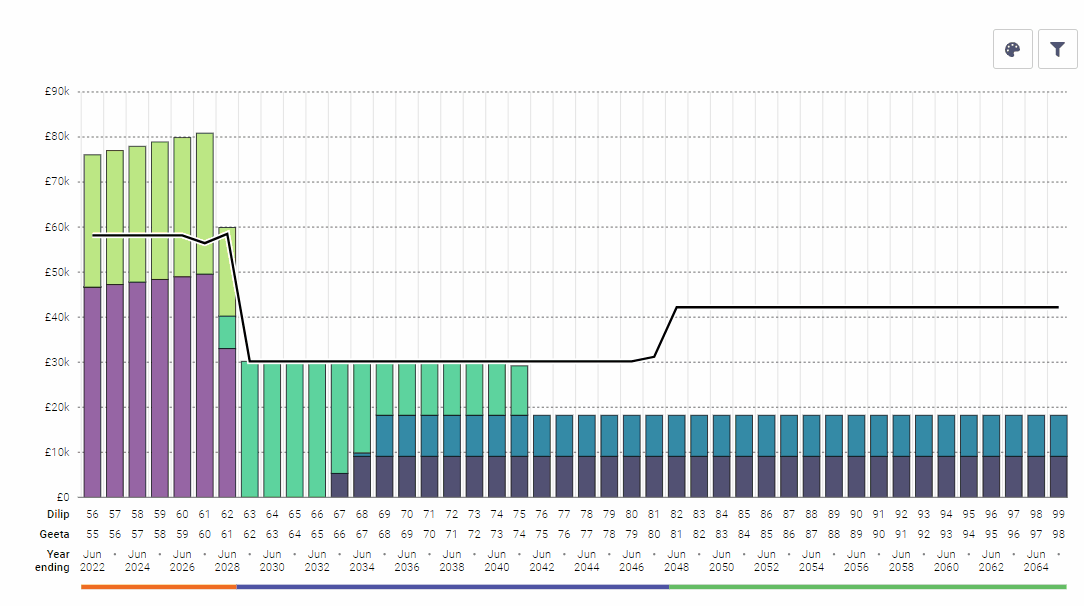 As we introduced the new segmented income and expenditure charts, we wanted to take the opportunity to introduce a complementary feature to address the accessibility of the colour palettes we use. You can now select from a range which have been created to help clients more easily distinguish each segment, taking into account different types of colour blindness.
Target Market definition tool
Elsewhere in Dynamic Planner, you will now see our new Target Market definition tool. Having a clear and concise definition of your firm's target markets is a pivotal step in building and maintaining your investment proposition. But all too often we've heard from users that they are unsure how to go about this and lack the tools to consistently do this.
The target market definition tool is our first step in helping you on this journey. We've given you a simple structure within which you can define your target market, looking at a range of attributes and facets of a particular cohort of your clients such as their risk and sustainability profiles.
We have more features planned here, so watch this space! The target market tool is available now to fully licenced Dynamic Planner users. Click here to build your first target market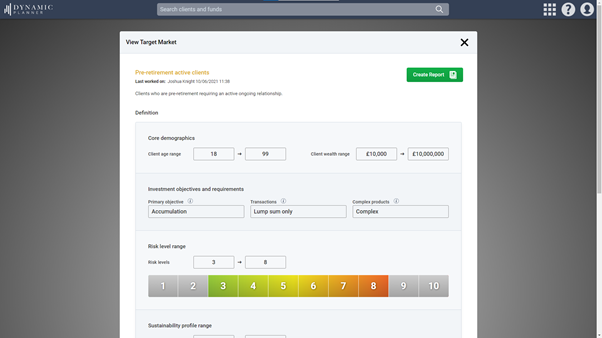 As always, if you need any help or just want to chat about the new features, please do reach out to our Client Success team, who are always available to support you. Thank you.
Join us each month for a new, 30min webinar covering latest enhancements in Dynamic Planner. The handy, bitesized sessions are on the second Wednesday of each month, at 10am. A senior member of our Client Success team will be on hand to host and time permitting, will also answer commonly asked questions from users about Dynamic Planner. Account Manager Lorna Brown will take August's new 'Monthly Update'. Register your place.
For those of you who couldn't join us last month for our sustainable investing events, you may not yet have seen the new sustainability questionnaire in Dynamic Planner.
This has been specifically purposed to help you engage with your clients in a structured way, so you can properly understand their level of preferences when it comes to ESG investing.
Using proven, psychometric techniques, the questionnaire has been carefully constructed to enable you to bring out the level of client preferences, calibrated across five categories from 'low' to 'very high' importance and also, further guidance around what type of solution to consider once a profile has been agreed.
Catch-up on-demand with our sustainable investing event in June, discussing how Dynamic Planner can support you here
To help join up the process of recommending suitable, risk-aligned solutions with a client's sustainability preferences, we have teamed up with MSCI to host their ESG fund research reports in Dynamic Planner. These are available on an open-architecture basis, so you can easily assess the ESG metrics of funds you are already actively recommending within your current shortlist by downloading the research reports.
The MSCI research is also available across the multi-asset fund solutions we already risk profile and latest analysis shows a positive set of results across the range, with the majority of solutions rated within the MSCI 'average' range [A to BB] and plenty too within the 'leaders' [AAA to AA].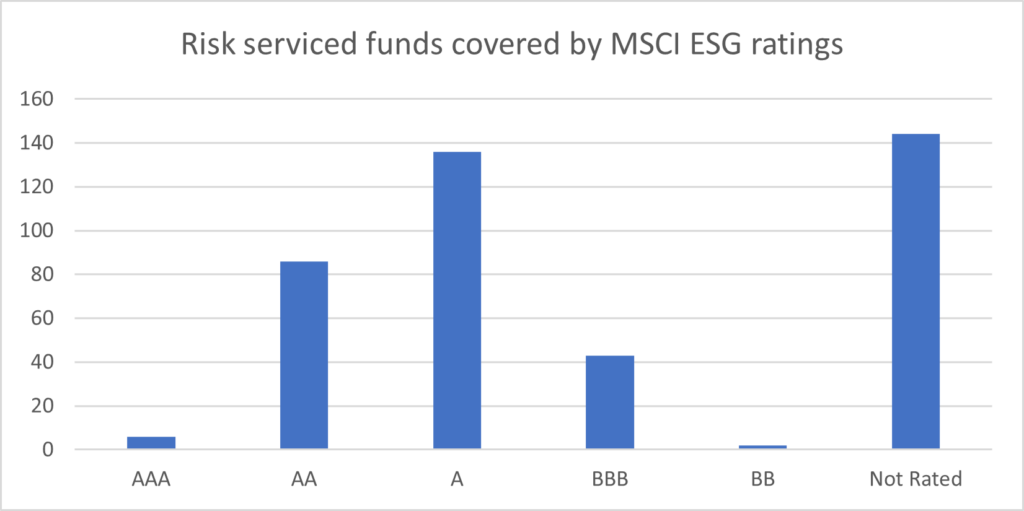 For your clients who have registered a higher level of interest in sustainable investments, click here for the latest list of risk profiled funds where there is an express policy commitment to an ESG objective.
Not a Dynamic Planner user? We'd love to talk to you about how our end-to-end financial planning process can help your firm, and how we make implementation and onboarding a breeze. Book a call
By Joshua Knight, Head of Product
It's been a busy few months! And now, in our May release, we're excited to release a number of exciting changes.
Firstly, our new Sustainability questionnaire is now available for all users. You'll notice the 'Risk profiling' process has been reborn as the 'Client profiling' process, with its broader remit of helping you explore other relevant facets of a client's personality.
Along with the new questionnaire (which has previously been covered here), we've introduced a new way for you to select which questionnaires you want to complete with your client. We know it's not one size fits all.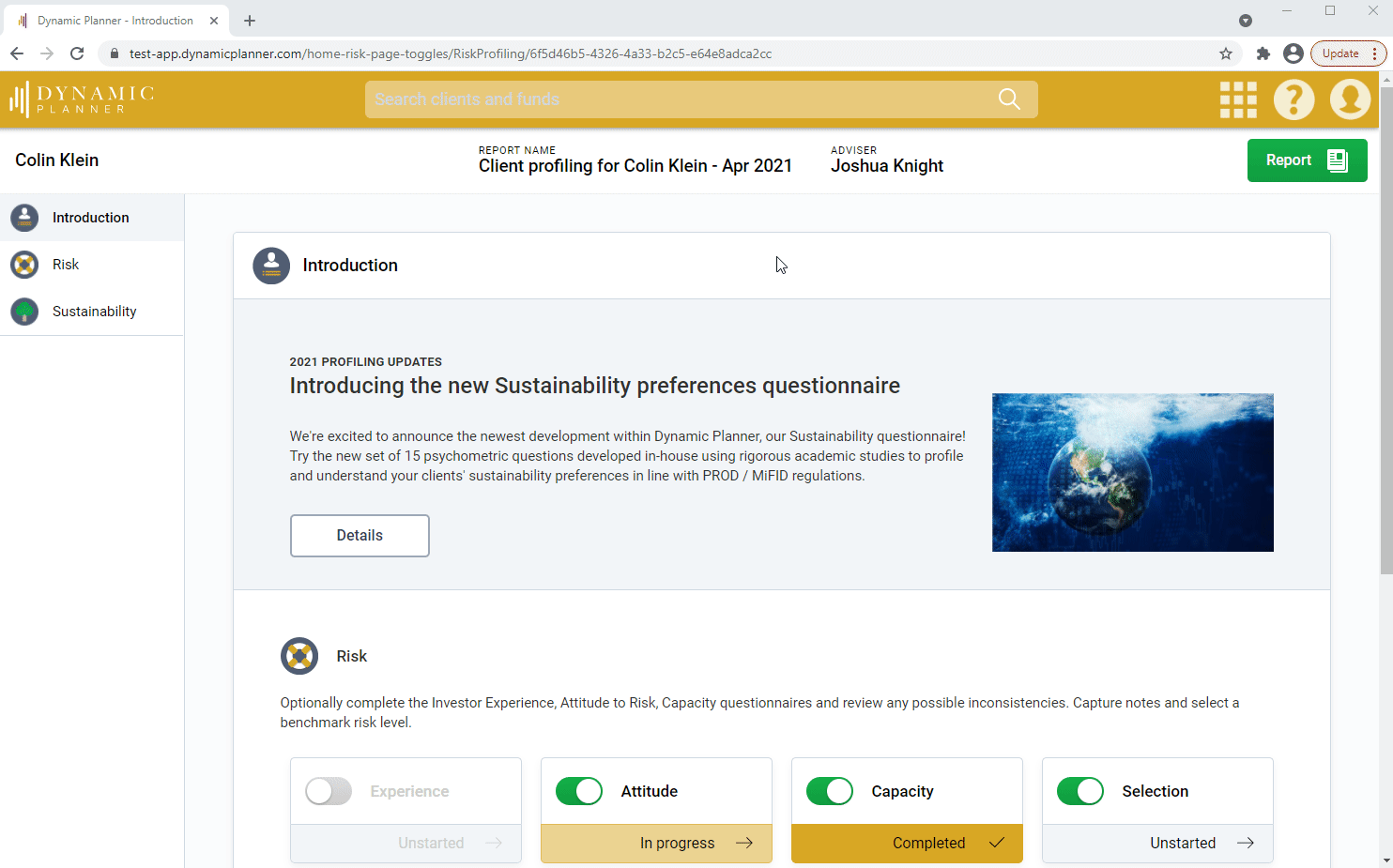 The new questionnaire responses and results are included in the final report. We're working on incorporating the questionnaire into a revised client invite process. More on this to follow in the coming weeks.
We've also taken the opportunity for a small cosmetic enhancement. The client landing page (pictured below, where you select the planning process you'd like to complete) has been redesigned to make the recent activity more prominent and making it easier to return to your last activity for the client.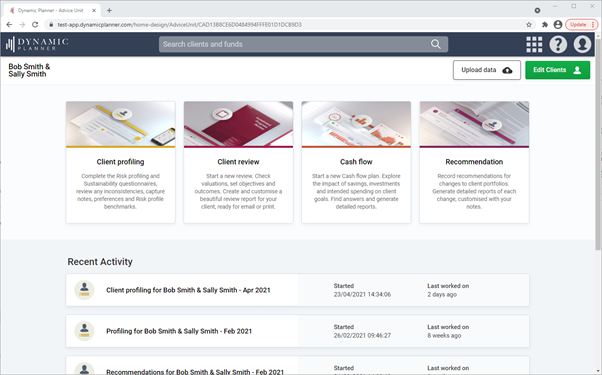 We've also been busy in our Cash flow process. To help make plans more personalised and engaging, we've introduced a visual tweak for client goals and financial objectives.
Where the client has some aspirational future expenditure, be it a round-the-world cruise (once possible!), education costs or just a big party, you can now give the expenditure an icon which will appear in the timeline under the cash flow charts, as you can see below.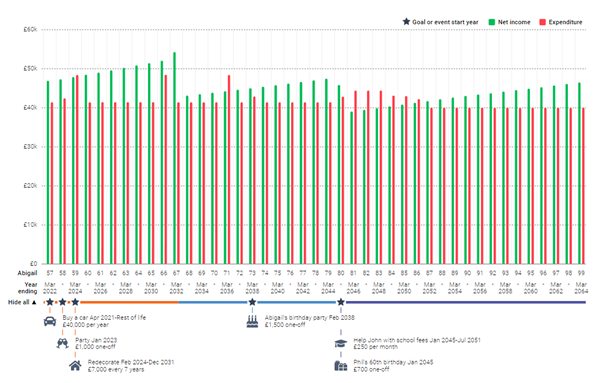 The forecast shows the key life phases for the clients and the important financial goals along the way.
On more technical matters, we've enhanced the way in which you describe pensions withdrawals, giving you more flexibility with regard to crystallisation, PCLS and drawdown income. We know this can be a complex area, so we've added supporting videos in Dynamic Planner you can watch to help show how you model common scenarios.
This is a significant update to our latest Cash flow since it was launched in November last year. Of course, if you do get stuck, we're always here to help. Please reach out to our Client Success team, in the usual way and they will be happy to assist.
Alternatively, you may wish to pop along to the final two weeks of our Spring 2021 events, where we will be helping you maximise your usage and efficiency with Dynamic Planner. From 8-10 June, our events will focus on sustainable investing; and finally, from 15-17 June, on client target markets, including 'at retirement'.
Advice firms can now benefit from EQ Investors range of solutions being risk profiled on Dynamic Planner. EQ Investors (EQ) is an award-winning B Corp discretionary fund manager focused on sustainable and impact investing and has been running sustainable portfolios since 2012.
EQ offers two sustainable solutions for advisers: Positive Impact (active) and Future Leaders (passive) portfolios. Both are diversified, multi-asset portfolios. The EQ Positive Impact portfolios have a dual mandate: maximising risk-adjusted financial returns while making a positive social and environmental impact. The EQ Future Leaders portfolios use only low cost, passive funds that focus on ESG leaders with additional overweights in selected impact themes. Both solutions have been risk profiled in Dynamic Planner.
Yasmina Siadatan, Sales and Marketing Director at Dynamic Planner said:
"Having recently launched our sustainable investing solution we are focussed on ensuring advice firms have the very latest in understanding the sustainability of both people and portfolios. That also entails partnering with asset managers committed to providing sustainable solutions for the growing demand from investors.

"I'm delighted to welcome our very first B Corp to the risk profiling service, EQ Investors, who have opted to behave as an organisation responsible to both the investment returns according to the level of risk taken, alongside having a positive impact on the environment and society, with both a passive and an active range. Suitability and sustainability are becoming hand in hand, and we feel proud to be part of the jigsaw of positive change."
Damien Lardoux, Head of Impact Investing at, EQ Investors added:
"Risk-profiling tools have become an integral part of the advice process to ensure investment plans are best suited for each client's unique goals and circumstances. As we expand our sustainable model & bespoke portfolio service, we are keen to integrate with strategic partners to enhance our offering to advisers, Dynamic Planner is the perfect fit."
The EQ portfolios now available risk profiled on Dynamic Planner are:
Future Leaders Defensive
Future Leaders Cautious
Future Leaders Balanced
Future Leaders Balanced Plus
Future Leaders Adventurous
Future Leaders All Equity
Positive Impact Defensive
Positive Impact Cautious
Positive Impact Balanced
Positive Impact Adventurous
Positive Impact All Equity
About EQ Investors
EQ Investors (EQ) is an award-winning, wealth manager providing financial advice and investment management services to individuals, small businesses and charitable endowments. EQ is a Certified B Corporation, an internationally recognised standard for companies that believe in business as a force for good. Making a positive contribution to the wider community is a core part of its business philosophy. EQ operates a matched giving programme to help its clients and staff raise extra funds for their favourite causes and has set up The EQ Foundation as a registered charity.
By Louis Williams, Head of Psychology & Behavioural Insights
Advice firms aim to optimise their clients' investment returns. But the potential impact sustainable investing can have can be misjudged, alongside the importance clients place on returns and their sustainability preferences.
As sustainable investing, as a subject, considers managing risk, doing well by doing good, reduced financial opportunities, potential for lower returns, and emotional and ethical motivations, conversations pivot on a clear understanding of someone's goals.
Designing a measure to effectively understand clients' sustainability preferences, covering such a broad acknowledged area is therefore crucial.
How are a client's sustainability preferences currently captured?
To date, emphasis has been placed on understanding the impact companies have concerning environmental, social and governance [ESG] issues. However, few advances have been made to create a true process where a client's sustainability preferences are accurately captured.
Multiple choice questions, using mock scenarios, are one path being explored, allowing a client to select preferred investments after being provided with information about their sustainability and returns. There are advantages to this approach as it removes a very direct line of questioning which can potentially invite a respondent's biases into the equation. However, such an approach also has disadvantages.
First, hypothetical scenarios are not indicative of decisions made in reality. Second, the fund universe and dynamics within an investment portfolio reach far beyond what can be encompassed by a simple multiple-choice task.
Third, it is incorrect arguably to situate 'sustainability' at one end of a spectrum and 'investment returns' at the other, when sustainable investments can generate greater returns.
Fourth, multiple choice questions and mock scenarios demand a client has prior financial and mathematical knowledge, which they may not. Finally, fifth, a client's responses may be distorted in a mock scenario – for instance – involving a company they have a view on.
Why adopt a psychometric questionnaire here?
It is not useful to view sustainable investing as simply a box ticking exercise. Nor is it helpful to overwhelm a client with information available.
To understand a client's preferences the key is real engagement, so their preferences can be captured and also the implications of their choices can be discussed. Sustainable investing preferences, as we have noted, can be complex, encompassing a broad church of relevant factors. Therefore, a suitable step in your firm's process is required to serve as a trusted foundation for a conversation with a client.
Psychometrics combines thinking from the schools of psychology and statistics. A psychometric questionnaire therefore is created to cut through the noise of, as we have noted, direct questioning to effectively understand how someone might feel and act both in the short and long-term.
While there is no history or track record of psychometric ESG questionnaires, at Dynamic Planner, we are fortunate that our team have the experience of successfully creating the most popular and most proven risk profiling questionnaire in the UK, supporting more than one million clients of advice firms since 2013.
At the beginning of 2018, we launched in Dynamic Planner a new psychometric attitude to risk questionnaire, which again has proved hugely popular with advice firms and, in the last 12 months, during the Covid-19 crisis, has stood up robustly when continuing to measure a client's attitudes to investment risk.
We have followed a similar formula now to build and release a psychometric questionnaire to capture a client's sustainable investing preferences, ensuring it is reliable, valid and that it measures what it intends to.
How did we build our sustainability questionnaire?
There are a number of key things to consider when designing a psychometric questionnaire. They are:
Avoid complex terminology or jargon
No financial knowledge needed for completion
Avoid repetition or redundant questions
Capture multiple dimensions of what is being measured
Avoid double-barrelled or ambiguous questions
Employ an appropriate number of questions
Choose an appropriate question order
That all said, even when questions are clear and well supported by academic thinking, a questionnaire can still fail to capture what it intends to. Clear, statistical steps must be taken to validate a questionnaire.
At Dynamic Planner, we tested our psychometric sustainability questionnaire on more than 1,000 UK investors, alongside taking significant steps before reaching a robust, final version. We also consulted with focus groups of advisers.
What does our questionnaire measure?
#1 Psychological distance
People are more likely to take greater risk regarding decisions which impact far in the future. If we consider the example of climate change, acting now may feel unattractive given that the promise of reward appears distant and uncertain.
An individual may acknowledge the importance of sustainable investing, but when considering benefits are largely for future generations, this can impact their decision in the short-term. Psychological distance measures this balance.
#2 Personal values
It can be assumed that a client's sole desire is to maximise their wealth. However, they can also be motivated to promote social change, consistent with personal values and therefore be willing to accept lower returns.
It is important to understand an individual's views on controversial or unsustainable areas of investment and how far their portfolio should reflect their values and beliefs.
#3 Emotional benefit
It is important to measure the emotional benefits of investing. People can benefit emotionally when they believe they have acted responsibly through their investments and can feel compensated if they receive lower returns, as a result.
Emotions are important when making financial decisions and taking risk. People who are positive can be more risk seeking, while decisions around sustainable investing can, as we have noted, evoke positive emotions. It is therefore important to understand a client's positive or negative emotions towards how companies manage ESG risks.
#4 Positive impact
We know a proportion of investors express a desire to do good with their investments, producing social and / or environmental benefits. This extends beyond a company simply monitoring or managing ESG risks. Such individuals are socially motivated.
They may be prepared to accept lower returns in order to achieve their goals, whether it is their own investments directly having a positive impact, or whether they are contributing more broadly to change in investing. It is important to identify how a client seeks to actively engage with companies to generate positive and measurable social and environmental impact, alongside financial returns.
#5 Financial considerations
Although investors may display preferences for sustainable investing, there are trade-offs that they should be aware of. Studies have shown that ESG investments can produce at least competitive returns. Nevertheless, it is important to understand how a client prioritises investment opportunities and financial returns in relation to sustainability preferences.
How can Dynamic Planner help your firm regarding sustainable investing? Find out at one of three webinars from 8-10 June
Whole of market MSCI ESG fund research now available in Dynamic Planner to help advisers match people to sustainable portfolios
Helping advisers solve the 'mystery' of sustainable investing and ensure clients fully understand both ESG risk and opportunity
3 February 2021: Advisers using Dynamic Planner now have whole of market MSCI ESG fund research at their fingertips, enabling them to help clients invest more sustainably through accurately matching their ESG preferences to ESG researched investment solutions.
Launching today, Dynamic Planner Sustainable Investing insight harnesses MSCI's global market leading research widely used by institutional investors. Advisers now have instant access to comprehensive research across 36 key ESG issues for 36,000+ funds derived from the analysis of over 8,500 companies and more than 680,000 equity and fixed income securities globally. Crucially the research is objective, uniform and analysed at individual holding not fund level.
Dynamic Planner Sustainable Investing insight will enable advisers to ensure their clients fully understand both the ESG opportunities and risk that their investments present, as well as helping to support advisers in fully meeting the fast-evolving regulatory requirements. Powering Dynamic Planner Sustainable Investing insight using global leader MSCI's unrivalled research and data builds on the collaboration between Dynamic Planner and MSCI in 2019 which saw the launch of the Dynamic Planner Indexes.
Developed in consultation with asset managers, financial planners and their clients, this is the first stage of Dynamic Planner's Sustainable investing capability to be unveiled. Further announcements will follow on the next stages including Dynamic Planner's Sustainable Investing questionnaire and further fund research and analysis functionality. Developments will be made in tandem with the market and regulatory environment evolving. Dynamic Planner Sustainable Investing insight is available without additional charge to all Dynamic Planner users.
Ben Goss, CEO Dynamic Planner said:
"Dynamic Planner cares passionately about using business as a force for good. Today's launch means we can help advice firms deliver more deeply valuable and bespoke financial plans in line with clients ESG preferences, an ever-growing concern.

"The rise of sustainable investing has been one of the most important developments in our industry for decades – evolving from being driven by institutional investors to being led by something of an investor revolution and momentum is building. We believe it is right that suitability and sustainability should go hand in hand, and advisers now need the tools to help facilitate great conversations with their clients about both the investment risks and opportunities driven by global environmental and social challenges.

"Our powerful partnership with MSCI, world leaders in this area, means we are uniquely positioned to harness their whole of market ESG research and literally put the all-important objective data at the fingertips of advisers within Dynamic Planner. In the complex world of sustainability that can often be smoke and mirrors, this insight will provide advice firms with a clear, objective view of a fund's ESG characteristics undertaken in an objective bottom-up way.

"This is just the beginning of our great ambition to support our industry in this complex and ever evolving space, and as the market and regulatory environment continue to evolve more announcements will follow."
Jim Henning, Head of Investment Services at Dynamic Planner, said:
"Sustainable investing has long been a part of institutional investing and it is no secret that it is an area of investment that is rapidly changing and moving mainstream. Last year the UK saw significant inflows into sustainable investment solutions – astounding resilience in the face of widespread market volatility caused by COVID-19.

"The direction of travel is clear. And at Dynamic Planner it is an area we have been working on for some time. We have approached this in a careful and considered way to ensure we get it right given the complexities and speed of change, consulting with advisers on finding the ideal solution to what is a fast moving, evolving target, and especially so from a regulatory perspective.

"Core to our proposition is helping advisers have good, objective conversations around sustainable investing as part of their suitability conversation and ultimately in supporting them in accurately matching ESG fund preferences to end fund solutions. What we have produced is an extension of our suitability process with the extra 's' of sustainability. Advisers will now be able to match client preferences with in-depth research and fully understand the risk of what they are holding, all in one place."
Dynamic Planner Sustainable Investment insight
Approx 80% of Dynamic Planner's risk profiled funds covered
MSCI will update reports each quarter, for ongoing suitability
MSCI ESG Fund Ratings from AAA (leader) to CCC (laggard)
MSCI score each fund from 0-10 on 'ESG Quality'
Funds ranked against peers from 0-100 percentile
Find out more about sustainable investing in Dynamic Planner
JIM HENNING, Head of Investment Services at Dynamic Planner, shines a revealing light on risk and volatility and the starkly different impacts they can have on a client's portfolio in accumulation, as opposed to decumulation. Here, Jim contrasts the conflicting experiences of pound cost averaging and pound cost ravaging and what they mean for your clients
When elevated market volatility occurs, this typically coincides with an unexpected economic or geo-political event. Needless to say, 2020 is certainly a year that will forever be an infamous example.
It also serves as a reminder of the important challenge for advisers in helping clients navigate market ups and downs to ensure they remain on track. However, depending on the life phase of the client, periods of volatility can be more friend than foe and this is where it's important to distinguish between the potential impact of pound cost 'averaging' and 'ravaging' when constructing suitable portfolios.
When it comes to an 'averaging' example, let us consider a typical client, approximately 25 years from retirement, saving monthly into an employer sponsored DC pension scheme. With the benefit of perfect hindsight, the two best IA fund sectors over the last 25-year period would have been China / Greater China and European Smaller Companies and both you would fully expect to experience considerable periods of volatility.
Investors who were fully prepared for the ride via monthly contributions would have benefited both from their long-term structural growth, but also during the periods of market falls, would have accumulated units at considerably cheaper levels. This is a very effective and automatic process to help smooth out the volatility over the investor journey to planned retirement.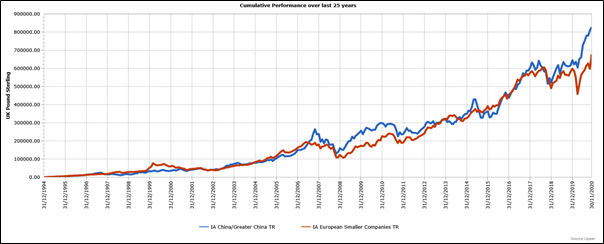 While clearly few would consider investing in such funds in isolation, or continue to hold them closer to retirement, they are wholly unsuitable for funding income in retirement. It's worthwhile though just taking a moment to remind ourselves why not, by looking at the impact of pound cost 'ravaging' in this scenario, given a fixed, 5% per annum level of withdrawal on a monthly basis over 25 years.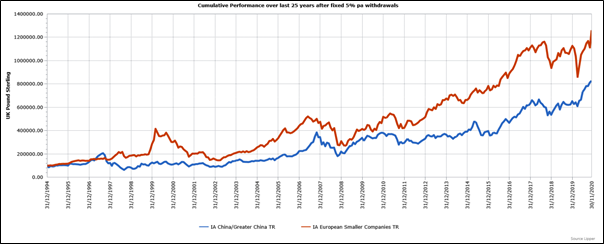 The difference between these two fund sectors has been significant. During the accumulation phase, the more volatile sequence of returns from China funds would have generated a 22% higher return. Conversely, the ravaging impact of taking fixed withdrawals when there is higher volatility can be seen with European Smaller Companies instead outperforming China by 52%.
Let's take a look at more sensible multi-asset strategies instead and what would have happened using the Dynamic Planner risk adjusted benchmarks 4 and 9, over the last 10-year period as an example.
| | |
| --- | --- |
| Accumulation phase | Decumulation phase (assuming 5% per annum fixed withdrawals) |
| Dynamic Planner Risk Profile 9 outperformed by 9% | Dynamic Planner Risk Profile 4 outperformed by 12% |
Diversification across assets and region within the two above benchmarks has significantly reduced the level of volatility and hence the divergence of outcomes, compared to the initial example we saw.
Using different strategies to improve the likelihood of capital sustainability may include building a centralised retirement process around natural yield funds for more wealthy clients, to a combination of cash and decumulation solutions for the less so.
Controlling short-term volatility is the most important risk to mitigate where clients are taking fixed monthly withdrawals from their variable savings pots. None of this is simple and hence opportunities to improve research, efficiency and scalability need to be considered.
Actively planning for a sustainable retirement is of vital importance and where the benefits of using robust cash flow planning tools comes into their own.
At Dynamic Planner, we ensure consistent calibration of customer risk to end investment recommendation, by fully integrating our client risk assessment and cash flow modelling tools to a dedicated new Risk Managed Decumulation fund service.
For the latter, this combines the highest level of conviction from asset managers to control monthly volatility of their packaged multi-asset solutions within the service alongside independent and granular, monthly oversight and consultancy services from Dynamic Planner.
How can Risk Managed Decumulation funds help my clients? Find out.