I was on the Dynamic Planner – Quilter pilot and have been using Dynamic Planner for it must be more than two years now. It's fantastic.
In 20 minutes, you can produce a decent report, which is editable; looks good; is accurate; and it has enough weight and detail to keep every type of client happy. That's ideal, especially as a sole trader. I wouldn't be without it. Any issues you have are far smaller than the eventual outcomes – good reports and messages going out to clients in a consistent manner. How long was it taking me to produce a report previously? A couple of hours.
Dynamic Planner does what it says on the tin – from the point of view of producing something for a client, in a timescale which is appropriate. And if you want to expand what you do for a client, you can. But two hours compared to 20 minutes? That's huge.
Managing your advice gap
Dynamic Planner allows you to do quick reviews for certain clients. It's allowing you to broaden your scope. It's positive. If a client, say, just has an ISA, £50,000, you can quickly produce a report for them, and that client, who was non-productive, perhaps you're waiting for them to downsize or retire, you can keep them involved. Before, you would have had to say, 'I can't afford the time to keep in touch'.
Cash flow projections are included in the review report. These are your aims, as a client; your objectives; and currently you're likely to achieve them.
From a firm's point of view and a firm like Quilter, because everyone is using the same style of reporting, it sets a benchmark which they can reference against. This is our standard, all within one package.
Real-time, half-the-time cash flow
I've had the time now to introduce cash flow planning, for more clients. In Dynamic Planner, once you've imported the information, you can generate a cash flow within about an hour. Previously, that would have been a separate piece of work, and another two, 2.5 hours. In Dynamic Planner, it's literally halving the time for a cash flow. And because the information is there, you can produce something quite quickly and get it out to a client within half an hour. That's real-time advice, which is great. I like that.
For some clients, the intricacies of a cash flow are nice to have rather than a must-have, but Dynamic Planner allows you to offer that. It opens up the range of advice you can give – and its complexity.
The Consumer Duty audit trail.
And addressing the advice gap
Dynamic Planner proves your work. And the Consumer Duty, proving your fee. I haven't had to change anything, leading up to the Consumer Duty, because it's always been there. That's been really useful. It's a clear audit trail showing I'm fulfilling my duties.
For the Consumer Duty, Dynamic Planner allows you to show consistency, which is a big thing – a consistent service and pathway for your clients. I'm doing the job I said I would, within the tram lines of my advice fees.
The major way Dynamic Planner helps us is the time saving, regarding the client review process. And the look of the reports. Much more professional than what we were producing.

Before, we used our own templates, a one-pager on the valuations and what information we could extract from places on performance. We cribbed it together ourselves. It was time consuming and took us a day at least to produce for a client. Now in Dynamic Planner, producing a review report, it's probably about half an hour.

Growing clients by 20%

That saved time has allowed me to focus on the Consumer Duty. And it has enabled us to grow our client base, because we can be smarter around existing clients. We're not a massive business. There are only three advisers, but we have been able to grow our client base by around 20%. Going forward, if we can do that year-on-year, that would be great.

We're looking forward to transferring all our target market segmentation to Dynamic Planner. Again, it will be time saving and once everything is in Dynamic Planner, it's in there. It will match with our back office, and with our CIP and CRP.

Time-saving recommendations

We have started to produce some recommendation reports in Dynamic Planner, mainly for fund switches and the odd, ad hoc lump sum top-up. Again, the reports are much more professional than what we were producing before, and really quick to produce, half an hour probably for a fund switch. Before, that would have that been maybe a couple of hours of work, or more.

Consumer Duty. Client profiling

We use Dynamic Planner's risk questionnaires with clients and we've started using the ESG and the vulnerability questionnaires as well. Those are all going out to clients, where we can, by email prior to meetings. We have to be careful not to bombard a client, but Dynamic Planner's questionnaires tick all our Consumer Duty boxes. It's a lot more thorough. Before, we had just a couple of questions in an internal questionnaire for a client on ESG.

For vulnerability, it's good to know, because some of the answers to questions you didn't necessarily know about a client. As a firm, it gives you a chance to explore further. Clients can be embarrassed about telling you about a potential vulnerability, so I think the questionnaire gives them the opportunity, in the comfort of their own homes, to answer it – and not have to face you.

Dynamic Planner – 'Everything we need'

Dynamic Planner absolutely helps us add value for clients. It makes us look a lot more professional. Our competitors are some of the biggest UK firms and I feel like with Dynamic Planner, even though we're a small firm, we've got the tools to stand out from the crowd.

Before, it was all pitched together from our own resources and didn't look as professional. It was all there. It was just the paperwork which wasn't supporting what we had in the team. But it is now.

I would absolutely recommend Dynamic Planner to another firm. It's one of the best subscriptions we pay each month. I don't know what else is out there. I've never looked. I don't feel like I need to. Dynamic Planner is giving us everything we need.
Dynamic Planner produces an impressive report, which demonstrates to your clients that as a firm you are professional and you know what you're doing. Hand in hand with that, it demonstrates that as a firm you have a far better proposition for clients – certainly than I know I had before.
Client Review will definitely help me when I am face-to-face with clients. For example, early in the report there is a section titled, 'Your progress at a glance' which highlights objectives, risk, performance etc. and flagging whether that is on track or requires attention. That then becomes the agenda for the review meeting. As an adviser, you can ask the client, 'What is your level of risk? How is your portfolio performing? Is it still meeting your objectives?'
In that sense, it provides a clear, compliant structure for the meeting and it drives your review meetings and makes it a lot easier to record them as well. Again, you can say to the client, 'We've discussed your objectives; we've discussed your attitude to risk; and we've discussed your current arrangements, their performance and any concerns you had'.
I like Dynamic Planner. I first got access to it through Compliance First before quickly getting a direct licence, so I could get full access for things like Dynamic Planner's iPad app, because of the GPP work I do a lot of. On an iPad, I can complete a risk assessment with a client face-to-face, I can get them to sign it and then we can discuss and agree fund solutions all at one meeting, which is crucial for that type of work. Without Dynamic Planner, I would be having to to-and-fro a lot before reaching a suitable outcome.
It is a lot better than other companies, who perhaps either don't allow customer feedback or simply want to tell you how to run your business. Dynamic Planner encourages and gives you good opportunity to feedback, which I am very happy with as a client. You know that revisions to the software will then come, taking on board your comments, so you can see it evolve. Long may that continue.
I went to an industry event and I saw Dynamic Planner's Client Review and an example of a report, and it was night and day and miles ahead I thought of other reports. It was that review process which brought me to Dynamic Planner because it works so well. I like the report. It's very comprehensive and covers all the salient points.
I risk profile clients in Dynamic Planner and also carry out my fund research in it, to find investments to recommend to clients. You can email clients a link to complete the risk questionnaires on their own, ahead of a meeting and you receive an alert when they have completed them.
For a typical review for a client, I will prepare the report ahead of the meeting and send it to the client beforehand so that they have a copy. We'll then go through it together at the meeting, not word for word but broadly so we cover where the client's attitude to risk sits, where their portfolio sits risk-wise and how their portfolio has performed over the last 12 months. In the meeting, we'll also have a conversation to discover if the client's overall objectives have changed and then I'll go back into the report and complete it after the meeting and reshare it with the client.
What Dynamic Planner does is create an agenda for review meetings, allowing you to follow the same process each time: risk profile, asset allocation, portfolio performance and next steps. And that's how I frame it to clients, 'This is what we will cover each year: has anything changed? Are we on track? And do we need to change anything?' The report from Dynamic Planner drives everything, in that sense.
Would I recommend Dynamic Planner to another firm? Yes, absolutely. I think Dynamic Planner is the most recognisable brand out there, as far as risk profiling is concerned.
I really offer my clients a financial plan and strategy, so that they can enjoy the lifestyle they want and that they don't run out of money in their lifetime. Sometimes you have to rein clients in and say, 'Look, you're spending too much money' – because worrying about money can be stressful, so I see my job as an adviser as taking that stress away.
For me, Dynamic Planner really works. There is so much regulation involved today with ongoing service for clients, which is why Dynamic Planner's Client Review is really good.
I was at Tenet's head office last year and they were talking about formalising your firm's review process for clients and making it auditable. I was speaking to someone and they simply said, 'Have a look at this' and it was a copy of a Dynamic Planner review report. I looked through it and thought this is exactly what I'm looking for.
I love technology and love the way it integrates with other systems, so I don't have to rekey figures. I was slightly behind with my annual reviews at the time, so I started using it and I was suddenly completing about 10 reviews a week and was able to complete all my annual reviews in two months.
I put my own spin on the reports and make it very personal, and I say to clients, 'Do you like it?' And they say, 'Yes, love it'.
The client review process

First thing I would do for a review is go into Dynamic Planner and send the client a link and an invitation to complete the risk questionnaires. Clients normally do it within 24 hours. Once I have their answers back, I can then start to put the review report together.
It gives you a framework for reviews for clients; it allows you to demonstrate your value to a client, who has a high net worth; and, gosh, does it save you time. You're not looking all over the place for information to include – it's there all in front of you; you just drag it in.
Before I used Dynamic Planner, it was taking me about six hours to do a review for a client. Now, Dynamic Planner is saving me two hours per client – at least. For 60 clients, that's 120 hours over the year. That's three weeks' worth of work.
Clients like the format of the report and they like the fact that they know now what they're getting. It comes out as a really nice document and just makes everything really easy. The report also allows you to put your charges in and for smaller clients it can highlight to you that they're not as profitable. They may be taking up too much of your time – and I have now reduced the number of clients I manage, as a result.
Lockdown help and customer support

Dynamic Planner has helped even more during the lockdown this year. We've been able to send clients a link to complete their attitude to risk, prior to a meeting and people have had time on their hands, so they have been getting on with it. I sent one link out and it came back within five minutes! Any technology today which is cloud-based is going to help businesses. Dynamic Planner and Intelligent Office are the backbone of my business: I couldn't exist without them.
I absolutely value the support I receive from Dynamic Planner's Client Success team. It's a big part of what Dynamic Planner provides and does. Everyone on the Client Success team are so good at what they do and the fact that you can simply phone them up makes it so easy. Customer service is so important.
If I was encouraging you to use Dynamic Planner I would say, 'It should be an integral part of your business to help you stay compliant and produce documents for clients – which can be audited – in a very efficient way, because it is integrated with everything else you do'. I wouldn't be without it. Would I recommend Dynamic Planner to another firm? Yes, absolutely – and I have done.
3R Financial Services is a directly authorised firm, with four advisers and two mortgage brokers supported by a team of office staff. Our assets under management are approximately £60m and we offer clients a full financial planning service.
RDR has been the biggest and best change in my time in the industry. Before RDR, you could argue that we were all salespeople in financial services, but after it, it has become a profession. That's a huge difference. As a result, clients today expect to receive a proper service and that's what they get.
We first started using Dynamic Planner in 2015, initially to help us manage risk. That was the driver. The client risk profiling process was the reason why and it's worked for us ever since. We wanted to demonstrate for all of our clients that we were measuring accurately their attitude to risk. We wanted to put procedures and processes in place.
'Our whole client review service is built around Dynamic Planner'
We also massively use Dynamic Planner's Client Review process and report. Our whole review service for clients is built around the report, so that as a firm we can demonstrate suitability for clients – and it's been great. Our centralised investment proposition all feeds into Dynamic Planner through its integrations with the platforms we use. That was a big part of our due diligence when we first decided to adopt Dynamic Planner – its platform integrations.
Dynamic Planner saves us time as a firm. Previously, everyone in the industry had to kill to eat, so to speak, but now things have evolved and we are in a position where we can farm. We looked at what we had to do and realised we had to do it efficiently. The number of reviews we were doing was starting to increase. Being a new company, we did not have any major legacy business.
'We had no centralised way of reporting to clients before'
Before we started using Dynamic Planner, we had no centralised way of reporting to clients at their annual review, due to the smaller number of clients we had for review. It was chaos and just a mess. Each one was done on an individual basis.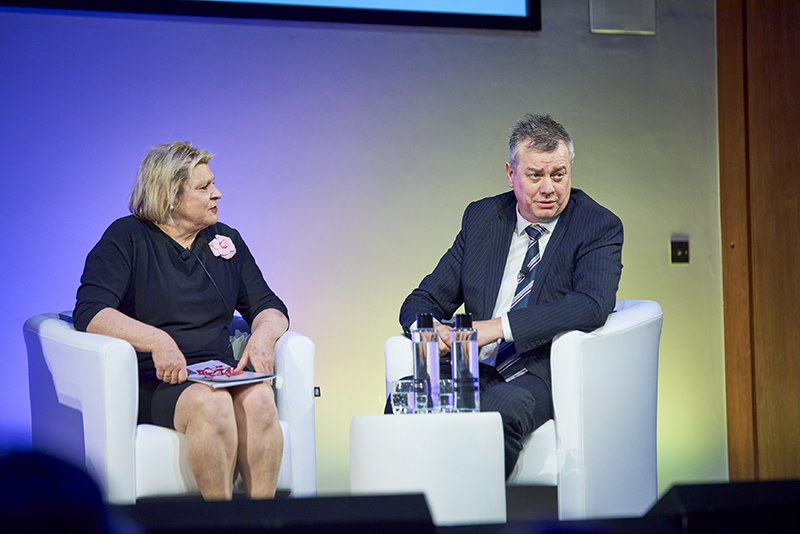 When we first saw Dynamic Planner's Client Review, when it launched, we thought, 'That's absolutely perfect for us and exactly what we need'. We can archive and store reviews and reports for clients as we complete them – and it's peace of mind for us that we are clearly demonstrating that we are providing ongoing advice for clients. If the regulator came to us and asked, 'How is that advice suitable?' We can demonstrate that and say, 'Yes, it is'.
At the end of the day, everybody knows their investments are going to go up and that they are going to go down. But what is key is that it is communicated in a manner and in language that the client clearly understands. As an adviser, it is my job to do that and that's what Dynamic Planner's Client Review report allows us to do.
'Through Dynamic Planner, I can do something that is really good for the client'
Ultimately, Dynamic Planner has enabled us an advisory firm to provide a centralised investment proposition for clients. I would only describe myself as a 'bum on seats' adviser, but through Dynamic Planner I can do something that is profitable for the firm; something that's really, really good for the client; and I can do it quickly and in a way which is seamlessly integrated with everything else we do – it's absolutely brilliant. We have no problems at all.
Would I recommend Dynamic Planner to another firm? Yes – but no, because then it would give them as much competitive edge as we have.
The new report Elements produces is nice and simple and clear, and clients understand it. They like it. It allows you, as an adviser, to tick off boxes compliance-wise, which is brilliant, because it ensures you are following a structured procedure. It's just brilliant – I love it.
Once you have the client's information in there, it's very quick to produce. I use iO and it works perfectly with that, so it is saving me a huge amount of time. My worst subject at school was English, so having to produce suitability reports for client reviews is my worst nightmare. With Elements, it is all done for me. I just click through and it's job done. It's saving me a good 45 minutes per client review.
It takes me 10 to 15 minutes maximum to produce the report, where as previously it was taking me approximately an hour to package all of that information together for a client. It's confirmation and reaffirms to the client what has happened to their portfolio in the last year.
When I am sat with a client, we talk through the report and once we reach the end, it finishes the meeting. I can complete any actions, coming out of it, afterwards. If there is nothing to do, obviously that can be reflected in the finished report, which I send as a PDF to the client.
It has everything in there that the FCA needs – assuming that your fact find is up to date – so I am technically using Elements to produce a suitability report, because I find other suitability reports too rigid and insist you include too much information on the client, which they already know. But you're not recommending anything to them. You're reviewing their portfolio and whether it is still suitable as a solution for the client. Is it still achieving what we want it to?
Clients who I have sent the report to have all come back and send they have read it and understood it and are happy with it. I have read through all of the wording in the report myself and I was impressed. It's really good.
I don't think there is anything else out there like Elements – it's a new document for a new process, which, because of MiFID II, advisers have to produce and go through now. The report from Elements looks into the future while also taking into account the client's current and also past situation. All other reports look at the current and past situation, but don't look to the future. That's the big difference. Nobody else is doing anything like this that I'm aware of – it's quite unique.
Dynamic Planner is ahead of the game in financial services, making this available for advisers. For those who endorse technology, Elements is fantastic. It fits in with the trend of things going online, which means no more paper. Yes, the report can be printed, because some people still like to have paper, but I have taught my clients to have everything digitally.
Dynamic Planner is investing in technology in Elements. It's revolutionary.
There are five of us here who work at Rigby Financial. Our current assets under management are approximately £30m and the service we provide our clients is general, holistic financial planning. Our bread and butter business comes from pensions, investments and life cover.
I went straight into the industry from school, first working for a high street bank and going into the insurance arm. They obviously went bye-bye, so I took voluntary redundancy and joined Rigby Financial in 2013.
The thing I like most about being a financial adviser is the interaction with clients, finding them the right solutions and helping them along the way to achieving their big goals and objectives in life.
We first started using Dynamic Planner when we went directly authorised in 2014. It was something which was on offer to us through Bankhall, which pointed us in its direction. Pam Brunt, now our Account Manager at Dynamic Planner, came out to visit us and that's where our relationship started.
We initially started using Dynamic Planner as a Level 1 Bankhall user, but quickly, within six months, were Level 2 users – which grants us access to much more of Dynamic Planner's functionality and also access to more information. In this industry, as we all know, the more access to information you have the better. From that point of view, becoming a Level 2 user just made sense.
We use Dynamic Planner classically for risk profiling. Off the back of that, we then use Dynamic Planner to research and recommend funds for the agreed risk profile. We use Dynamic Planner also to get valuations for the client's existing portfolio, to make sure that's all up to date – and moving on from that Dynamic Planner Enterprise, the current service, now talks to 'Elements' and the new Client Review. That of course really helps when it comes to that part of the process.
We are loving Elements and the new Client Review. For us, it provides everything in one place. I have an example of a report in front of me right now – and what I really like about it is the first part where it displays for the client, 'Your progress at a glance'. It's very clear – very precise: are we on track; are we not on track? Does that then require attention, or does it not require attention? The whole report is just very simple and breaks everything down for the client, so they can understand it really easily.
Moving forward, into the rest of the report, it breaks down the current value of the portfolio. The client can easily see where they were 12 months ago; what money has gone in; what money's gone out; and the growth in the portfolio. It just makes everything so much simpler, as a snapshot for the client.
On top of all that, it is a document we as a firm can use very easily. We can print it off; it looks nice; and we can personalise it. For example, where our offices are, near St Helens, they back onto green, rolling fields – so we just took a photograph of them and used that as our front cover image. Elements just works for us.
The new Client Review saves you time and time is key, at the end of the day, because it represents your costs as well. Providing everything in one easy place gives you time efficiencies, it reduces your costs and allows you to go out and see more people, which is why we like it. I would approximate Elements is saving us at least an hour and a half on every Client Review we do – at least.
It's good also to know that any feedback we give as a client and user is acted upon – and pretty quickly. From that point of view, it makes you feel valued as a client and absolutely I would recommend Dynamic Planner to a fellow financial adviser.
We are currently using Elements and the new Client Review in Dynamic Planner to produce much more user-friendly data for annual reviews. We are now able to use the software in an interactive way with clients, making the process much more engaging.
The reports themselves have been received well. Clients like them. They just make it so much easier to highlight and illustrate the thought process and research behind fund selection.
For example, if you are sitting with a client and looking at the 'efficient frontier' within the analysis section, you are able to easily show the different risk levels which individual contracts (and the funds themselves) are exhibiting. You can easily, clearly and quickly show how a portfolio is well diversified at different risk levels. As an adviser I am finding this new enhancement useful and the clients themselves are finding that analysis really interesting and engaging.
The report produced by the new Client Review is very useful as a starting point for conversations with clients about fund selection, risk and also includes portfolio performance.
It definitely saves me time now and hopefully in future it will save me significant amounts of time. The information that you are able to extract from Elements is significantly more usable and better than has been previously available.
For the last few years, I have worked as the only adviser in my firm and currently have approximately £24m of assets under management, offering clients a full financial planning service. My career started in 1997 when I joined Chase de Vere in Leeds, having just graduated and then set up my own business after the birth of my daughter in 2005.
What do I love about the industry? I love being able to make a difference. There's nothing more fulfilling than being referred a client with various financial issues and being able to provide them with a solution and enabling them to live the life they deserve.
I started using Dynamic Planner in 2016. Pre-meeting, I email the risk profile questionnaire link through to the client. Once I have the fact find on Intelligent Office (iO), this is then sent across to Dynamic Planner via the integration.
All client investment and pension assets are risk profiled at the touch of a few buttons, which is a godsend, because it immediately gives you an overall asset allocation as well as the contract asset allocation, which just saves so much time. It also gives me a breakdown of the risk of each fund within the contracts. When you work alone, anything that can save even five minutes can be a big help.
I also use Dynamic Planner to carry out fund research (using their risk and Premium and Select ratings), product due diligence and report services. This is incredibly useful for due diligence and suitability.
The integration between Dynamic Planner and iO is hugely important. My job would be more difficult without it, because it would mean repeating work which can so easily lead to human error as well as time wasted in the day, using the integration, all client information is perfectly consistent.
The valuation integrations Dynamic Planner has with different platforms are very useful because, at the click of a button, they pull through the client's valuations as well as fund breakdowns. Long gone are the days of searching for ISIN codes to work out unit prices.
Frequently I request the help of the Client Success team at Dynamic Planner. The service and support they provide is excellent and couldn't be more helpful. The value they add makes Dynamic Planner much more attractive as a proposition to you as an adviser. You know that once you have passed them a question it will be dealt with. This is rare in our industry.
I frequently recommend Dynamic Planner to fellow professionals, because of everything we have talked about: the ease of risk profiling, the level of fund research and the ongoing support.
Dynamic Planner takes on board your feedback as a client and if they can implement your suggestions into the service they really do, which I think is incredibly rare and means that it is constantly improving and evolving. In that sense, Dynamic Planner is adviser-friendly as it can be. I'm very happy with it and I wouldn't change it.