The Scottish Widows Platform is now live for valuations in Dynamic Planner, the UK's leading risk based financial planning system.
This new integration with the Scottish Widows Platform enables Dynamic Planner users to onboard and value new clients and existing clients in preparation for their client review or cashflow planning, and benefit from the new integration to seamlessly pull in the data at a time they want.
The integration will run alongside the existing Advance by Embark integration while Scottish Widows completes its migration of Advance clients to the Scottish Widows Platform, later this year.
Financial planning firms can now use Scottish Widows' technology, powered by FNZ, and backed by Lloyds Banking Group, to access over a hundred fund managers, thousands of mutual funds, UK listed equities and Exchange Traded Assets within Dynamic Planner's one system.
Chris Jones, Proposition Director at Dynamic Planner said: "The Scottish Widows Platform is now live for valuations in Dynamic Planner, and financial planners can begin to onboard and value clients ahead of Advance by Embark Platform closing. For a limited period of time, both integrations can be used. This is yet another example of our commitment to ensuring our users can support their clients throughout and deliver increasing value more efficiently."
Ross Easton, Head of Platform Propositions at Embark Group said: "We're pleased to have seamlessly integrated Dynamic Planner with the Scottish Widows Platform. This delivers against our aim to be the most connected platform in the market, Scottish Widows Platform now has bulk valuation coverage with the significant majority of UK CRMs."
This latest integration is the continuation of Dynamic Planner's commitment to solving industry wide inefficiencies, a strategy at the heart of the firm's vision.
Not a Dynamic Planner user? Schedule a free no-obligation demo with a business consultant and experience the full functionality of Dynamic Planner.
Dynamic Planner's Investment Committee (IC) met on Monday 24 July with the main task of reviewing the inputs and outcomes from the optimisation process for setting the 2023/24 strategic benchmark asset allocations.
The IC discussed the anticipation of a 'return to normal' for financial markets as yield curves should normalize to an upward slope given higher inflation expectations. The US Federal Reserve's next rate move and its 'higher for longer' policy mantra are predicated on high and sticky inflation.
Inflation may have fallen from its peak, but not enough for the Fed to officially pause rate hikes, given its official 2% inflation target. It is unlikely to pivot and cut rates meaningfully within the next two years. However, whilst unstated, a significant slowdown in economic activity or renewed regional banking problems would also get the Fed to take action. On the subject of US banks, the crisis has ebbed since March, but the dangers haven't gone away.
The dual prospects of slowing global economic and negative earnings growth for the coming quarters raises the risk of 'intermittent' rather than 'deep' recession. Rising interest rates, unrelenting fiscal deficits and high government debt, reversing QE holdings and high levels of market leverage, due to LDI strategies however, increases the risk of currency and bond market volatility.
Conversely, China, the world's second-largest economy, officially slipped into deflation for the first time in two years as consumer prices fell 0.3 per cent. Prices had already flatlined for much of 2023, bucking the global inflationary cycle. The property market debt overhang also continues to cast an ongoing shadow over any resurgent growth hopes in China.
UK gilt yields have spiked again in response to unexpectedly strong inflation and labour market numbers. The persistent underlying strength of core inflation suggests the UK is fundamentally diverging from Europe and the US. The recent interest rate rises have had a negligible impact on demand or the housing market (so far), but the economy is teetering on recession whilst unemployment remains lower than expected at this stage of the economic cycle and strong wage inflation (and industrial action) persists. Market expectations are for interest rates to be 'higher for longer' in the UK than elsewhere.
The IC approved the Capital Market Assumptions for Q3 2023 which signalled significantly large increases for fixed income volatility (around 10 bps), relative to previous quarters.
Expected returns for fixed income were increased given the recent rise in bond yields. There were also increases for equity return expectations (but to a lesser extent), with the exception of the UK, where they have been lowered.
Read full, Q3 2023 analysis from the Dynamic Planner Investment Committee.
Dynamic Planner, the UK's leading risk based financial planning system, has partnered with M&G Wealth to launch bulk valuation integration.
The partnership underlines Dynamic Planner's commitment to expanding its ecosystem of integrated partners so that advice firms can enjoy the full benefits of integration, and at a critical point, when everything is about to be seen through the lens of Consumer Duty
The integration will effectively speed up the advice process for advisers selecting funds and other investment options via the M&G Wealth platform. It avoids both the need to rekey and risk of miscalibration, and in line with Consumer Duty, provides the adviser with a more accurate, direct from provider data flow.
Yasmina Siadatan, Sales & Marketing Director at Dynamic Planner said: "We welcome our new partnership with M&G Wealth. Advice firms face a difficult time over the coming months as they work hard to get ready for new regulation. We see our job as helping make this transition period easier. Direct from provider data flows are critical for both speed and accuracy, but also a key consideration for Consumer Duty. We are committed to continually broadening and deepening our ecosystem of integrated partners for the benefit of all our clients and look forward to working with M&G Wealth and our mutual customers over the coming months and years."
Rich Denning, CEO M&G Wealth Platform said: "Consumer Duty is without doubt so important for our industry and we want to be at the forefront of adviser support in every aspect. This integration and our ongoing partnership with Dynamic Planner will help our mutual clients clearly identify and deliver value to their customers whilst assisting them in achieving the outcomes they require."
Dynamic Planner, the UK's leading risk-based wealth planning and financial advice system, is set to launch a Financial Wellbeing Questionnaire on Friday 16th June. It has been designed to enable advisers to identify vulnerability characteristics in line with Consumer Duty.
Its development and creation has been led by Dynamic Planner's Head of Psychology and Behavioural Insights, Dr Louis Williams, in collaboration with Dynamic Planner's fund research team and academics from Henley Business School, part of the University of Reading.
The launch forms part of Dynamic Planner's long-term commitment to helping investors better understand their financial situation and is an integral addition to Dynamic Planner's suite of investor profiling questionnaires. Advice firms can now assess a client's risk appetite, sustainability preferences and vulnerability characteristics in one place.
Aligned with key questions and the algorithm of the FCA's Financial Lives Survey completed by 22,000 people, Dynamic Planner's Financial Wellbeing Questionnaire has been rigorously tested with over 1,000 UK investors, providing the means to understand a client's individual differences and needs. Incorporating all elements to support the four key drivers of vulnerability as set out by the FCA, it meets the requirements of Consumer Duty to identify vulnerabilities and those who are susceptible to harm, so that appropriate support can be provided.
Louis Williams, Head of Psychology & Behavioural Insights at Dynamic Planner said: "With the first deadline for Consumer Duty imminent, the launch of our Financial Wellbeing Questionnaire powers the identification of vulnerabilities with technology, enabling financial advisers to assess individual clients across four key areas: health, life events, resilience, and capability.
"Aligned with the FCA's Financial Lives Survey and designed in collaboration with academics from Henley Business School, it provides advisers with a solution to the call to action set out by Consumer Duty to assess a client's vulnerability characteristics.
"We are committed to supporting advice firms in helping their clients better understand their financial situation and choose investments that are suitable to fund the life they want. The Financial Wellbeing Questionnaire is another example of us delivering on that commitment."
Financial advisers using the Financial Wellbeing Questionnaire with their clients will receive a report for their Consumer Duty record which highlights areas of vulnerability. The report includes insights and tips to help with life's challenges to share with the client and aims to encourage higher levels of resilience so that a client's level of financial self-efficacy and wellbeing increase.
Using Dynamic Planner's Financial Wellbeing Questionnaire with Clients
Dynamic Planner's Financial Wellbeing Questionnaire is intended to be used as part of a broader advice process that has already considered risks, costs and complexity of the financial product being recommended to a client.
In line with the FCA, the questionnaire includes objective measures to understand the client's current situation as well as subjective measures that explore how the client feels and their abilities to cope, which are both important for assessing client vulnerabilities.
Psychometric items have been included, for example, examining a client's emotional resilience when faced with financial challenges, confidence in their abilities to manage their finances, abilities to tolerate difficult and uncertain periods, and the healthy or unhealthy strategies used to regulate their emotions.
Clients can inform their adviser about any health conditions they have or challenging experiences they've faced. Additional questions then explore the severity of this condition/event and how it interferes with day-to-day life and whether someone is of low, moderate or high vulnerability.
Questions included to assess client's resilience and capability cover a range of vulnerability characteristics where Dynamic Planner's algorithm, based on that which underpins the FCA's Financial Lives Survey, identifies whether a client's vulnerability is low, moderate, or high (see below).
Financial wellbeing results indicating the level of vulnerability for each of the four drivers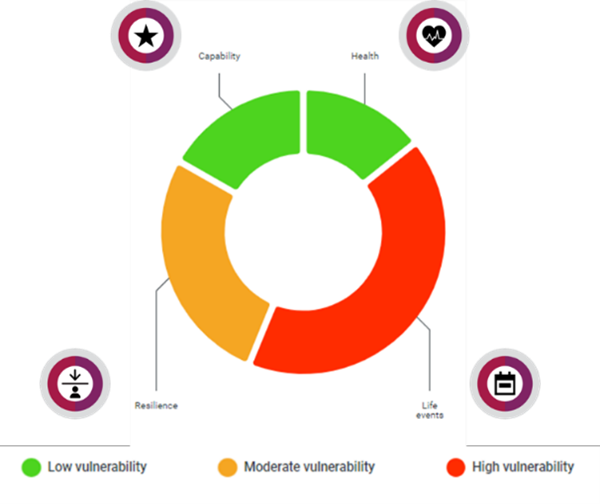 Not a Dynamic Planner user? Schedule a free no-obligation demo with a business consultant and experience the full functionality of Dynamic Planner.
The Dynamic Planner Investment Committee met on Thursday 27 April and reflected on the wider financial sector frailties following the fall-out of the Silicon Valley and First Republic Bank collapses in the US. In Europe, the dramatic loss of confidence in Credit Suisse led to a deposit run-off at digitally enabled speed and a wipe-out of its statutory capital reserves, held in specialist bonds called Contingent Convertibles or 'Cocos'.
These events are symptomatic of the sharp increase in interest rates, shrinking central bank balance sheets and the receding tide of global liquidity that had flooded the financial system for much of the past decade. For those financial institutions that have relied too much on cheap liquidity, by taking on too much leverage and aggressively mismatching their balance sheets, times will be challenging given their magnified exposure to bond duration risk.
Should confidence in the banking system weaken further, this could result in contagion risks in other financial markets, particularly the leveraged pension funds. However, it was acknowledged that the major global banks are more robust than in the lead-up to the 2008 financial crisis, with global regulators requiring much greater capital and liquidity buffers. Despite the financial challenges faced from higher interest rates, growth has been more resilient than expected. Aided by a decline in energy prices, with a mild winter in the northern hemisphere helping reduce demand for natural gas, growth appears to have picked up in early 2023. Alongside the rapid reopening of the Chinese economy following the lifting of Covid restrictions, global growth has been more resilient than expected this year.
The IC also discussed the stickiness of underlying inflation being higher than expected at this stage of the economic cycle, indicating a broad-based ability for companies to both pass on higher input costs and maintain, or even expand, margins.
Read Q2 2023 analysis from Dynamic Planner's Investment Committee.
Dynamic Planner has added to its range of Consumer Duty support to help advice firms take control of implementation.
Advisers can now download a free guide which puts technology and Dynamic Planner at the heart of taking on all of the challenges thrown up by the imminent deadline for open products and services. Dynamic Planner has just announced dates for its Consumer Duty Roadshow, plus advice firms can also attend its series of Consumer Duty focused Training Academies.
Yasmina Siadatan, Sales and Marketing Director at Dynamic Planner said: "The countdown to implementing Consumer Duty is well underway.
"We believe that technology is the key to overcoming the perceived challenges associated with what may feel like a very daunting prospect. Whether you are happily immersed in the process of implementation or still have unanswered questions, we urge you to download our free Consumer Duty Guide or join us at our Consumer Duty Roadshow or Training Academies.
"We are committed to helping our clients wherever possible and providing them with all the support they need."
Along with insight, webinars, training and CPD at its events, Dynamic Planner also offers a range of services within its one system technology which echo the needs and standards of the regulation, including:
Target Markets: A target market of clients can be defined by factors including age, wealth, risk and sustainability profile. Positive and negative criteria can be documented, underlining which products and investment solutions are suitable for targeted clients' needs and objectives, and preventing foreseeable harm.
Product and Service Governance: Investment solutions can be researched and recommended in line with target market needs. All research and governance is whole of market, independent and extends to products and platforms. It gives clear oversight of the product and investment recommendations universe and enables advice firms to demonstrate the controls in place to avoid harm and enable clients to pursue their financial objectives.
Understanding and Supporting Clients: A client's needs, characteristics and objectives can be more deeply understood through risk and sustainability profiling. Dynamic Planner's client profiling process is rooted in behavioural science to capture the complexity of how a client feels, behaves and thinks concerning, investment risk and sustainable investing.
Not a Dynamic Planner user? Schedule a free no-obligation demo with a business consultant and experience the full functionality of Dynamic Planner.
Dynamic Planner has been awarded 'Best Technology Provider' at this year's Professional Adviser Awards. The award assessed how providers had demonstrated innovation in the last 12 months while putting their adviser clients front-of-mind throughout.
Yasmina Siadatan, Sales and Marketing Director at Dynamic Planner said: "This week has marked Dynamic Planner's 20th Anniversary, and to be recognised as Best Technology Provider at Professional Adviser's Awards is a fitting accolade.
"Over the past 20 years we have built trusted relationships with our clients, always putting them at the heart of what we do, and partnering with them to develop Dynamic Planner into what it is in 2023.
"Today over 1 million people are actively advised using Dynamic Planner, more than 40% of UK investment advice firms use Dynamic Planner and more than 150 asset managers have their assets certified or targeted with us, over £250 billion. Our winning streak of awards over the past few years is testament to this.
"We are incredibly proud to be recognised for the innovative technology that our team has created. Whether it's our award-winning Cash flow, our Product and Platform Research, our Risk Profiling built on in-house behavioural psychology expertise, or Target Markets, designed to help firms meet the requirements of Consumer Duty, our one system delivers everything our clients need."
With 46% of team members at Dynamic Planner being women, we are truly embracing equity. For International Women's Day 2023, we asked four women what embracing equity means to them. This is what they said.
Steph Willcox, Head of Actuarial Implementation
With three in four mothers with dependent children in work, the highest level over the last 20 years, it seems only reasonable that we should be embracing equity in the workplace. Working mothers are in a much better position post-pandemic, with the rise and expectation of flexible working, but we are starting to see a shift back to demands of being in the office placing pressure on primary caregivers.
Childcare costs in the UK are among the highest in the world, with 62% of parents saying they work fewer hours as a result. I would like to see workplaces acknowledge the balancing act that working parents, and in particular women, try to achieve, and look to their flexible working policies, to ensure they are supporting their employees for the relatively small period of time for which this is a major issue. I am grateful to work for a company which fully embraces hybrid working and supports me to be able to maintain a full-time career and a hectic family life.
Yasmina Siadatan, Sales & Marketing Director
Equity, diversity and inclusion should be looked at through every lens. Both within the business and externally, I believe we should be forging change. Businesses should hire individuals who share their values and strive to ensure there is a representation of all people. Where there are gaps, steps should be taken to correct this.
Our commitment to diversity and equity is not only limited to what we do internally, but we also care about it deeply when it comes to our product. We try to ensure a continuous impact to bring more women into our industry, as well as ensuring what we do and how we communicate appeals to more female advisers and end clients to also address the bias that exists when it comes to investing.
This is how we do things at Dynamic Planner and our success and culture demonstrate the value of operating a diverse and inclusive business. The promotion of equity, diversity and inclusion has to come from the very top table. The CEO and their immediate leadership team must take an active role in driving the agenda forward. They set the tone for the company and help to create a culture that values everyone.
Elly Gallagher, Head of People & Values
What it means to me is having a company culture where everyone can be their true selves. Where each person has a voice and is respected, and listened to, and their views are valued. This requires us to have deep connections to team members and building of trust so everyone feels safe and that sense of belonging.
I'm proud of the diversity at Dynamic Planner and of our focus on people and inclusivity within our culture. On International Women's Day, we celebrate the achievements of our talented and strong women, recognise that women are increasingly represented within our technology teams, management and leadership, as well as more broadly the financial services industry. We are making progress, but there is always more to do and we really do have the power to make a difference!
Melinda Lovell, Enterprise Development Director
#EmbraceEquity springboards into Gloria Steinem's definition of feminism as, 'Anyone who recognizes the equality and full humanity of women and men'. To emphasise the word 'humanity', that, to me, is the essence of equity. Understanding and embracing our humanity allows us all to find the shoe that fits, find the firm that supports and the team that emboldens us to become our best selves.
#EmbraceEquity is also the fastest way to overcome the common corporate pitfall of 'strategic shrink', by bringing diversity of experience, thought, and approach to an organisation, and indeed to an industry.
Should we focus on Equality or Equity?
The theme for International Women's Day 2023 is Embrace Equity, which aligns firmly with our mission "Let's build an equitable future". But what do we mean by that? We have worked for more than 15 years with young people across London and beyond to help educate them, remove barriers and empower them to be the best they can be and we have done this by focusing on equity rather than equality.
What is the difference between Equality and Equity? To break it down, equality is when each person is given the same thing, or a rule is applied in the same way to everyone. But that doesn't allow for people being individuals and having different needs. It also doesn't consider their starting point.
Equity is when each person is given what they need to enable them to be successful. Or when rules consider the circumstances and are adapted to enable progression. The image below clearly shows if you give each person the same bike, then it only really allows one person to ride comfortably or at all. But when you consider the equitable solution in the image at the bottom, it enables everyone to able be ride comfortably.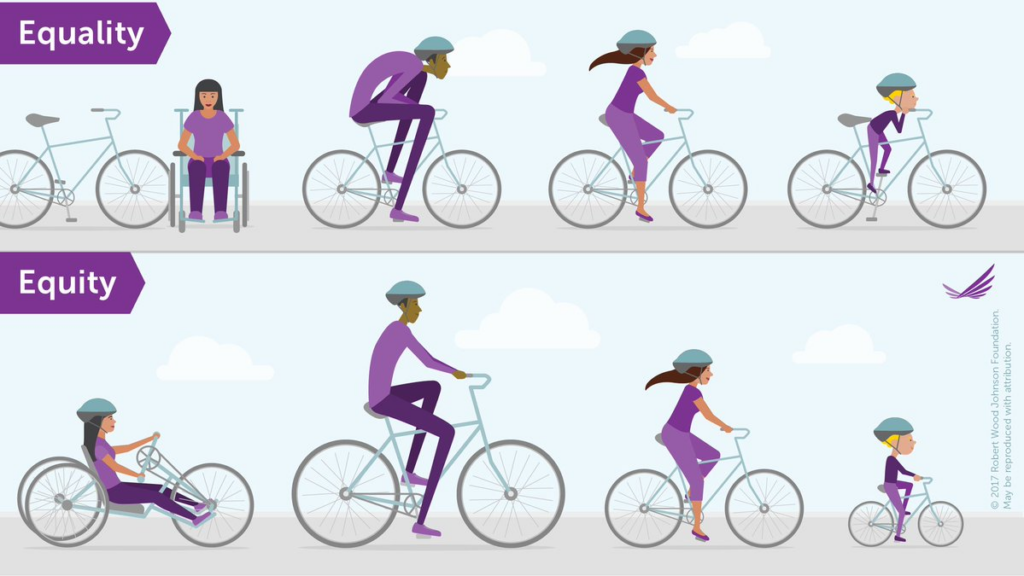 How does Equity Work in practice?
At Urban Synergy, we understand that every young person, their circumstance, and their dreams are unique. We tailor our school programmes, mentoring and work experience opportunities to help them reach their individual potential.
We understand that our community faces many challenges, and that there is often intersectionality between the different protected characteristics of diversity, as well as the socio economic factors that we need to consider.
This year we are Embracing Equity on International Women's Day and raising awareness of the challenges that young people face when entering the workforce.
By working with Dynamic Planner and our other partners we are removing the barriers faced by young people. We open students' eyes through career seminars, with a network of relatable role models, showing the variety of possible job roles available, and sharing their own career journeys and providing a pathway to follow.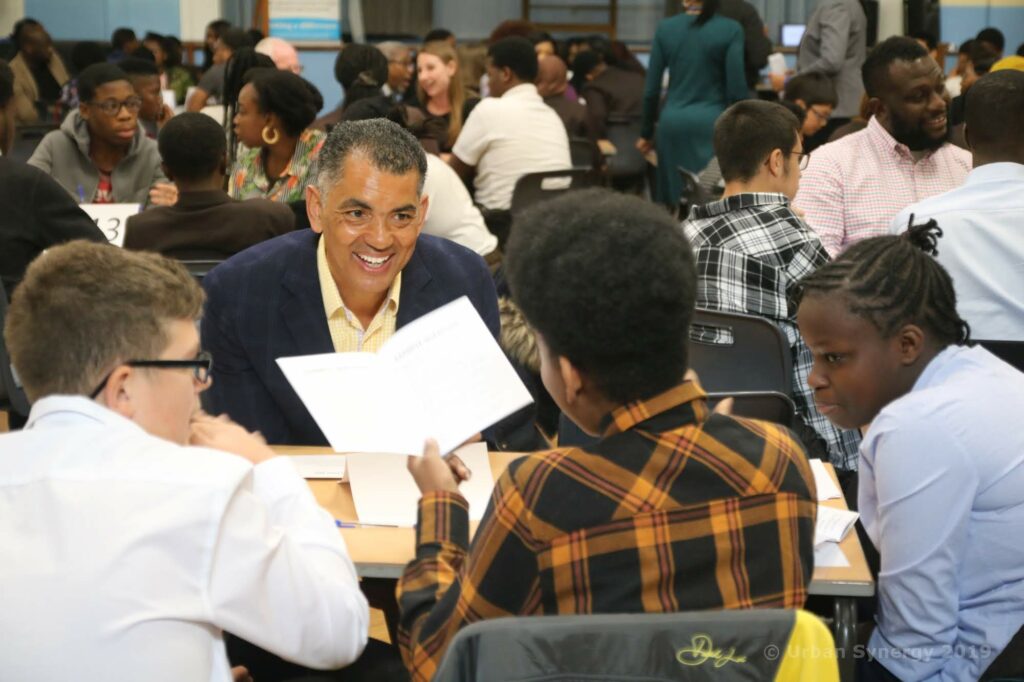 We guide them with 1-2-1 mentoring, teaching them business and soft skills, as well as helping them with the tools they need like a CV and an effective LinkedIn presence. And finally we connect them to opportunities that would not be accessible through their own limited networks, giving them real world experience to learn from.
Ryan who attended the Dynamic Planner internship said: "Getting to meet the senior leadership was inspiring, especially hearing from the CEO and how he built the company. During the internship, not only did I meet a great team of people, I saw that the company's mission was very clear: support clients and make portfolio management easier for them. Everyone I met was focused on that goal. It was a privilege to be trusted to support wherever I could."
Opportunities like this are essential to enabling the next generation to succeed.
So, what can you do to help?
The latest global gender gap report from the World Economic Forum (WEF), summarised here, shares that between 2021 and 2022 the overall global gender gap slightly narrowed. It uses four key areas to assess gender gaps, health and survival, educational attainment, economic participation & opportunity and political empowerment.
You can consider these and 'Embrace Equity' too. By ensuring that you consider people's individual needs, their starting point and any intersectionality they may have, you can put in place what is needed to support the women in your teams.
Can you help young people too?
Yes! Urban Synergy can also help you to 'Embrace Equity' too. We'd love to help even more young people to access opportunities, so if you can open your doors to a young person, get in touch. We'd love to partner with many more companies to offer even more diverse opportunities to the talented young people we work with.
With the collaboration of our valued partners like Dynamic Planner, we are building an equitable world where everyone, regardless of their background, is empowered to write their own future.
In support of International Women's Day, Dynamic Planner, the UK's leading risk based financial planning system, has conducted further analysis of findings from its Spotlight Report to paint a picture of women today in the advice industry.
Age Breakdown of Respondents of Spotlight Report
While the number of men increases with age it is the opposite for women, as the number of women, as a trend, decreases with every subsequent age group with the highest share of women (just over one in five) stating that they were under 30. The median ages for men is between 50-54 while median age for women is much lower at 40-44 showing a skew towards women being much younger with more than half being under the age of 44. Even though the number of female respondents was only 112 (30%), nearly an identical number of men and women indicated that they were under the age of 30, which equated to just over one in ten of male respondents and just over a fifth of female respondents.
Business Success
Female respondents are increasingly successful. In 2021, almost 1 in 2 said they serviced less than 100 clients on an ongoing basis, however in 2022, that decreased dramatically to just under 1 in 5. In 2022, just over half of women increased the number of advisers in their firm versus 42% of men. Women are also pushing the efficiencies of their roles – in 2021, 16% of female respondents said they serviced over 200 clients, whereas in 2022 that number more than doubled to 35%.
Roles
When it comes to roles within a firm, just three in 10 women work in an advising capacity versus a majority (77%) of men. A large proportion of women (58%) work as paraplanners or admin staff. For men this number is less than a fifth. On the whole, women are incredibly happy within their role as either an adviser, paraplanner or support staff, with 88% saying they would recommend their profession as a career.
Yasmina Siadatan, Sales and Marketing Director at Dynamic Planner said: "We are proud to support International Women's Day and its theme for this year #EmbraceEquity. While the industry is moving in the right direction, this annual event gives everyone time to pause and reflect. Around the world women are forging change and this is borne out in our own research of the advice community – women are buoyant, bullish and paint a picture of their own success. More importantly they love their job and their clients will only benefit from such positive feeling.
"What's really fascinating is the number of women across all age groups, with the largest number aged under 30 and how this will play out with the contrasting population of older males. Time will tell if there will be a levelling out of adviser numbers across the two groups, which could also be driven by more female investors seeking financial advice. As a company which inherently believes in equity and continually demonstrates this to our own team, we are also committed to helping the financial advice community to appeal to more women whether as potential employees or clients. If the industry can pave the way to a more equal working world, then we must level the playing field for investing too."
Dynamic Planner supports #EmbraceEquity for International Women's Day and beyond.