Chris Jones – Dynamic Planner Proposition Director – answered questions on MiFID II suitability requirements in a live, one-hour chat hosted by Paraplanners Powwow.
Chris spoke with Paraplanners Powwow founder and show host Richard Allum, and fielded questions from a lively audience, who registered for the event.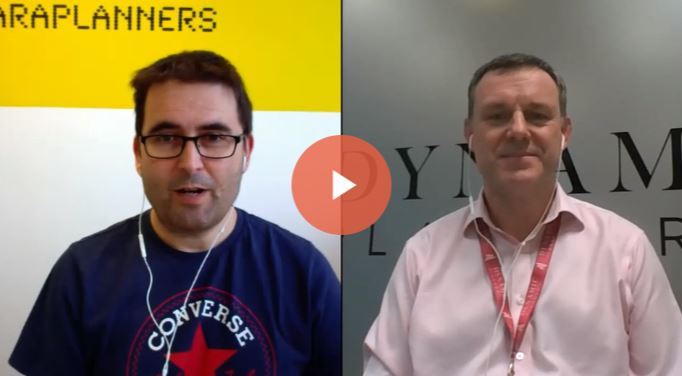 The discussion encompassed changes in the nature and timing of suitability reports; fee disclosure, particularly in a bear market; client understanding; and the value of reports, among many other topics and issues. Watch the replay here
Dynamic Planner Proposition Director Chris Jones has been busy out on the road, engaging with paraplanners about the importance of clear and accurate suitability reports.
Chris was presenting at two Personal Finance Society (PFS) 'Purely Paraplanning' events in Birmingham and in London this autumn.
He engaged with audiences on key issues in this area, discussing and questioning:
What have we learned from the 2017 FCA Suitability Review?
How MiFID II and other regulation has changed the nature of suitability letters
How paraplanners can help ensure client understanding – and why this is increasingly important
How to ensure the client is not surprised by the risk of the solution recommended
Hear more from Chris and how Dynamic Planner can help you and your firm ensure your clients' investment suitability by registering for the seventh Dynamic Planner Annual Conference in early 2019.
Chris Jones has joined Distribution Technology (DT) as Proposition Director for Dynamic Planner. In this newly created role, Chris will take on overall responsibility for Dynamic Planner's proposition to advisers and asset managers.
Chris joins from Intrinsic, one of the UK's largest networks of financial advisers, where he worked for more than six years.
Chris led Intrinsic's financial planning and investment proposition through the sector-changing Retail Distribution Review in 2012/13 through to its recent listing as a key component of Quilter.
Chris – who has over 25 years' industry experience – has always been a strong advocate of risk-based financial planning. He brings an important insight and perspective as to how Dynamic Planner can best serve the 6,500 advisers and paraplanners who rely on the service to help ensure investment suitability, increase efficiency and demonstrate their value to their clients.
Prior to Intrinsic Chris worked for leading advice firms, Bradford & Bingley and Bluefin as well as an IFA principle. Chris is both a Chartered Financial Adviser and Certified Financial Planner.
DT CEO Ben Goss said: "Having someone of Chris' calibre and experience join our team will be a significant benefit to our clients. We look forward to the impact he will make in helping firms using the Dynamic Planner service to ensure investment suitability, enhance their efficiency and demonstrate value to their clients.
Chris' appointment underscores our commitment to our clients and to building on our market-leading position as the industry's most widely used risk profiling and asset allocation-led investment process".
Chris Jones said: "Advisers' clients get genuine long lasting value from financial planning via a risk-controlled investment process and cashflow model and I am proud to be joining Dynamic Planner, already the market leader, at a time when advisers are going to really see the benefit of its services."
As Proposition Director, Chris will take on overall responsibility for Dynamic Planner's investment process and the 14 strong team of analysts and qualified investment professionals, who each quarter expertly review the 1,200-plus investments risk profiled in Dynamic Planner.
Total assets invested in Dynamic Planner risk profiled or risk-targeted funds have risen from £66bn to £209bn over the last five years.
Use of Dynamic Planner by IFA firms has grown to record levels during 2018 as more and more firms adopt the market leading service to support their investment and client review processes post the introduction of MiFIDII.