Accurately risk profiling your clients and subsequently matching them with suitable investments has arguably never been in sharper focus than it is today.
Financial markets dropped more dramatically, by broadly 25%, than ever before from 16-19 March this year. Of course, as a result, it is vital, amid such volatility, for a client's portfolio to be at a risk that they are willing and able to take.
Matching people with suitable portfolios sits at the very heart, at Dynamic Planner, of what we enable advice firms to do – quickly and accurately allowing you and your firm to revisit the risk profile of a client and their portfolio to check if anything has changed during times of extreme market turbulence, which we experienced in March.
Dynamic Planner enables you and your firm to securely email clients an invite to complete the risk profiling questionnaires remotely – questionnaires which comprehensively include capacity for loss and investor experience, safely ensuring both those key aspects are consistently being covered from a regulatory and best practice perspective.
Further, Dynamic Planner is a cloud-based financial planning system, which can easily be screen shared during a remote meeting via video chat platforms like Zoom, which have become synonymous with communications during the crisis and beyond.
How do five advice firms risk profile their clients in Dynamic Planner in this climate? Where is the real value, on different levels, in it for them?
David Owen – Wealth Director, Lifetime Connect
"The risk profiling tool in Dynamic Planner is incredibly powerful. To be able to recheck, at the moment, their attitude to risk and capacity for loss is great. You can have the conversation with the client, 'You're coming out as a risk profile 7, but can you really afford to be? From what you're telling me, it appears you can; or you can't'. You can then take an action.
"Using something like Zoom, you can go through the risk questionnaire with a client and share your screen and analysis like the 'efficient frontier' to check that they are comfortable. It's absolutely brilliant.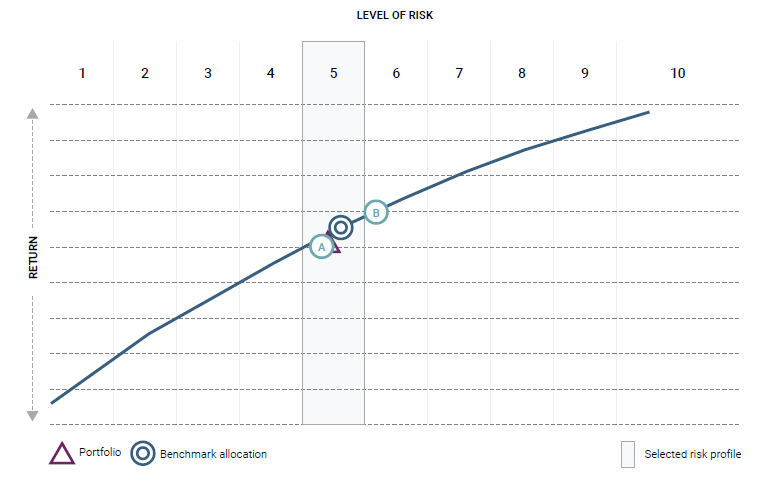 An efficient frontier
"Once upon a time with technology, you had to complete a load of training before you started using it. That idea can still be anchored in people's minds. But if you think of things like Zoom, you don't really need training. They're intuitive to use, aren't they? It's more about curiosity now. If you're curious, you will use technology – and Dynamic Planner falls into that camp, I think – it's very easy to screen share; it's very easy to navigate; you can't really go wrong."
Neil Gilbourne – Financial adviser, 3R Financial Services
"We first started using Dynamic Planner to help us manage risk. That was the driver. The client risk profiling process was the reason why and it's worked for us ever since. We wanted to demonstrate for all our clients that we were measuring accurately their attitude to risk. It's peace of mind for us that we are clearly demonstrating that we are providing ongoing advice for clients – and if the regulator came to us and asked, 'How is that advice suitable?' We can demonstrate that and say, 'Yes, it is'."
Clare Edes – Compliance Manager, Skerritts Chartered Financial Planners
"We first started using Dynamic Planner because we wanted to add another layer of compliance to our processes, so that we knew what a risk score looked like for a client and we knew, as a firm, what then we were working towards. Our Investments Team can then run model portfolios and funds based on a target risk score.
"Dynamic Planner covers risk mapping and what a portfolio looks like at a given level of risk. It also asks clients questions concerning their capacity for loss, which means we're covering more in a client fact find. Previously, there wasn't a set trigger point to spark those questions and conversations."
Lee Waters – Chief Executive, Barwells Wealth Independent Financial Planning
"The fact that Dynamic Planner is cloud-based is extremely helpful. Everybody at your firm can login as though they were in the office. We can also still send risk questionnaires out to clients and overall [during lockdown], I don't think there has been any disruption to how we use Dynamic Planner.
"We have been able to use it to help reassure clients that their risk profile isn't changing, because the way people answer the risk questionnaires varies depending upon how they are feeling emotionally at that time. If you gave someone the risk questionnaires a year ago and you gave them, them today, they would come out more cautiously, because of what has happened. It is about that conversation and saying to the client, 'Are external events driving any change in attitude to risk or is it something more fundamental?'
"If there are changes to how much risk the client wants to take, we can use Dynamic Planner to map where they are now and where they need to be in future."
Lee Whiteside – Financial adviser, Plan4Life
"I completed my first meeting with a new client by video conference during the lockdown. I used Zoom. You can share documents and do pretty much everything you can face-to-face. I risk profiled the client and have done everything I wanted with her, and at the point of sale – a full fact-find; we talked about pension switches; and I will quickly follow up with a recommendation to move an old pension she has got.
"It's actually easier, in one way and you do start to think, 'Hang on a minute, why don't I run my business like this all the time?'"
Want to see how your firm can benefit from our risk profiling process? Talk to one of our consultants.