With 46% of team members at Dynamic Planner being women, we are truly embracing equity. For International Women's Day 2023, we asked four women what embracing equity means to them. This is what they said.
Steph Willcox, Head of Actuarial Implementation
With three in four mothers with dependent children in work, the highest level over the last 20 years, it seems only reasonable that we should be embracing equity in the workplace. Working mothers are in a much better position post-pandemic, with the rise and expectation of flexible working, but we are starting to see a shift back to demands of being in the office placing pressure on primary caregivers.
Childcare costs in the UK are among the highest in the world, with 62% of parents saying they work fewer hours as a result. I would like to see workplaces acknowledge the balancing act that working parents, and in particular women, try to achieve, and look to their flexible working policies, to ensure they are supporting their employees for the relatively small period of time for which this is a major issue. I am grateful to work for a company which fully embraces hybrid working and supports me to be able to maintain a full-time career and a hectic family life.
Yasmina Siadatan, Sales & Marketing Director
Equity, diversity and inclusion should be looked at through every lens. Both within the business and externally, I believe we should be forging change. Businesses should hire individuals who share their values and strive to ensure there is a representation of all people. Where there are gaps, steps should be taken to correct this.
Our commitment to diversity and equity is not only limited to what we do internally, but we also care about it deeply when it comes to our product. We try to ensure a continuous impact to bring more women into our industry, as well as ensuring what we do and how we communicate appeals to more female advisers and end clients to also address the bias that exists when it comes to investing.
This is how we do things at Dynamic Planner and our success and culture demonstrate the value of operating a diverse and inclusive business. The promotion of equity, diversity and inclusion has to come from the very top table. The CEO and their immediate leadership team must take an active role in driving the agenda forward. They set the tone for the company and help to create a culture that values everyone.
Elly Gallagher, Head of People & Values
What it means to me is having a company culture where everyone can be their true selves. Where each person has a voice and is respected, and listened to, and their views are valued. This requires us to have deep connections to team members and building of trust so everyone feels safe and that sense of belonging.
I'm proud of the diversity at Dynamic Planner and of our focus on people and inclusivity within our culture. On International Women's Day, we celebrate the achievements of our talented and strong women, recognise that women are increasingly represented within our technology teams, management and leadership, as well as more broadly the financial services industry. We are making progress, but there is always more to do and we really do have the power to make a difference!
Melinda Lovell, Enterprise Development Director
#EmbraceEquity springboards into Gloria Steinem's definition of feminism as, 'Anyone who recognizes the equality and full humanity of women and men'. To emphasise the word 'humanity', that, to me, is the essence of equity. Understanding and embracing our humanity allows us all to find the shoe that fits, find the firm that supports and the team that emboldens us to become our best selves.
#EmbraceEquity is also the fastest way to overcome the common corporate pitfall of 'strategic shrink', by bringing diversity of experience, thought, and approach to an organisation, and indeed to an industry.
Should we focus on Equality or Equity?
The theme for International Women's Day 2023 is Embrace Equity, which aligns firmly with our mission "Let's build an equitable future". But what do we mean by that? We have worked for more than 15 years with young people across London and beyond to help educate them, remove barriers and empower them to be the best they can be and we have done this by focusing on equity rather than equality.
What is the difference between Equality and Equity? To break it down, equality is when each person is given the same thing, or a rule is applied in the same way to everyone. But that doesn't allow for people being individuals and having different needs. It also doesn't consider their starting point.
Equity is when each person is given what they need to enable them to be successful. Or when rules consider the circumstances and are adapted to enable progression. The image below clearly shows if you give each person the same bike, then it only really allows one person to ride comfortably or at all. But when you consider the equitable solution in the image at the bottom, it enables everyone to able be ride comfortably.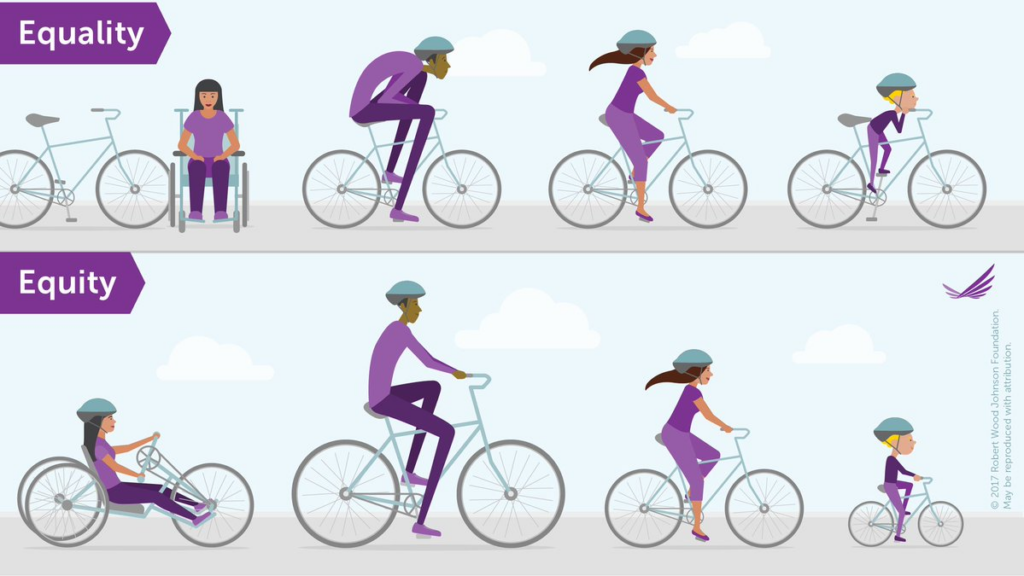 How does Equity Work in practice?
At Urban Synergy, we understand that every young person, their circumstance, and their dreams are unique. We tailor our school programmes, mentoring and work experience opportunities to help them reach their individual potential.
We understand that our community faces many challenges, and that there is often intersectionality between the different protected characteristics of diversity, as well as the socio economic factors that we need to consider.
This year we are Embracing Equity on International Women's Day and raising awareness of the challenges that young people face when entering the workforce.
By working with Dynamic Planner and our other partners we are removing the barriers faced by young people. We open students' eyes through career seminars, with a network of relatable role models, showing the variety of possible job roles available, and sharing their own career journeys and providing a pathway to follow.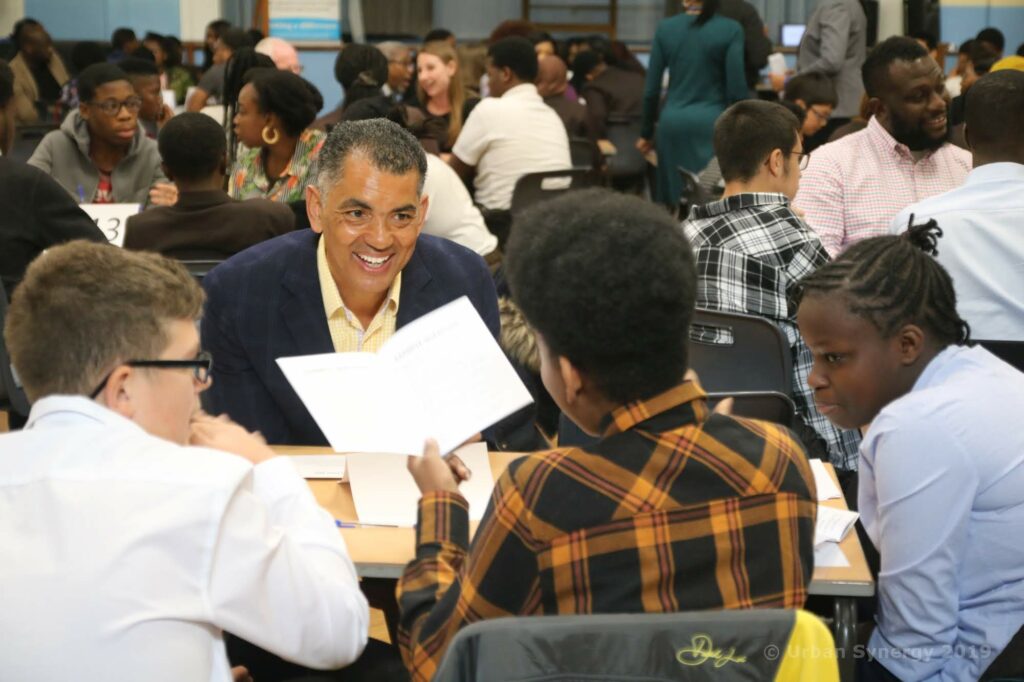 We guide them with 1-2-1 mentoring, teaching them business and soft skills, as well as helping them with the tools they need like a CV and an effective LinkedIn presence. And finally we connect them to opportunities that would not be accessible through their own limited networks, giving them real world experience to learn from.
Ryan who attended the Dynamic Planner internship said: "Getting to meet the senior leadership was inspiring, especially hearing from the CEO and how he built the company. During the internship, not only did I meet a great team of people, I saw that the company's mission was very clear: support clients and make portfolio management easier for them. Everyone I met was focused on that goal. It was a privilege to be trusted to support wherever I could."
Opportunities like this are essential to enabling the next generation to succeed.
So, what can you do to help?
The latest global gender gap report from the World Economic Forum (WEF), summarised here, shares that between 2021 and 2022 the overall global gender gap slightly narrowed. It uses four key areas to assess gender gaps, health and survival, educational attainment, economic participation & opportunity and political empowerment.
You can consider these and 'Embrace Equity' too. By ensuring that you consider people's individual needs, their starting point and any intersectionality they may have, you can put in place what is needed to support the women in your teams.
Can you help young people too?
Yes! Urban Synergy can also help you to 'Embrace Equity' too. We'd love to help even more young people to access opportunities, so if you can open your doors to a young person, get in touch. We'd love to partner with many more companies to offer even more diverse opportunities to the talented young people we work with.
With the collaboration of our valued partners like Dynamic Planner, we are building an equitable world where everyone, regardless of their background, is empowered to write their own future.
The Investment Committee (IC) met on Monday 23 January and reflected on the downstream impact of the dramatic escalation in geopolitical risks, due to the Russian invasion of Ukraine, now almost 12 months ago, and the associated commodity price shocks.
The macro environment is radically different to the optimistic one prevailing at the start of last year. Global growth has slowed much more than anticipated, whilst the expected 'temporary' spike in inflation, rather than easing, further increased and has become embedded. As core measures of inflation remained far above central bank targets and headline rates reached double digits in most economies, this prompted global central banks to embark on the most rapid pace of policy tightening in 40 years.
The current macro perspective can perhaps be best described as a fiscal and monetary 'hangover'. The previous 10-year plus regime, where a 2% inflation target was made possible due to secular disinflationary forces, is not normal by historical standards. The supply chain problems that emerged in 2021, following the initial economic recovery from Covid, extended into 2022 as labour shortage issues and the ensuing commodity price shock embedded a higher level of inflation and lowered growth expectations.
Now the elephant in the room is high inflation, requiring rising global interest rates and a reduction in the bloated balance sheets of the central banks. This implies steeper yield curves, more quantitative tightening and ongoing high budget deficits. Alongside extended levels of bond market leverage (mainly due to widespread use within LDI strategies) and persistently high inflation, the risk of a liquidity driven global government debt crisis and ongoing bond volatility increases.
The impact of both the energy supply shock and the rapid tightening in monetary policy will slow global real growth, but also risks some economies flirting with moderate or intermittent recession in 2023. This is particularly pertinent to the UK economy, forecasted by the IMF to be the only G7 country to contract this year. It continues to grapple with supply chain issues following the Covid bounce back and has a higher dependence on expensive liquid natural gas, which has been driving up the cost of living even further. This is alongside rising taxes, labour shortages, widespread public sector worker unrest and the persistent lack of productivity growth in the economy.
However, whilst there are significant short-term headwinds in the UK, markets always look forward and signs of inflation easing will help slow the pace and quantum of further rate rises. The IC discussed the latest proposed Capital Markets Assumptions (CMA's) to be applied in Dynamic Planner. The impact of the sharp rise in bond yields across the board over the previous quarter and the observed uptick in their volatility, has been reflected in the calibration process when setting the CMA's this quarter.
Given the considerable economic headwinds, the key unknowns are how close we are to reaching the peak in the interest rate cycle this year and the extent of potential corporate defaults, which are still running at low levels by historical standards. For equities, the focus is now on the extent of earnings downgrades and how much of the recession risk is already priced into current valuations.
Dynamic Planner's asset and risk model provides volatility, covariance, correlation and expected return assumptions, which are updated each quarter. They cover a wide range of bond maturities, equity market capitalisations and alternative assets, thereby equipping users with the flexibility to tilt portfolios relative to the risk-adjusted benchmarks as they see fit. Since the CMA's are updated each quarter, these remain sensitive to long-term secular trends and reflect the average expected outcomes for investors buying and selling at different times over the cycle.
You can read the full Investment Committee update here
17 January 2023: Dynamic Planner, the UK's leading financial planning system and Quilter Financial Planning, a leading financial advice network, have entered into a long-term partnership agreement which will see Dynamic Planner provided to advisers within the Quilter group.
Quilter advisers will be able to fully access everything in Dynamic Planner's one system including: industry leading psychometric risk and sustainability profiling; investment progress reviews; cash flow modelling; digital client access, recommendations, and research. Quilter will benefit from Dynamic Planner's product governance target market and panelling functionality, which along with a shared consumer focused culture, will support them in meeting the new Consumer Duty. Dynamic Planner already works closely with Quilter Investors, Quilter Cheviot and the customer proposition team.
Dynamic Planner will fully integrate into technology already used by Quilter Financial Planning to ensure ease of data flow for users and maximise operational efficiency centrally. Roll out of Dynamic Planner to Quilter advisers has begun and is expected to be completed by Spring 2023.
In an early adoption programme, Quilter advisers using Dynamic Planner have already seen significant improvement in productivity, with feedback indicating that advisers can move from servicing 80 clients to over 300, an increase of 275%, whilst at the same time deepening relationships and spending less time on paperwork.
Ben Goss, CEO, Dynamic Planner said: "We are delighted to partner with Quilter Financial Planning to support their thousands of financial advisers in the delivery of outcome focused financial planning in an age of Consumer Duty. We have invested heavily in our one system technology in recent years and look forward to working closely with Quilter as a partner to help power their financial planning process with Dynamic Planner at scale."
Steve Gazard, CEO, Quilter Financial Planning said: "We have been piloting the Dynamic Planner system with a number of key firms and advisers across our business for the last 18 months and have been delighted with the efficiency gains those firms have seen and the improvement in client experience. I am pleased that we have been able to further strengthen our offering by working closely with Dynamic Planner, and as such have a close relationship that will now allow us to rapidly deliver this to our wider adviser base."
12 January 2023: Dynamic Planner, the UK's leading risk-based financial planning system has appointed Michael Whitfield as its new Chair following FPE's investment last year. Michael's career in financial services spans four decades working in a variety of roles focusing on people and creating the technology to best serve their needs.
Michael founded Thomson Online Benefits in 2000, which he led for 17 years as CEO. He built the organisation from start-up to 500 people serving clients in over 90 countries, cementing its place as a market leader in global benefits software. Since 2018, Michael has focused on injecting his world-class expertise into guiding companies that inspire him, many of which are technology providers directly used by the end client.
Ben Goss, CEO at Dynamic Planner said: "We warmly welcome Michael as our new Chair. He has world-class experience of scaling a UK FinTech business internationally and understands the importance of culture and client focus in a successful business. I and the team look forward to working with him.
"I would like to thank Neil Brown, our previous Chair for his chairmanship, advice and support over the years."
Fidelity Sustainable Multi Asset Fund range portfolio manager Caroline Shaw examines the outlook for the year ahead
We expect central banks to have to tighten further if inflation remains sticky on the back of Russia's invasion of Ukraine, and in the face of slowing growth prospects across most of the world.
In these circumstances, we would retain a cautious, risk-off stance and expect volatility to remain high as investors adjust to fast moving variables such as conflicts in monetary and fiscal policy, China's growth prospects, as well as the longer-term impact due to rising commodity prices and climate change. The varying impact of these variables on different parts of the world will mean that tactical allocation will be an important source of value-add. However, we do think that this will lead to attractive opportunities to add to risk-on positions.
In these circumstances, the ability to remain nimble, react quickly to changes in markets and the ability to focus on finding secular growth opportunities will be key.
What could surprise markets in 2023?
Given appropriate policy support, it could be the European equity market that offers a positive surprise in 2023. Markets have severely corrected during 2022 and valuations are starting to look attractive in some sectors. For sustainable investors, Europe leads the way with sustainability standards, high levels of corporate disclosure and transparency and in the early adoption of a double materiality approach.
There are risks within Europe, not least the ongoing energy crisis and the war in Ukraine. Whilst gas storage levels look sufficient to cope with the imminent winter, based on reduced demand across Europe, it is next winter that appears less secure. We are therefore mindful of the bigger picture and long-term nature of the energy crisis solutions.
Positioning for what lies ahead in 2023
Listed alternative investments focused on renewables and infrastructure have been at the mercy of energy prices, rising rates and UK political (and fiscal policy) uncertainty from short lived policies through to leadership changes. From a sustainability perspective, renewable infrastructure investments are a key element in the transition to net zero and in energy security. From an investment perspective, the inflation linkage is an attractive characteristic, in addition to the differentiated sources of revenue. Experienced management teams running trusts with valuation cushions against higher risk-free rates look attractive for the longer term though we are mindful of the policy risks facing the UK given the economic backdrop and the politics of support for the energy transition in such an environment.
Being well diversified across both asset classes and underlying investments has been helpful during 2022. The key has been a cautious approach overall with lower equity exposure and lower fixed income exposure than during a typical year.
The offset has been higher than usual cash positions which we do not expect to sustain through 2023. We expect to see plenty of interesting investment opportunities to redeploy this cash into though the trigger for this is likely to be sight of the ending of rate hikes in the US and across Europe, and a change in the upward trajectory of inflation. With that in mind, we expect to have lower cash levels and higher equity exposure during 2023, reflecting more of a risk on environment.
Sustainability considerations
Climate risks, most easily seen in changing weather patterns around the world, are hard to ignore. We anticipate greater recognition of the need to assess, understand and disclose climate risks and opportunities and embed these into risk management and strategic planning at company level. Preparedness for change will be one factor that will influence shareholder returns as this isn't just about minimising climate risks
CDP, a global non-profit which runs the world's environmental disclosure system, estimates that US$4 trillion worth of assets will be at risk from climate change by 2030. Importantly, its recent report based on US company disclosure identifies potential financial benefits of climate transition opportunities at least 15 times higher than the potential financial impact of the risks.
Within multi-asset, we expect increased levels of active engagement with our internal and third-party managers as we seek improved integration of ESG and climate factors in investment decision making, increased transparency, measurable data points and consideration of the management of ESG and climate risks, alongside pathways to net zero and recognition of the opportunities afforded by the transition. We believe our engagement efforts positively influence returns to our investors.
Hear more from Fidelity, a 2023 Dynamic Planner Conference Partner, live in London on Tuesday 7 February.
Important information
This information is for investment professionals only and should not be relied upon by private investors. Past performance is not a reliable indicator of future returns. Investors should note that the views expressed may no longer be current and may have already been acted upon. Fidelity's Multi Asset funds can use financial derivative instruments for investment purposes, which may expose the fund to a higher degree of risk and can cause investments to experience larger than average price fluctuations. Changes in currency exchange rates may affect the value of investments in overseas markets. Investments in emerging markets can be more volatile than other more developed markets. The value of bonds is influenced by movements in interest rates and bond yields. If interest rates and so bond yields rise, bond prices tend to fall, and vice versa. The price of bonds with a longer lifetime until maturity is generally more sensitive to interest rate movements than those with a shorter lifetime to maturity. The risk of default is based on the issuers ability to make interest payments and to repay the loan at maturity. Default risk may therefore vary between government issuers as well as between different corporate issuers. Reference to specific securities should not be construed as a recommendation to buy or sell these securities and is included for the purposes of illustration only. Issued by Financial Administration Services Limited and FIL Pensions Management, authorised and regulated by the Financial Conduct Authority. Fidelity, Fidelity International, the Fidelity International logo and F symbol are trademarks of FIL Limited.
The news from the Office of National Statistics (ONS) that inflation has eased slightly from its 41 year high at 11.1% to 10.7%, will provide a little hope but not quite enough to eradicate the worry that people feel for the immediate future and their financial position.
For those already struggling to cope with the rising cost of living, this will only compound the situation. For people fortunate enough to have investments, some may need to make decisions about how to plan to support the increasing cost of living. For many, a better understanding of cognitive and emotional biases could help.
Unfortunately, as humans, we have limitations on our abilities to process all the necessary information when making a decision in order to make the most rational choice, particularly as we are often bombarded with a wealth of information and have time constraints in which to make decisions. So, when it becomes challenging to keep track of the ever-changing prices of goods, interest rates, and trends in inflation, then we can often make shortcuts in our thinking to simplify the decision-making process, but this can lead us to make errors.
Dynamic Planner outlines below well-known biases that are particularly fuelled by the news of high inflation, along with ways to reduce or avoid them:
Framing effect– this refers to how information is presented. People rely too much on the way a message is framed which can affect how they interpret information and therefore act on it.
How to avoid: Try to reframe a problem or message and find alternative perspectives. Research also shows that those who are more knowledgeable and up-to-date on an issue are less susceptible to the framing bias and the way a message is portrayed. It is therefore important to discuss inflation and its impact with an expert or read the financial sections in newspapers and online to help understanding.
Anchoring bias– During uncertain times decisions can be influenced by fixating on a reference point or information you have received. People may make comparisons, estimates and decisions in relation to this reference, which is known as anchoring, ignoring other relevant information.
How to avoid: Research shows that just the way in which information is presented can cause people to look at a reference point and ignore all other relevant information. Even though a reference point, whether one you have determined or have observed in the media, may seem important, don't be fixated on a figure, they are often arbitrary and irrelevant, and can cause greater worry.
Regret aversion– Anticipating regret and envisioning the emotional discomfort of making a poor decision can result in inertia, where people may fail to act or stick with a default option for fear of making an active choice which later turns out to be sub-optimal.
How to avoid: Not making or avoiding a decision still involves making a choice. Research found that automatic pension enrolment increased pension participant rates from 49% to 86% in 2001, and this is why such behavioural nudges (an opt-out rather than an opt-in system) have been applied today, helping us to save more for the future. Spend time thinking about your priorities and viewing the future with optimism, finding ways to better regulate your emotions can also help reduce fear and succumbing to feelings of regret when facing a difficult decision.
Present bias– Individuals can have the tendency to pursue instant gratification by overvaluing present rewards at the expense of future returns. We often engage in impulsive behaviour in return for immediate pleasure, whether opting for unhealthy fast food or spending money today rather than saving for tomorrow.
How to avoid: It is important to delay gratification particularly when we consider saving for retirement, immediate rewards can often lead to regret. When saving, set realistic goals as setting yourself up for failure can reinforce the desire to accept instant rewards and discourage you from persevering and saving for the future.
Availability bias – refers to our tendency to use readily available information, information that comes to mind quickly and easily when making decisions. We also often evaluate the likelihood of future events on recent memories without putting them in perspective of the longer-term past which can lead us to make poor financial choices.
How to avoid: Perceptions of inflation can be heavily influenced by your personal purchasing experiences. Research shows that price changes of items that were recently purchased, bought frequently, resulted in an increase in price, and particularly a large increase, influenced people's perceptions of inflation. Gain a more accurate and objective picture of inflation and discuss with an expert or research the current situation, as recent events and personal experiences can cloud your judgement and lead to greater worries.
Louis Williams, Dynamic Planner's Head of Psychology & Behavioural Insights said: "The current situation is worrying for everyone, some of us will not have experienced inflation anywhere near as high in our lifetime.
"For those who are fortunate to still have a degree of choice in how to manage their money, understanding the biases that may influence their attitudes and behaviour could help them achieve better longer-term outcomes as well as counter some of the impact of inflation.
"Having a much deeper understanding of our susceptibilities to behavioural biases can be a great help in overcoming rash or ill-thought-out decision making, especially when faced with all the uncertainty we have right now combined with the soaring cost of living."
By Jim Henning,
Head of Sustainable Investment
When it comes to doing our washing, we all know it's important to read the clothing labels to avoid any unfortunate mishaps (as well as trying to reduce the water consumption and temperature levels). Similarly, when it comes to sustainable investing, the risk of 'greenwashing' has been a persistent issue.
The ever-widening range of sustainable investment objectives, definitions and related solutions has led to misunderstandings, confusion and sometimes claims are being made that simply wouldn't stand up to scrutiny. This can lead to the unintended consequences of eroding trust in the financial services industry and lowering levels of capital flows into sustainable enterprises than would have otherwise been the case.
Global regulatory bodies have been busy trying to fix this problem by defining what exactly a sustainable investment means, thereby bringing more clarity, standardisation and raising standards. Greater transparency is vitally important but is an incredibly complex and technical task and remains very much work-in-progress.
It's also interesting to note that the EU, US and UK regulators have chosen three definition categories, but predictably each have important differences in approach. Based on the recent FCA consultation paper 'CP22/20 Sustainability Disclosure Requirements (SDR) and Investment Labels', the UK proposals look more aligned to the US than the EU scheme. In the latter case the EU's SFDR was intended to be a disclosure regime only, while the FCA's proposals introduce a labelling regime with three sustainable categories and new consumer‑facing summary disclosures.
Sustainability Disclosure Requirements – Proposed fund labels

*At least 70% of a 'sustainable focus' product's assets must meet a credible standard of environmental and / or social sustainability, or align with a specified environmental and / or social sustainability theme. These products will typically be highly active and selective.
**These products will typically be highly selective, emphasising investment in assets that offer solutions to environmental or social problems and that align with a clearly specified theory of positive change.
Importantly, the new labels will also apply to discretionary managed portfolio services (MPS). For an MPS to qualify to use one of these labels, 90% of the total value of the underlying products in which it invests must meet the qualifying criteria for the same label. The DFM provider must then make the disclosures for each of the underlying products available to retail investors.
Choosing the right name for a product has always been important and often the subject of much internal debate within marketing departments. As it's likely the first thing a retail investor is made aware of, the FCA intends to prohibit the use of sustainability related terms in either product names or marketing material for those products that do not qualify for a sustainable label. Examples of these terms would include 'ESG', 'climate', 'impact', 'sustainable' or 'responsible'.
Following the consultation period, the final rules are due to be published by end of June 2023 and new labelling, naming and marketing restrictions will follow on 12 months later. The disclosure proposals in CP22/20 are far-reaching, covering all regulated funds to varying degrees, not just the labelled ones. They will require much more granular transparency and ongoing disclosures particularly surrounding investment objectives and policy, alongside progress reporting against published KPI's.
There is no doubt that qualifying for a sustainable label will be a high bar to meet for many asset managers. In fact, based on the FCA's own initial estimates, of those products that currently have sustainability-related terms in their names and marketing, two-thirds could decide to remove them accordingly.
Based on the 139 risk profiled multi-asset solutions currently in Dynamic Planner that have such terms in their names, it is interesting to see the differences across both funds and MPS's. 'Sustainable' is by far the most favoured naming option across both wrapper types, but there is notably a greater proportion of more specialist 'Impact' and 'Ethical' offerings in the MPS space. For ethical screened funds, I suspect many are likely to elect one of the new labels, as sustainability has always been an important underpin to their philosophy and the preference of their traditional dark green investor base.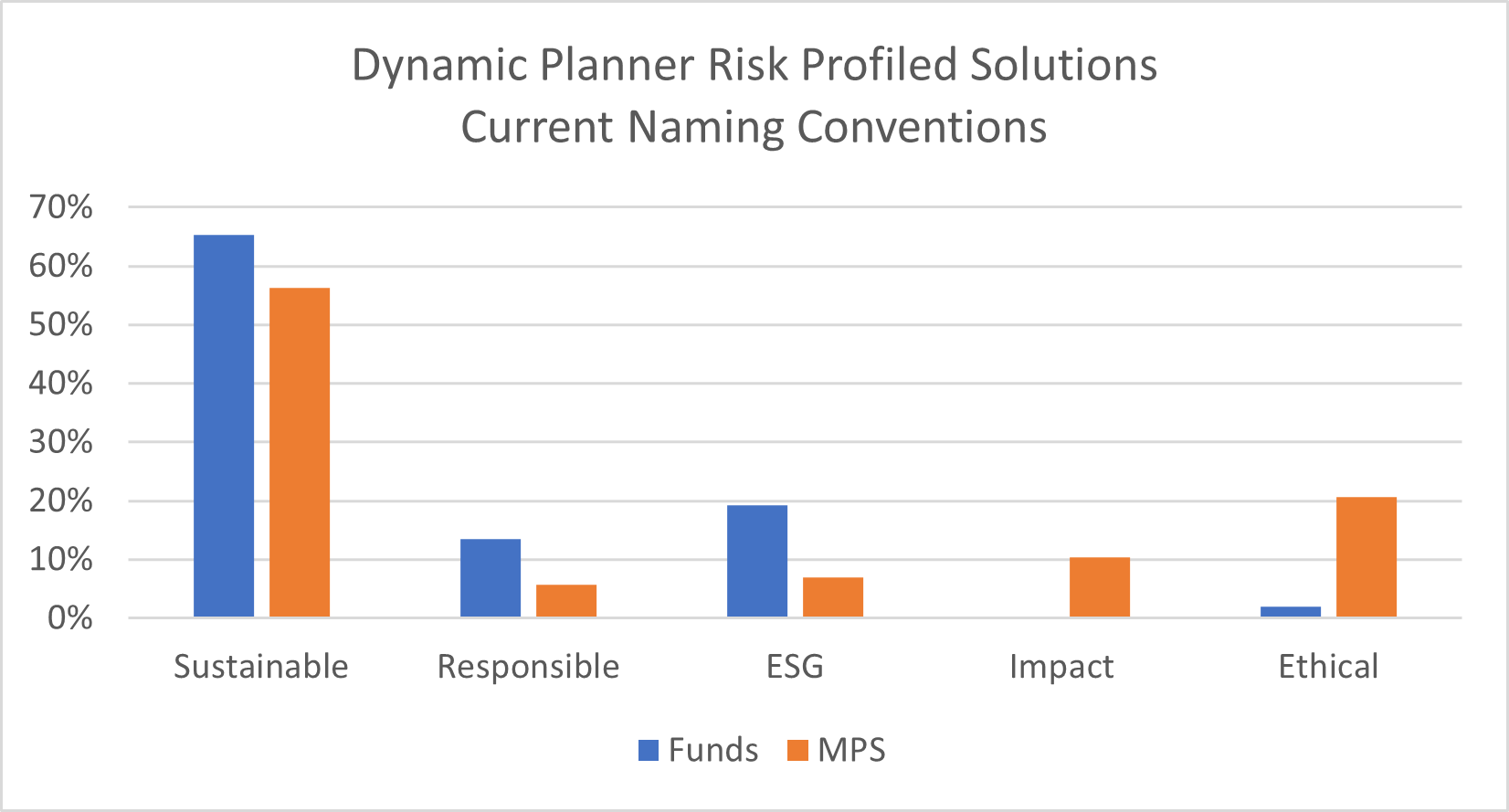 Over coming months, we can expect a raft of objective and fund name changes in light of the proposed regulations. At Dynamic Planner, we will ensure that relevant and objective sustainability research is available in the system, covering both products adopting the new labels and those which don't. In the latter category, many will continue to actively apply ESG screens in their stock selection process and engage with investee companies (and also more widely across the asset management firm) from a fiduciary risk management perspective.
Thereby, users will be fully equipped to connect the recommended solutions to both risk and sustainability preferences via our Client Profiling process and meet the forthcoming Consumer Duty requirements.
Not a Dynamic Planner user? Schedule a free no-obligation demo with a business consultant and experience the full functionality of Dynamic Planner.
Dynamic Planner's Investment Committee (IC) met on 20 October, focusing on the unprecedented shockwaves suffered by UK assets and currency following the September mini-budget and in particular their impact on the lower risk benchmarks.
In expectation of a return to some form of fiscal normality in the UK, the IC considered the wider global perspective. As central banks play catch-up to quench ingrained inflationary pressures, less globally co-ordinated policy responses appear likely, which could further increase bouts of currency and economic volatility, suggesting that asset allocation decisions on country and currency still matter.
The IC discussed the importance of maintaining bond holdings in the lower risk benchmarks and other options, including the wide range of differing bond maturities modelled within Dynamic Planner.
This comprehensive range of asset classes can be used to assess the risk implications if tactical tilting of portfolios from the long-term benchmark allocations is being considered, given current volatile market conditions.
Read the Investment Committee's full update.
By Sam Liddle, Church House Investment Management
The current backdrop of rampant inflation, soaring energy prices driven by geopolitical tensions, and impending recession has provoked much talk of the parallels with the UK's last big inflationary crisis in the 1970s.
Back then, the retail price index peaked in 1975 at almost 27%, following chancellor Anthony Barber's ill-fated 1972 'budget for growth' under Edward Heath's Conservative government and OPEC's 1973 oil embargo.
Such comparisons – particularly with the 'Barber Boom' that fuelled wage rises and inflation – have become more meaningful in the aftermath of this year's so-called Mini Budget announced in September by chancellor Kwazi Kwarteng, which sent sterling plunging to all-time lows against the dollar, and gilt yields soaring.
A more useful comparison
While the economic parallels between now and the 1970s make for illuminating (and alarming) macro commentary, it is also useful to consider their ramifications at a more granular level, for the value of asset classes held by UK investors.
The focus for investors was notably different back then, as there were no corporate bond or index-linked gilt markets; we are therefore concentrating on the impact for gilts, cash and equities, drawing on the Barclays Equity Gilt Study for the 20-year period between 1965 and 1985.
It is worth setting the scene by looking first at the corrosive effect of inflation on the buying power of sterling over that time. A lump sum worth £100 in 1965 would have bought only around £10 of goods in 1985. Clearly, then, those who simply held cash under the bed suffered huge losses over the two decades.
Fixed interest pain
What happened with government bonds? Yields rose from around 6% in 1965 to peak at 17% in 1974, falling back to around 10.5% by 1985; Barclays calculates that the total real return, taking account of capital values over those 20 years, amounted to -0.3% a year on a total return basis.
But perhaps a more useful analysis is to consider what would have happened to £100 of gilts bought in 1965 and held with gross interest reinvested. That £100 would have practically halved in real terms by 1974 as yields went through the roof and decimated capital values, but it recovered much of its value through the early 1980s.
Cash savings tread water
Barclays looks at returns from both UK Treasury Bills and building society accounts, which were a much more important feature of household savings in the 1970s. It finds that over the 20-year period Treasury Bills broke even in real terms, while the higher interest rates paid on building society accounts meant they achieved an annual average return of 0.3%.
But again, that long-term average masks the real losses suffered by building society savers through most of the 1970s as a result of inflation. By the end of the decade, a £100 deposit with gross interest reinvested would have bought just £85 worth of goods compared with 1965.
Equity volatility
UK equity investors had a torrid time during the bear market of April 1972 to December 1974. Share prices fell by more than 70%, compounded by a secondary banking crisis, falling pound and industrial unrest as well as the oil crisis and inflation.
Total return data for the FTSE All-Share index was not available until 1984, but the Barclays study (which runs an index based on data from 1899 onwards) shows massive swings in real equity values between 1965 and 1985.
Indeed, such was the impact of the 1972 slump that as of December 1974 the total real return for the previous 10 years was running at an annual average of -7.3%. But the subsequent recovery in share prices into the 80s meant that over the total 20-year period equities pulled off an average real return 5.4% per year.
To relate that to our £100 lump sum, if it had been invested in 1965 in the UK market with dividends reinvested, its real value would have plummeted to just £50 by the end of 1974, before soaring to well over £250 by 1985.
What is the takeaway?
Terrifying volatility, accompanied by many corporate and individual bankruptcies, was the price paid by equity investors for the best long-term real returns.
Closer examination of leading blue-chip companies in 1965 shows that a large number either went bust or were taken over during the following 20 years. The evidence backs up our ongoing concerns that capital-intensive, low-margin businesses are particularly vulnerable to inflation and rising interest rates.
More generally, it is encouraging to note that a focus on equities paid off over this period – but cash resources were vital to the survival of both companies and investors. The lesson remains that the surest protection for investors in such turbulent times is provided by holdings in high-quality companies with strong balance sheets and margins that can survive a significant downturn.
If you are a Dynamic Planner user, you can find Church House funds using the fund search tool
The above article has been prepared for investment professionals. Any other readers should note this content does not constitute advice or a solicitation to buy, sell, or hold any investment. We strongly recommend speaking to an investment adviser before taking any action based on the information contained in this article.
Please also note the value of investments and the income you get from them may fall as well as rise, and there is no certainty that you will get back the amount of your original investment. You should also be aware that past performance may not be a reliable guide to future performance.