Read time: 3min 45sec
Following the success of its Early Adopter Programme, unveiled earlier this year, Dynamic Planner Elements has launched to advice firms based across the UK. Designed in close partnership with advice firms for advice firms, Dynamic Planner Elements will fully support advisers in:
Delivering better informed and more enjoyable client review meetings – in good markets and bad;
Meeting MiFID II requirements without having to leave Dynamic Planner;
Dramatically reducing time spent on annual client reviews from hours to minutes;
Better demonstrating value to clients with lifestyle magazine-quality reporting;
Collaborating more easily with colleagues and clients through intuitive tech for use on mobile, tablet and computer.
Dynamic Planner Elements has been developed in collaboration with advice firms for the past 18 months, with 100 advisers using Elements since January when the Early Adopter Programme was launched at Dynamic Planner's Annual Conference. It represents the first part of a multi-million pound programme – the largest investment by Dynamic Planner in its 16-year history – of significant upgrades that advisers and paraplanners can look forward to in the next two years.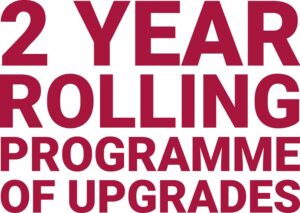 Ben Goss, Dynamic Planner's CEO, said: "Now available UK wide to all advice firms, we believe Dynamic Planner Elements will herald a major shift in the way advice firms do business. We have worked in partnership with advice firms throughout the whole development process – Elements is effectively designed by advisers for advisers. The feedback we have had since January is broadly that nothing else comes as close to delivering what they need to provide a great service for their clients."
Ben Goss continued: "Dynamic Planner Elements represents the single largest investment we have ever made and we have worked hard to ensure it meets every need and requirement that advice firms set out to us through our development process. Advisers already using Elements tell us they can now engage more fully with clients using the review reports; it helps them meet MiFID II requirements of reviewing clients' suitability much more efficiently and cost-effectively than ever before; it has dramatically reduced client reviews and really positively; and, in line with our ambition to see suitable advice and investments available to all, it makes smaller portfolios more commercially viable than ever before.
"Elements is a key part of strategy to scale our position as firms' number one service for ensuring investment suitability. We look forward to making further announcements on the programme of enhancements over the coming two years."
Dynamic Planner Elements is now available and free for all current users of the full service to access from June 2019. Further enhancements will be announced over the coming two years.
What our clients are saying:

96 per cent of advisers surveyed said Dynamic Planner's new Client Review made their firm look more professional;
Eight out of 10 advisers surveyed said they would be integrating Dynamic Planner's new Client Review into their processes.
"Dynamic Planner is way ahead of the pack with this," said Nick Ryan of Yellow Bear Financial Consultancy in Buckinghamshire. "If the result of the review is to leave things as they are, which the majority of our reviews are, the time we spend now producing a report is measured in minutes. This has meant that smaller portfolios are now more commercially viable than they were before."
Lee Whiteside, of Plan4Life in Greater Manchester, said: "Quite often, companies will tick along and take your money each month, but there's no new developments as such. With Dynamic Planner, it's nice to see a company taking an active part in trying to help financial advisers."
Martin Allsop, of Wiltshire firm Marshwood Financial Services, said: "We are using the new Client Review in Dynamic Planner to produce much more user-friendly data for annual reviews. We are able to use the software in an interactive way with clients, making the process much more engaging."
Jeremy Calderbank, of Rigby Financial in Merseyside, said: "The whole report is just very simple and breaks everything down for the client, so that they understand it really easily."
Chris Miller, of Miller Associates in West Yorkshire, said: "Clients who I have sent the report to have all come back and send they have read it and understood it and are happy with it. I have read through all of the wording in the report myself and I was impressed. It's really good."
Brighton adviser Dmitry Morgan said: "I know my clients will very much appreciate the quality of the reporting from the new Client Review – I am absolutely convinced of that. I have already described it to clients as my new investment proposition for them, giving them greater understanding of how and where they are invested."