The Scottish Widows Platform is now live for valuations in Dynamic Planner, the UK's leading risk based financial planning system.
This new integration with the Scottish Widows Platform enables Dynamic Planner users to onboard and value new clients and existing clients in preparation for their client review or cashflow planning, and benefit from the new integration to seamlessly pull in the data at a time they want.
The integration will run alongside the existing Advance by Embark integration while Scottish Widows completes its migration of Advance clients to the Scottish Widows Platform, later this year.
Financial planning firms can now use Scottish Widows' technology, powered by FNZ, and backed by Lloyds Banking Group, to access over a hundred fund managers, thousands of mutual funds, UK listed equities and Exchange Traded Assets within Dynamic Planner's one system.
Chris Jones, Proposition Director at Dynamic Planner said: "The Scottish Widows Platform is now live for valuations in Dynamic Planner, and financial planners can begin to onboard and value clients ahead of Advance by Embark Platform closing. For a limited period of time, both integrations can be used. This is yet another example of our commitment to ensuring our users can support their clients throughout and deliver increasing value more efficiently."
Ross Easton, Head of Platform Propositions at Embark Group said: "We're pleased to have seamlessly integrated Dynamic Planner with the Scottish Widows Platform. This delivers against our aim to be the most connected platform in the market, Scottish Widows Platform now has bulk valuation coverage with the significant majority of UK CRMs."
This latest integration is the continuation of Dynamic Planner's commitment to solving industry wide inefficiencies, a strategy at the heart of the firm's vision.
Not a Dynamic Planner user? Schedule a free no-obligation demo with a business consultant and experience the full functionality of Dynamic Planner.
Dynamic Planner, the UK's leading risk based financial planning system, has again expanded its universe of risk profiled funds to include PortfolioMetrix's three Core funds.
New to Dynamic Planner, PortfolioMetrix is a discretionary investment manager which helps independent financial advisers to deliver expected outcomes for their clients. PortfolioMetrix builds portfolios that 'fly in formation', this is achieved via consistent risk spacing and risk separation. The portfolios provide a coherent toolset for advisers, leading to suitable outcomes for investors as well as efficiency gains for the advice business.
The three PortfolioMetrix funds now risk profiled on Dynamic Planner are:
PortfolioMetrix Core Assertive
PortfolioMetrix Core Balanced
PortfolioMetrix Core Cautious
Yasmina Siadatan, Chief Revenue Officer at Dynamic Planner said: "We welcome PortfolioMetrix to the expanding Dynamic Planner ecosystem of leading financial advice and wealth organisations, who now sit alongside our 160 expert managers in the universe of over 1700 risk profiled funds. We look forward to helping them match people to suitable solutions through our multi award winning financial planning technology over the months and years to come."
Ben Peele, PortfolioMetrix managing director, said: "We know advisers don't like being tied to one provider so, while we have our own risk profiling tool, we also appreciate different firms will have different preferences and may have long established relationships with third-party software providers.
"We're delighted to partner with Dynamic Planner and to have them risk profile our three Core funds."
This latest integration is the continuation of Dynamic Planner's commitment to solving industry wide inefficiencies, a strategy at the heart of the firm's vision.
Dynamic Planner, the UK's leading risk based financial planning system, has partnered with M&G Wealth to launch bulk valuation integration.
The partnership underlines Dynamic Planner's commitment to expanding its ecosystem of integrated partners so that advice firms can enjoy the full benefits of integration, and at a critical point, when everything is about to be seen through the lens of Consumer Duty
The integration will effectively speed up the advice process for advisers selecting funds and other investment options via the M&G Wealth platform. It avoids both the need to rekey and risk of miscalibration, and in line with Consumer Duty, provides the adviser with a more accurate, direct from provider data flow.
Yasmina Siadatan, Sales & Marketing Director at Dynamic Planner said: "We welcome our new partnership with M&G Wealth. Advice firms face a difficult time over the coming months as they work hard to get ready for new regulation. We see our job as helping make this transition period easier. Direct from provider data flows are critical for both speed and accuracy, but also a key consideration for Consumer Duty. We are committed to continually broadening and deepening our ecosystem of integrated partners for the benefit of all our clients and look forward to working with M&G Wealth and our mutual customers over the coming months and years."
Rich Denning, CEO M&G Wealth Platform said: "Consumer Duty is without doubt so important for our industry and we want to be at the forefront of adviser support in every aspect. This integration and our ongoing partnership with Dynamic Planner will help our mutual clients clearly identify and deliver value to their customers whilst assisting them in achieving the outcomes they require."
Dynamic Planner, the UK's leading risk-based wealth planning and financial advice system, is set to launch a Financial Wellbeing Questionnaire on Friday 16th June. It has been designed to enable advisers to identify vulnerability characteristics in line with Consumer Duty.
Its development and creation has been led by Dynamic Planner's Head of Psychology and Behavioural Insights, Dr Louis Williams, in collaboration with Dynamic Planner's fund research team and academics from Henley Business School, part of the University of Reading.
The launch forms part of Dynamic Planner's long-term commitment to helping investors better understand their financial situation and is an integral addition to Dynamic Planner's suite of investor profiling questionnaires. Advice firms can now assess a client's risk appetite, sustainability preferences and vulnerability characteristics in one place.
Aligned with key questions and the algorithm of the FCA's Financial Lives Survey completed by 22,000 people, Dynamic Planner's Financial Wellbeing Questionnaire has been rigorously tested with over 1,000 UK investors, providing the means to understand a client's individual differences and needs. Incorporating all elements to support the four key drivers of vulnerability as set out by the FCA, it meets the requirements of Consumer Duty to identify vulnerabilities and those who are susceptible to harm, so that appropriate support can be provided.
Louis Williams, Head of Psychology & Behavioural Insights at Dynamic Planner said: "With the first deadline for Consumer Duty imminent, the launch of our Financial Wellbeing Questionnaire powers the identification of vulnerabilities with technology, enabling financial advisers to assess individual clients across four key areas: health, life events, resilience, and capability.
"Aligned with the FCA's Financial Lives Survey and designed in collaboration with academics from Henley Business School, it provides advisers with a solution to the call to action set out by Consumer Duty to assess a client's vulnerability characteristics.
"We are committed to supporting advice firms in helping their clients better understand their financial situation and choose investments that are suitable to fund the life they want. The Financial Wellbeing Questionnaire is another example of us delivering on that commitment."
Financial advisers using the Financial Wellbeing Questionnaire with their clients will receive a report for their Consumer Duty record which highlights areas of vulnerability. The report includes insights and tips to help with life's challenges to share with the client and aims to encourage higher levels of resilience so that a client's level of financial self-efficacy and wellbeing increase.
Using Dynamic Planner's Financial Wellbeing Questionnaire with Clients
Dynamic Planner's Financial Wellbeing Questionnaire is intended to be used as part of a broader advice process that has already considered risks, costs and complexity of the financial product being recommended to a client.
In line with the FCA, the questionnaire includes objective measures to understand the client's current situation as well as subjective measures that explore how the client feels and their abilities to cope, which are both important for assessing client vulnerabilities.
Psychometric items have been included, for example, examining a client's emotional resilience when faced with financial challenges, confidence in their abilities to manage their finances, abilities to tolerate difficult and uncertain periods, and the healthy or unhealthy strategies used to regulate their emotions.
Clients can inform their adviser about any health conditions they have or challenging experiences they've faced. Additional questions then explore the severity of this condition/event and how it interferes with day-to-day life and whether someone is of low, moderate or high vulnerability.
Questions included to assess client's resilience and capability cover a range of vulnerability characteristics where Dynamic Planner's algorithm, based on that which underpins the FCA's Financial Lives Survey, identifies whether a client's vulnerability is low, moderate, or high (see below).
Financial wellbeing results indicating the level of vulnerability for each of the four drivers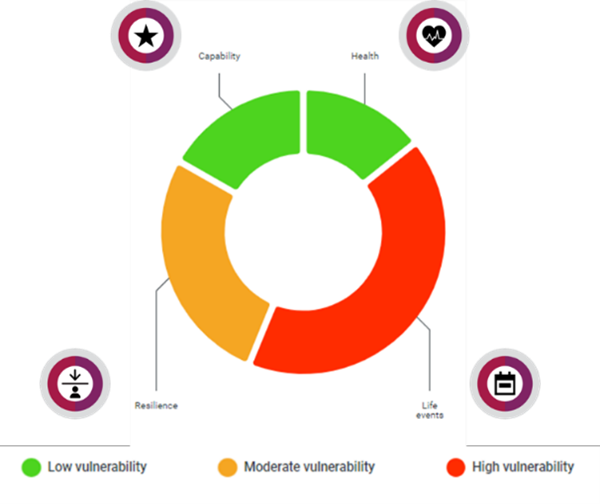 Not a Dynamic Planner user? Schedule a free no-obligation demo with a business consultant and experience the full functionality of Dynamic Planner.
Dynamic Planner has added to its range of Consumer Duty support to help advice firms take control of implementation.
Advisers can now download a free guide which puts technology and Dynamic Planner at the heart of taking on all of the challenges thrown up by the imminent deadline for open products and services. Dynamic Planner has just announced dates for its Consumer Duty Roadshow, plus advice firms can also attend its series of Consumer Duty focused Training Academies.
Yasmina Siadatan, Sales and Marketing Director at Dynamic Planner said: "The countdown to implementing Consumer Duty is well underway.
"We believe that technology is the key to overcoming the perceived challenges associated with what may feel like a very daunting prospect. Whether you are happily immersed in the process of implementation or still have unanswered questions, we urge you to download our free Consumer Duty Guide or join us at our Consumer Duty Roadshow or Training Academies.
"We are committed to helping our clients wherever possible and providing them with all the support they need."
Along with insight, webinars, training and CPD at its events, Dynamic Planner also offers a range of services within its one system technology which echo the needs and standards of the regulation, including:
Target Markets: A target market of clients can be defined by factors including age, wealth, risk and sustainability profile. Positive and negative criteria can be documented, underlining which products and investment solutions are suitable for targeted clients' needs and objectives, and preventing foreseeable harm.
Product and Service Governance: Investment solutions can be researched and recommended in line with target market needs. All research and governance is whole of market, independent and extends to products and platforms. It gives clear oversight of the product and investment recommendations universe and enables advice firms to demonstrate the controls in place to avoid harm and enable clients to pursue their financial objectives.
Understanding and Supporting Clients: A client's needs, characteristics and objectives can be more deeply understood through risk and sustainability profiling. Dynamic Planner's client profiling process is rooted in behavioural science to capture the complexity of how a client feels, behaves and thinks concerning, investment risk and sustainable investing.
Not a Dynamic Planner user? Schedule a free no-obligation demo with a business consultant and experience the full functionality of Dynamic Planner.
Dynamic Planner has been awarded 'Best Technology Provider' at this year's Professional Adviser Awards. The award assessed how providers had demonstrated innovation in the last 12 months while putting their adviser clients front-of-mind throughout.
Yasmina Siadatan, Sales and Marketing Director at Dynamic Planner said: "This week has marked Dynamic Planner's 20th Anniversary, and to be recognised as Best Technology Provider at Professional Adviser's Awards is a fitting accolade.
"Over the past 20 years we have built trusted relationships with our clients, always putting them at the heart of what we do, and partnering with them to develop Dynamic Planner into what it is in 2023.
"Today over 1 million people are actively advised using Dynamic Planner, more than 40% of UK investment advice firms use Dynamic Planner and more than 150 asset managers have their assets certified or targeted with us, over £250 billion. Our winning streak of awards over the past few years is testament to this.
"We are incredibly proud to be recognised for the innovative technology that our team has created. Whether it's our award-winning Cash flow, our Product and Platform Research, our Risk Profiling built on in-house behavioural psychology expertise, or Target Markets, designed to help firms meet the requirements of Consumer Duty, our one system delivers everything our clients need."
In support of International Women's Day, Dynamic Planner, the UK's leading risk based financial planning system, has conducted further analysis of findings from its Spotlight Report to paint a picture of women today in the advice industry.
Age Breakdown of Respondents of Spotlight Report
While the number of men increases with age it is the opposite for women, as the number of women, as a trend, decreases with every subsequent age group with the highest share of women (just over one in five) stating that they were under 30. The median ages for men is between 50-54 while median age for women is much lower at 40-44 showing a skew towards women being much younger with more than half being under the age of 44. Even though the number of female respondents was only 112 (30%), nearly an identical number of men and women indicated that they were under the age of 30, which equated to just over one in ten of male respondents and just over a fifth of female respondents.
Business Success
Female respondents are increasingly successful. In 2021, almost 1 in 2 said they serviced less than 100 clients on an ongoing basis, however in 2022, that decreased dramatically to just under 1 in 5. In 2022, just over half of women increased the number of advisers in their firm versus 42% of men. Women are also pushing the efficiencies of their roles – in 2021, 16% of female respondents said they serviced over 200 clients, whereas in 2022 that number more than doubled to 35%.
Roles
When it comes to roles within a firm, just three in 10 women work in an advising capacity versus a majority (77%) of men. A large proportion of women (58%) work as paraplanners or admin staff. For men this number is less than a fifth. On the whole, women are incredibly happy within their role as either an adviser, paraplanner or support staff, with 88% saying they would recommend their profession as a career.
Yasmina Siadatan, Sales and Marketing Director at Dynamic Planner said: "We are proud to support International Women's Day and its theme for this year #EmbraceEquity. While the industry is moving in the right direction, this annual event gives everyone time to pause and reflect. Around the world women are forging change and this is borne out in our own research of the advice community – women are buoyant, bullish and paint a picture of their own success. More importantly they love their job and their clients will only benefit from such positive feeling.
"What's really fascinating is the number of women across all age groups, with the largest number aged under 30 and how this will play out with the contrasting population of older males. Time will tell if there will be a levelling out of adviser numbers across the two groups, which could also be driven by more female investors seeking financial advice. As a company which inherently believes in equity and continually demonstrates this to our own team, we are also committed to helping the financial advice community to appeal to more women whether as potential employees or clients. If the industry can pave the way to a more equal working world, then we must level the playing field for investing too."
Dynamic Planner supports #EmbraceEquity for International Women's Day and beyond.
Speaking at its 11th Annual Conference in the year which sees Dynamic Planner, the UK's leading risk based financial planning system, mark its 20th anniversary, CEO Ben Goss said:
"We founded Dynamic Planner almost 20 years ago today, and I am as excited now as I have ever been about the prospects for this industry and the customers we all ultimately serve. The pandemic and ensuing uncertainty in the world around us are driving growing demand and need for financial advice. These factors have also driven technology adoption at an unprecedented rate. The industry is in the foothills of something really quite special when you combine great advice with the right technology and aligned asset management.
"We believe that as the industry embraces personal financial planning at scale, the era of product sales is over. But 10 years on from the banning of commission, why has it taken so long? Historically the industry was wired back to front, from the product systems and their needs to the customer, not from the customer and their needs to the product. And while RDR was undoubtedly the catalyst for change, financial planning technology with the client at the centre, allied with their adviser is now enabling real change.
"Like RDR before it, the advent of Consumer Duty comes with many questions of its own, not least how do firms demonstrably ensure clients get the outcomes and value they are looking for, while at the same time growing value in their own business?
"Productively servicing clients in a way that delivers the outcomes they are looking for, in an era of increasing price transparency and on the eve of regulation which scrutinises not just outcomes but value received, crystalises the challenge now. I am confident that as an industry we can get to grips with the productivity challenge, in part because of how we all responded to RDR, but more than that, the industry now is arguably in the best shape it has ever been with clients getting consistent ongoing services and firms benefiting from a profitable ongoing fee model.
"The industry has come far. It is technology that has underpinned this transformation and it is technology that is integral in enabling the productivity we are seeing now. Dynamic Planner is firmly at the heart of this transformation, with our purpose the same as it was in 2003 but today stronger than ever – to help firms match people with suitable portfolios though engaging financial planning. 'The Power of Now', the title of our 11th Conference encapsulates this. We see there is a moment to be grasped and that's exciting for all of us."
Key Innovations and Developments from Dynamic Planner in 2023:
Multi Million Pound Investment: We have completely rewired Dynamic Planner in the last three years to give you a huge advantage over your competition by embracing PROD and using target markets to drive consistency of financial planning and advice and huge productivity gains.
Target Markets: Now launched, save firms hours of time with every piece of client advice. They provide the ability to research and link products, shortlists and portfolios from across the relevant universe along with automatically including relevant explanations.
Dynamic Planner in the palm of your hand: Continually demonstrate your firm's value digitally – even when you're not with your client. We're already working with a small number of early adopter firms to design and perfect a premium version of Dynamic Planner's client access before making it generally available later this year to support firms through Consumer Duty.
New partnerships: Data flows are critical for firms. Dynamic Planner is committed to continually broadening and deepening our ecosystem of integrated partners. We have just launched valuation integrations with Aegon ARC and Prudential via the Origo hub.
Open API: In addition to IO and Iress as integration partners through our API we are now live with Curo from Time 4 Advice. Curo is the first CRM partner to use our Open API. It is live today and we are on a journey with the team from Time4Advice over the coming month to extend the breadth of that integration. We are delighted to be working with the team from 360.net to migrate their existing integration to the Open API.
Dynamic Planner, the UK's leading risk based financial planning system, has refreshed and relaunched its website to better serve adviser needs.
Mirroring how its one system technology works, the revitalised website now follows the 'advise, research, tailor' adviser and client journey within Dynamic Planner.
Yasmina Siadatan, Sales and Marketing Director at Dynamic Planner said: "The revitalised website has been designed to help advice firms get the very best out of using our one system technology. Mirroring the Dynamic Planner journey of advise, research and tailor, advice firms will enjoy a raft of enhancements including simplified navigation and our new Support Hub. We constantly take on board what advisers tell us they need and are excited to see their feedback and suggestions go live."
17 January 2023: Dynamic Planner, the UK's leading financial planning system and Quilter Financial Planning, a leading financial advice network, have entered into a long-term partnership agreement which will see Dynamic Planner provided to advisers within the Quilter group.
Quilter advisers will be able to fully access everything in Dynamic Planner's one system including: industry leading psychometric risk and sustainability profiling; investment progress reviews; cash flow modelling; digital client access, recommendations, and research. Quilter will benefit from Dynamic Planner's product governance target market and panelling functionality, which along with a shared consumer focused culture, will support them in meeting the new Consumer Duty. Dynamic Planner already works closely with Quilter Investors, Quilter Cheviot and the customer proposition team.
Dynamic Planner will fully integrate into technology already used by Quilter Financial Planning to ensure ease of data flow for users and maximise operational efficiency centrally. Roll out of Dynamic Planner to Quilter advisers has begun and is expected to be completed by Spring 2023.
In an early adoption programme, Quilter advisers using Dynamic Planner have already seen significant improvement in productivity, with feedback indicating that advisers can move from servicing 80 clients to over 300, an increase of 275%, whilst at the same time deepening relationships and spending less time on paperwork.
Ben Goss, CEO, Dynamic Planner said: "We are delighted to partner with Quilter Financial Planning to support their thousands of financial advisers in the delivery of outcome focused financial planning in an age of Consumer Duty. We have invested heavily in our one system technology in recent years and look forward to working closely with Quilter as a partner to help power their financial planning process with Dynamic Planner at scale."
Steve Gazard, CEO, Quilter Financial Planning said: "We have been piloting the Dynamic Planner system with a number of key firms and advisers across our business for the last 18 months and have been delighted with the efficiency gains those firms have seen and the improvement in client experience. I am pleased that we have been able to further strengthen our offering by working closely with Dynamic Planner, and as such have a close relationship that will now allow us to rapidly deliver this to our wider adviser base."