Read time: 5min
It's good to get out of the office occasionally. Get out of yourself. Away from the often never-ending distractions of work, the job – the business.
It's an opportunity to break out of your routine briefly and take a different route first thing in the morning. Meet some new faces; finally put a face to an email address; find out that you're not alone in suffering the same frustration with the FCA; find out something new; or something you didn't expect.
The Dynamic Planner Training Academies allow you to experience all of this – and that's just for starters.
On this morning in June, we find ourselves at a beautifully secluded rural location, just off a busy road providing easy access by car. Signposting is excellent; there is ample parking; and plenty of time. We are early. It is around 8.30am.
Registration, breakfast and networking officially opens at 9am, but Dynamic Planner are already here, already ready to greet attendees – advisers, paraplanners and administrators from a mix of firms, small and mid-sized – with a warm welcome and cheery, 'Good morning'.
There are representatives from Dynamic Planner's Client Success team, Asset and Risk Model team, and Sales team. As our compere for the morning – who today is James Smith, who heads the Client Success and Sales teams – underlines during his introductory welcome at 9.30am: "Don't leave today with any questions about Dynamic Planner. Take the opportunity to ask us."
People do. A local adviser nearby has a query about fund research and was unaware he could complete a particular task in Dynamic Planner. He is pleasantly surprised he can after a conversation with a Dynamic Planner team member. Contact details are exchanged and Dynamic Planner will follow up with him in a few days and check he has everything he needs.
Everyone is enjoying the opportunity to engage face to face with fellow industry professionals.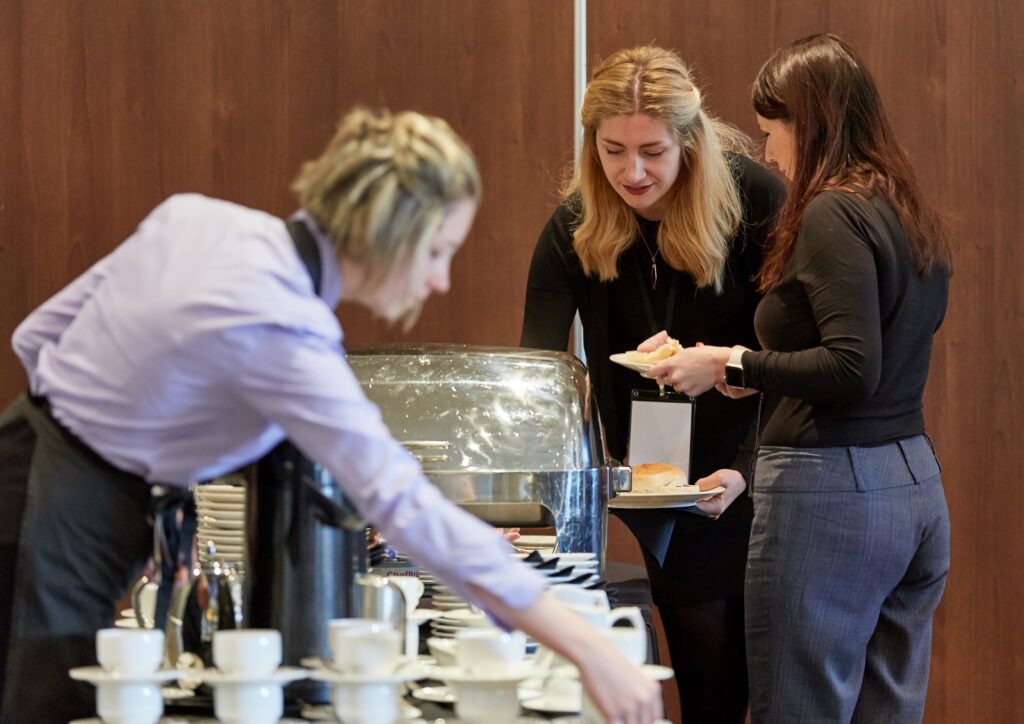 The opening main presentation of the morning is the first of six, short, bite-sized sessions attendees can take in, adding up to approximately three hours of qualifying CPD to help you meet that industry demand.
Everyone is seated comfortably in a private, peaceful part of this morning's venue – a countryside hotel. There is a healthy hum in the space as everyone gets acquainted before Pam Brunt, a Senior Account Manager on the Client Success team, begins.
She is a natural presenter and speaks in a straightforward, relaxed way – focusing first on Dynamic Planner's two-way integration with Intelligent Office and how it can save firms time and effort, and avoid mistakes creeping in if they have to rekey client information more than once.
The slides used to illustrate the session are clear and simple, showcasing relevant screengrabs to guide the audience through the learnings. Attendees also each have a 'Work Book' waiting in front of them when they first arrive, which includes copies of slides so that they can follow the presentation that way if they prefer and make notes for future reference back in the office.
Later in the morning, Pam again takes the floor and demonstrates live a case in the new Dynamic Planner Client Review, which only went live days prior earlier in June 2019.
It's a great chance to see someone with so much knowledge of the service and its capability to be behind the wheel, so to speak.
As one adviser notes on our website: "The people on Dynamic Planner's Client Success team are brilliant and masters at using it."
Further sessions follow from our Asset and Risk Model team on building portfolios in Dynamic Planner and how you might best diversify them – and also on how particular funds, among the 1,300-plus you can find profiled in Dynamic Planner, might best achieve an income for clients in retirement.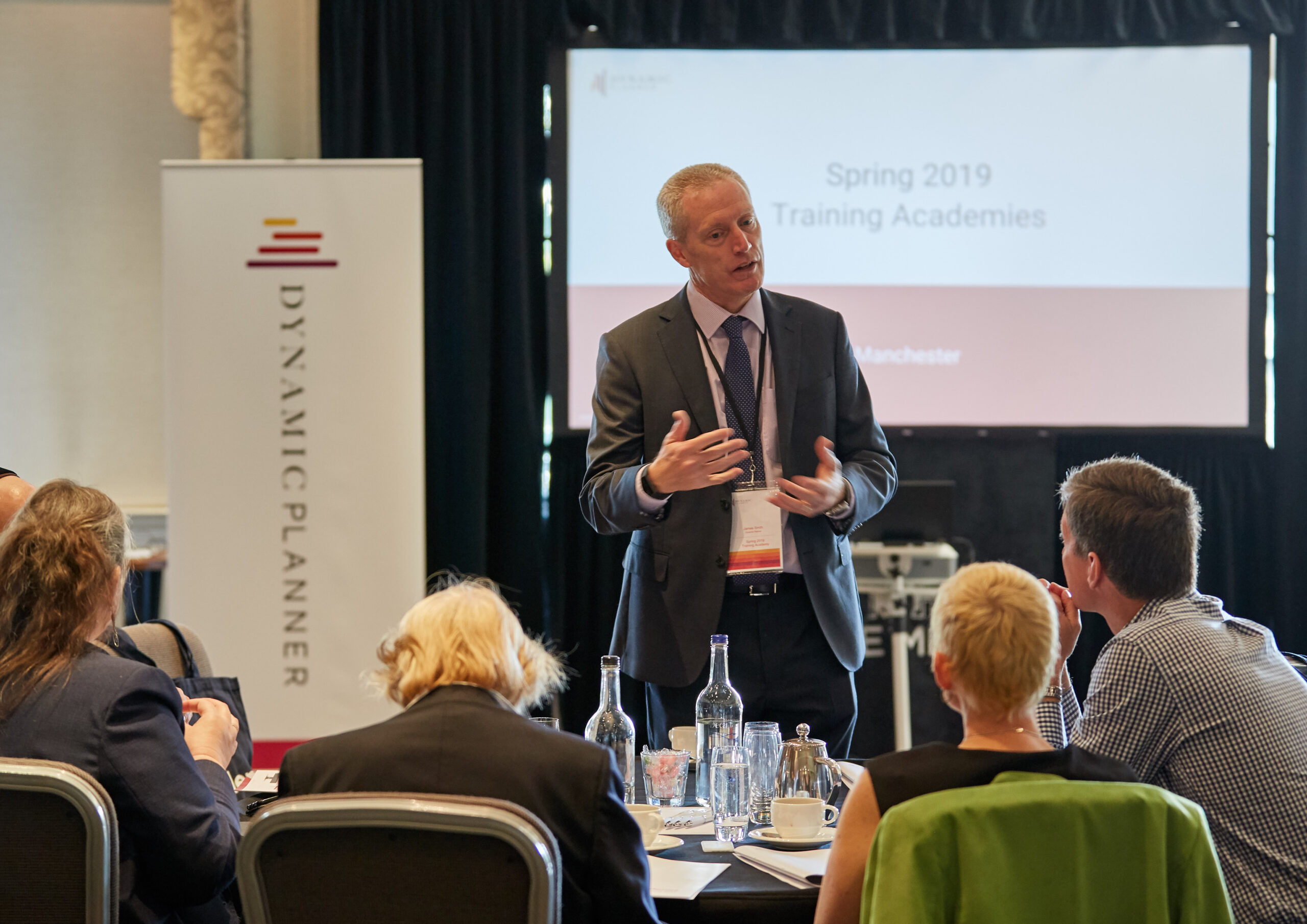 The agenda for our Training Academies evolves constantly from season to season, each spring and autumn when they visit typically 20 venues and locations up and down the length and breadth of the UK, ensuring they are as accessible as possible for firms.
Attendees may have used Dynamic Planner for years; they may be relatively new to the service; or they may be just thinking about starting to use it. Training Academies appeal across that spectrum. They also provide the opportunity to hear from leading asset managers in the city and their latest view on market trends and behaviour and the impact on portfolio performance for your clients' investments.
Our Training Academies are free for you and your colleagues to attend and, because they offer CPD hours, are dedicated to education and learning.
Time to pause. Make a note – that's a good idea for when I get back to the office. That could really work.
Soon, a fantastic spread of hot finger food is served for lunch. A final few words with peers and new or old friends from Dynamic Planner, then it's back to work – with a clearer mind and a clear focus on how to move forward. You look forward to touching base with everyone when the Training Academies next visit.
Dynamic Planner itself helps you carefully guide your clients through the lifespan of their investment journey. At Dynamic Planner, we feel precisely the same about advice firms who use us: we're always here on hand. Take a morning out to come and say hello. You'll be glad you did.